The National Italian American Foundation (NIAF) is the bridge that serves and connects the United States and Italy, and it is part of our mission to empower and strengthen those ties. We want to thank our community for remaining strong and united during the COVID-19 pandemic and for helping us find the answers. Over this past spring, the Foundation has helped to address the critical situation in Italy, provided medical and safety guidance for Americans, and helped to ensure that the day-to-day business of NIAF moved forward. NIAF is and always will be dedicated and committed. The NIAF Board of Directors and staff continue to work tirelessly every day to ensure we continue to connect and support the Italian American community and maintain strong relationships with Italy.
In early March, NIAF Chairman Patricia de Stacy Harrison, along with NIAF Board Members Peter Arduini, Anita Bevacqua McBride and Joseph V. Del Raso, worked with Italy's Ambassador to the United States Armando Varricchio, to focus on priority needs in Italy. As a member of the board of the Advanced Medical Technology Association (AdvaMed), Arduini and coordinated with Advamed CEO Scott Whitaker and the Ambassador to identify and send available resources from U.S. suppliers to meet Italy's urgent needs.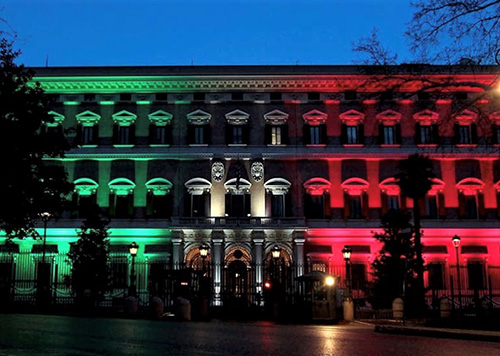 NIAF announced on March 17 that it stands in solidarity with Italy, with the support of both Ambassador Varricchio and the United States Ambassador to Italy Lewis Eisenberg. Beyond coordinating virus response efforts with the Italian Embassy in Washington and the U.S. Embassy in Rome, NIAF's website launched this page, Coronavirus Relief, that has provided direct links to fundraising in support of campaigns that are funding urgent resources and research on the disease and have aided, at their most critical time, Italian hospitals in Bergamo, Caserta, Milan, Rome, as well as hospitals throughout southern regions of Campania, Calabria and Sicily. The Foundation also promoted the Embassy of Italy's #ItalyStayStrong campaign in collaboration with the Italian Scientists and Scholars in North America Foundation (ISSNAF) to fund three Italian medical and research institutes. Most of these fundraisers have now concluded, thanks to the donations from our Italian American community and others that culminated in more than $5 million dollars raised to combat COVID-19.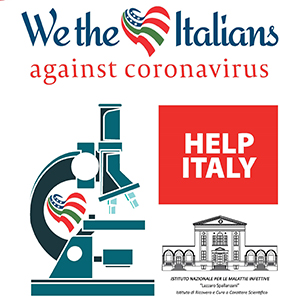 For our Italian American family, NIAF disseminated educational content, ways to support our Italian American community, and links to fundraisers supporting responses to the crisis here in America. The Foundation shared NIAF Board Member Dr. Antonio Giordano's published articles that explained COVID-19 and detailed how to contain the infection and what the next steps may entail. We also shared NIAF Board Member Dr. John Rosa's "Telephonic Town Hall Virtual Meeting" which provided useful tools and tips for getting through this crisis.
In addition, NIAF supported Italian American restaurants nationwide by creating a section on its website (www.niaf.org/restaurants) linking our members and friends to more than 500 restaurants located in 34 states and the District of Columbia that were providing curbside, pick-up and delivery services during the stay-at-home quarantine. People all over the country contacted NIAF to add restaurants in their area for others to support.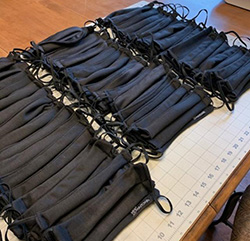 To help fight the public health crisis in New York City, NIAF promoted the NYC Sews and the EATs for EMTs initiatives. NYC Sews is a grassroot effort that organized fabric donations, fabric manufacturers and 22 tailors who could sew to make masks. From March to May, around 50 packages of mask materials were made and delivered to volunteer tailors, resulting in the creation of more than 1,000 handsewn masks. NYC Sews donated the masks to essential workers, including TLC drivers licensed to drive taxis and other public-transportation vehicles who helped, under dangerous conditions, to transport essential workers, deliver food, and keep the city going.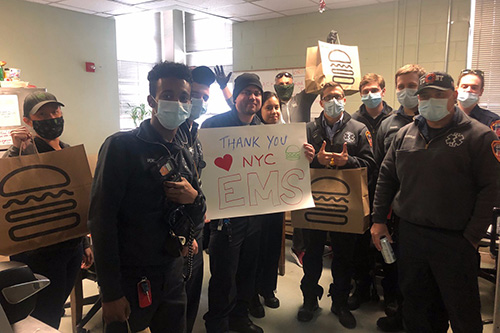 NIAF Board Member Capri Cafaro's sister, Renee Cafaro, organized the EATs for EMTs GoFundMe campaign to help support restaurants in New York City while giving free meals to EMTs who are the lowest-paid first responders in the city. Within one month, the campaign achieved its goal of delivering free meals to every NYC Fire Department Emergency Medical Services union office across the city. "We've been able to infuse a bit of much-needed revenue into NYC and a boost of moral and a hot meal to the men and women on the front lines responding to our 911 calls," said Renee Cafaro on the GoFundMe page. "It's been an honor to do this project."
The Foundation is also fostering a community—online. In May, NIAF launched Virtual Events that includes discounted language and culture courses with the Italian Cultural Society of Washington, D.C.; conversations about the post-pandemic future of Italy and Europe with the Atlantic Council; and webinars covering genealogy, dual citizenship, history, and more.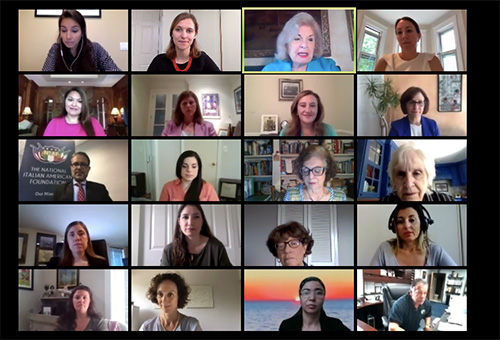 As many of NIAF's in-person events have been cancelled or postponed, we hope you will continue to connect with NIAF and other Italian Americans through this new channel. Some of these events are free, but most will be monetized to support the Foundation during this difficult time. Thousands have tuned in to our virtual events so far and we hope you will join us, too. Details and registration for upcoming events are available at www.niaf.org/virtualevents.
In addition to NIAF's main social media platforms, NIAF's Pensieri Blog is providing people in Italy and America a space to voice their reflections about the pandemic and their first-hand experiences. First-generation American Joan Lombardi poignantly described her grief for Italy when she wrote on NIAF's Blog, "When you are the child of an immigrant, you grow up with stories of the other country. No matter how proud you are of your own homeland, there is always the other. It is in your food, it is the way you feel when you hear the language too-often forgotten, it is in your traditions, it is in the faces of your cousins, it is in your heart." Her sentiment reached thousands when shared on social media and resonated with so many.
Throughout this unimaginably difficult time, NIAF has overcome the obstacles and continues to provide information, hope, and ways to donate and help to our hundreds of thousands of members, friends and followers—all while continuing to fulfill our mission of preserving, protecting and promoting our Italian American heritage.
Thank you for your support—now more than ever.
---
For the most up to date and factual information, visit the CDC's website, https://www.cdc.gov/coronavirus/2019-ncov/index.html, and the John Hopkins Coronavirus Resource Center, https://coronavirus.jhu.edu/map.html.