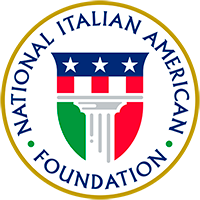 About

Join

Events

Programs

Culture

Support

Ferrero is a premier sponsor of NIAF. Learn More

U.S. Representative Tom Marino Speaks at NIAF-Frank J. Guarini Public Policy Forum

FOR IMMEDIATE RELEASE

Contact: Elissa Ruffino, 202-939-3106, elissa@niaf.org

---

(Washington, DC – April 15, 2015) The National Italian American Foundation (NIAF) leadership, including President John M. Viola and the Foundation's Government Relations and Public Policy Committee Chair Mark Valente lll, welcomed Representative Tom Marino (Pa.), Chairman of the House Judiciary Subcommittee on Regulatory Reform, Commercial and Antitrust Law, who spoke at the first in the series of NIAF- Frank J. Guarini Public Policy Forums in 2015. The private luncheon was held on April 14, 2015, on Capitol Hill.

Representative Bill Pascrell (N.J.), co-chair of the Italian American Congressional Delegation (IACD) of the 114th United States Congress, came to the podium to thank Rep. Marino for serving as the keynote speaker.  Rep. Pascrell was joined by Italy's Ambassador to the United States Claudio Bisogniero; Rep. Mark Amodei (Nev.) and Rep. John Mica (Fla.), two members of the bicameral and bipartisan group of congressional members of Italian heritage of the 114th United States Congress.

"As co-chair of the delegation with my friend, Rep. Pat Tiberi, we welcome everyone and thank NIAF— one of the most respected Italian American organizations and the most respected Italian American advocacy group for the long working relationship with the IACD," said Pascrell.

At the podium, Valente welcomed more than 40 guests and Rep. Marino, referring to him as "one of the most principled members of Congress." Valente also reminded guests about two upcoming public policy events: the annual bocce tournament scheduled for June 1; and the luncheon with National Endowment of the Humanities (NEH) chair to discuss the documentary "The Italian Americans" on June 2.

Rep. Marino first greeted guests in Italian and shared stories of growing up as a second-generation Italian American. His maternal side of the family was from Calabria and paternal side from Sicily.  Rep. Marino said he was often asked, "What is it like to be an Italian American?" He said, "It's family, friends, it's all about food, of course."  He also spoke about antitrust, telecommunications and internet sales tax. As subcommittee chair, his aim is to work to change how regulations are made. He ended his speech by asking the audience, "What should we be doing in Congress?" A lively question-and-answer period followed.

Rep. Marino is a lawyer, former district attorney for Lycoming County, and a former U.S. attorney for the Middle District of Pennsylvania. In 2010, he was elected representative for Pennsylvania's 10th Congressional District. In addition to being a member of the Judiciary Committee, Rep. Marino serves on the House Foreign Affairs Committee and the Committee on Homeland Security.

NIAF is a nonpartisan, nonprofit organization that works closely in Washington, D.C., with the Italian American Congressional Delegation and The White House as a national voice of the Italian American community to promote stronger economic, social and cultural relations between Italy and the United States.  Our cornerstone programs include scholarships and cultural grants to support educational and cultural activities at many colleges and universities.  For more information, visit www.niaf.org.