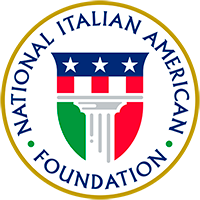 About

Join

Events

Programs

Culture

Support

Ferrero is a premier sponsor of NIAF. Learn More

NIAF Hosts Media, Community Leaders at Film Screening of PBS's "The Italian Americans" with Italy's Consul General in San Francisco

For Immediate Release

Contact: Elissa Ruffino, elissa@niaf.org

---

(WASHINGTON, D.C.—JANUARY 27, 2015)  To celebrate the rich culture of Italian Americans who live in the San Francisco Bay area and across the nation, Jeffrey M. Capaccio, Esq., National Italian American Foundation (NIAF) regional vice president and member of the Board of Directors, was joined by  Mauro Battocchi, Consul General of Italy in San Francisco, to preview  the upcoming four-hour documentary series for PBS, "THE ITALIAN AMERICANS," on January 21, 2015, at the Consulate General of Italy, as part of the NIAF/Frank J. Guarini Media Forums.

"NIAF has a unique opportunity to serve as a community partner to promote the upcoming documentary, 'THE ITALIAN AMERICANS,' in key market across the United States.  In San Francisco, we are pleased to partner with a talented director and his project that tells the powerful story of immigrants who left their homeland in the latter half of the 19th century and weaves individual immigrant stories into our unique American fabric," said Capaccio.

The upcoming PBS documentary will air nationally on February 17 and 24, 2015, from 9 p.m. to 11 p.m. each evening. Narrated by acclaimed actor Stanley Tucci, "THE ITALIAN AMERICANS" reveals how Italian immigrants challenged the notion of the American melting pot – choosing instead to maintain their distinct culture and allegiance to family.

During the screening premier, the co-hosts were joined by keynote speakers — the series' award-winning writer and producer John Maggio, and the series' companion book author Maria Laurino. At the podium, Cynthia Marcucci, PBS on-air host at KQED, introduced Maggio and Laurino to guests, including media professionals from ABC, NBC, The San Francisco Chronicle, L'Espresso, La Stampa and L'Italo Americano.  "'THE ITALIAN AMERICANS' is a remarkable story that honors our history and our place in America," said Marcucci.

"Italians are known for their strength and sense of family. Tonight is very special because I have my family here," Maggio said.  He also recognized several individuals interviewed in the film who were in the audience, including Lido Cantarutti, who as a six-year-old boy was classified with his parents as enemy aliens; author Geoffrey Dunn whose grandmother was also labeled as an enemy alien; well as the granddaughter of San Francisco's Mayor Angelo Rossi, author Rose Marie Cleese.

Following the screening, they fielded questions and discussed the stereotyping of Italian Americans, and how the Bay Area represented more of a melting pot while in other areas of the country Italian Americans stayed within their enclaves. Laurino asked the question, "Do we embrace our culture or do we walk away?"

Ristorante Umbria, owned by Giulio Tempesta, served Italian delicacies that were paired with select wines provided by Wines of Italy Hall of Fame award recipient Lorenzo Scarpone of Villa Italia. The series' corporate funder, Michael DelGrosso of DelGrosso Foods, provided posters and gift bags of sauce for guests.

To close the evening, Consul Battocchi extended his appreciation to Capaccio for promoting the rich Italian heritage among the Italian American community through this forum and discussion. Guests also had an opportunity to purchase the companion book signed by Laurino.

For more than 30 years, the National Italian American Foundation (NIAF), a non-profit, non-partisan organization, has worked to preserve and promote the heritage and culture of Americans of Italian descent, the nation's fifth largest ethnic group. To learn more, visit www.niaf.org.