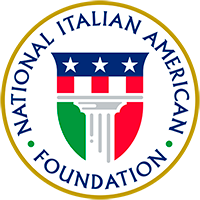 About

Join

Events

Programs

Partnerships

Culture

NIAF Chairman Joseph Del Raso, Board Member Frank Giordano, Receive Order of Merit Of The Italian Republic

FOR IMMEDIATE RELEASE

Contact: Elissa Ruffino, 202-939-3106, elissa@niaf.org

_______________________________________________________________________________________________

(Washington, DC – July 17, 2015) On behalf of President of the Republic of Italy, Sergio Mattarella, Italy's Ambassador Claudio Bisogniero bestowed the prestigious Order of the Merit of the Italian Republic (Ordine al Merito della Repubblica Italiana) to Joseph V. Del Raso, chairman of the National Italian American Foundation (NIAF) and Frank Giordano, member of the Foundation's board of directors, during a private ceremony at Villa Firenze in Washington, D.C., on Tuesday, July 14, 2015.

At the Ambassador's residence, Del Raso received the Grande Ufficiale Ordine al Merito della Repubblica for fostering greater relationships and partnerships between Italy and the United States. Giordano received the Cavaliere Ufficiale Ordine al Merito della Repubblica Italiana for his tireless work within Philadelphia's Italian American community and his leadership with the Italian language initiative in that city.

Family members joined NIAF President John M. Viola, the Foundation's Vice Chair Patricia de Stacy Harrison, NIAF Treasurer Robert E. Carlucci, Italy's Consul General in Philadelphia Andrea Canepari, and embassy officials at the afternoon reception.

The Order of Merit of the Italian Republic was founded in 1951 as the senior order of knighthood by President Luigi Einaudi. Known as the highest ranking of honor of the Republic, it is awarded to individuals for merit in the fields of literature, the arts, public service, philanthropic and humanitarian activities, as well as notable service in civilian and military careers.

The badge bears the inscription "Al Merito della Repubblica" encircling the national emblem on the front, and "Patriae Unitati" and "Civium Libertati" encircling the head of Italia Turrita on the reverse side. The order is bestowed by decree of the president of the Italian Republic, as head of the orders of knighthood, on the recommendation of the president of the council.

The National Italian American Foundation (NIAF) is a non-profit organization dedicated to preserving and promoting the heritage of Italian Americans. Visit www.niaf.org.