NIAF NEWS
NIAF to Honor Dr. Anthony S. Fauci with 2020 Leonardo da Vinci Award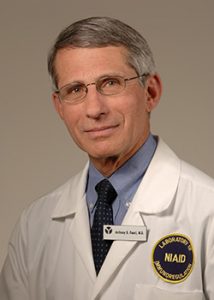 We are proud to announce that NIAF's prestigious 2020 Leonardo da Vinci Award for Leadership in Health and Science will be presented to Dr. Anthony S. Fauci, Director of the National Institute of Allergy and Infectious Diseases (NIAID) and a member of the President's Coronavirus Task Force. The award will be presented in October 2020 on behalf of the National Italian American Foundation's Board of Directors—to recognize Dr. Fauci's years of extraordinary service to our country and for his work to help our nation meet the challenge of COVID-19. Learn more: https://bit.ly/30XDRt8.
Toast to the Summer with NIAF's Cin Cin Wine Tumblers!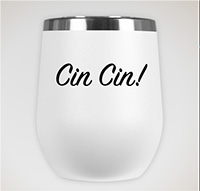 Support NIAF by purchasing our limited-edition insulated wine tumbler that you can use to keep your beverage at the desired temperature, whether cold or hot! NIAF's Cin Cin wine tumbler is the perfect accent to your backyard barbecue, at the beach, poolside or even your office. From chilled wine to hot coffee, this tumbler is your summer go-to essential. This fundraising campaign supports NIAF's scholarship and educational programs and ends July 6 at 11:59 p.m. EST, so order now: https://bit.ly/2BwxVg4.
NIAF's Ambassador Magazine Summer Issue is Here!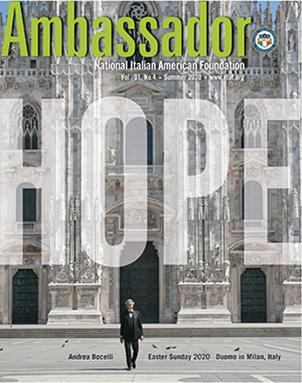 This summer issue is pandemic-related and brings a message of hope, featuring an exclusive interview with legendary tenor Andrea Bocelli about his magnificent Easter Sunday performance broadcast worldwide from the Duomo in COVID-19-stricken Milan. The issue goes on to report on NIAF's efforts during the early pandemic days and insights from Italy's Ambassador to the United States and the U.S. Ambassador to Italy, as well as features on Italian American Pandemic Leaders from Gov. Andrew Cuomo to Dr. Anthony Fauci, and a Forza in the Pantry section with how-to-get-by recipes from chefs Mary Ann Esposito and Lidia Bastianich. Another section presents short profiles of Italian and Italian American heroes on the coronavirus frontlines. And don't miss the insightful stories about Italian survival skills and resilience, and locked-down life in Amalfi and Cremona; and what lesson's Dante's Divine Comedy might provide about our infernal pandemic today. The Cinema column examines the work and psyche of Italian director Federico Fellini and the On Sport column looks at the pandemic's effects on sports fans. This issue is like no other. NIAF Members receive the printed glossy quarterly magazine as a membership benefit, but the magazine is available online for free: https://bit.ly/2YNghy9.
NIAF Virtual Events This Summer!
From dual citizenship, genealogy and history to Italian cuisine, wine and culture, NIAF is bringing you exciting virtual events through Zoom to enjoy the rest of your summer! As a result of the pandemic, NIAF's traditional source of fundraising is on pause, so please register for events that require a fee to support the Foundation and its mission. And there's some good programming you won't want to miss! All of our past and upcoming events can be found here: www.niaf.org/virtualevents.

NIAF Discount for Virtual "Discover the Regions of Italy" Course – Register Now!
As part of NIAF's virtual events, the Foundation is partnering with the Italian Cultural Society of Washington, D.C., to offer a NIAF Membership discount for the "Discover the Regions of Italy" course series. Take a virtual tour of one (or both) Emilia Romagna and Veneto! Each region offers three lessons guided by an instructor who is native from that region and will share with you the region's history, archeology, art, traditions, gastronomy, wine and natural beauty! Classes will be taught in English. Emilia Romagna's course begins July 14, and Veneto's course begins on August 4. Register now at https://bit.ly/3gus3En.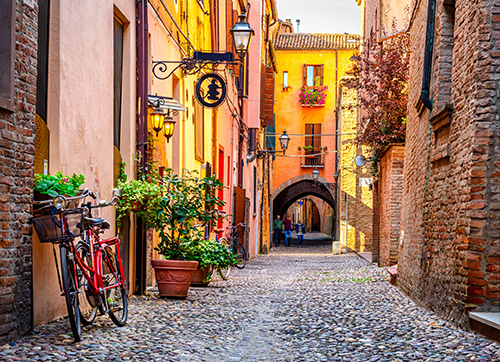 NIAF Protests the Destruction of Christopher Columbus Statues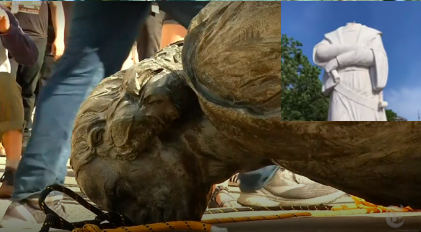 On June 12, NIAF released a statement to protest the vandalization and potential permanent removal of Christopher Columbus statues across the nation. NIAF firmly believes in equality and justice for every human being, regardless of race, color, creed, religion, or nation of origin. As written in NIAF's statement on June 5, the senseless death of George Floyd underscores the bitter truth that disenfranchised and marginalized groups are still the victims of racism and injustice. NIAF supports the American right to peacefully protest and supports people coming together in peace to seek justice and reform, and to transform pain into progress. We condemn intolerance, hate, discrimination and violence, as they are divisive to our democracy.
And, therefore, we believe that to vandalize and remove the Columbus statues is culturally insensitive and divisive. Read NIAF's complete statement here https://bit.ly/37nkQSa and NIAF's position on Christopher Columbus here: https://bit.ly/2YLV4EJ.
The NIAF 2019 Annual Report is Now Available!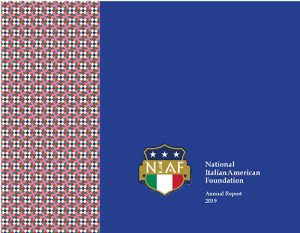 Want a snapshot of NIAF's special programs, memberships and events that happened in 2019? Look no further than NIAF's newly released 2019 Annual Report. Filled with impressive achievements, memorable moments, and bite-size takeaways for every program, the Annual Report is a testament to the Foundation's mission to preserve and promote Italian American heritage and to strengthen ties between the United States and Italy. View the Report: https://bit.ly/2Zn9KJh.
NIAF's "Make Sunday Italian Again" Wooden Spoon!
Sunday Dinner is one of our time-honored traditions that make us Italian American, so plan to make treasured family recipes this summer with NIAF's wooden spoon. Order now: http://bit.ly/2PINvtw.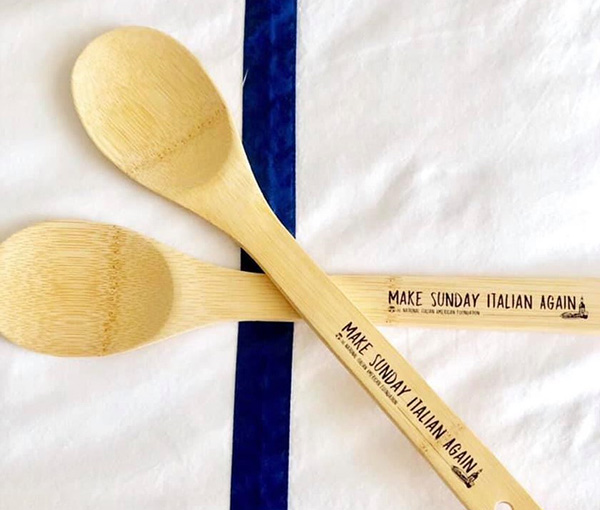 Check out NIAF's Virtual Repository!
NIAF is excited to bring you Italian and Italian American virtual tours, shows, podcasts, performances and films—all for free and to the comfort and convenience of your own home. Visit: www.niaf.org/repository.

NIAF COVID-19 Pandemic Relief Efforts – Thank You Donors
NIAF has helped to address the critical situation in Italy and America and provided medical and safety guidance for Americans. Thank you to those of you who have donated to the fundraising campaigns we have listed on our website. Most of these campaigns have concluded and achieved impressive goals to aid those living in both countries we love so much. To find out the status of these campaigns, which helped feed EMTs, provide medical supplies to hospitals, fund COVID-19 vaccine research, and sew masks, visit: www.niaf.org/coronavirusrelief.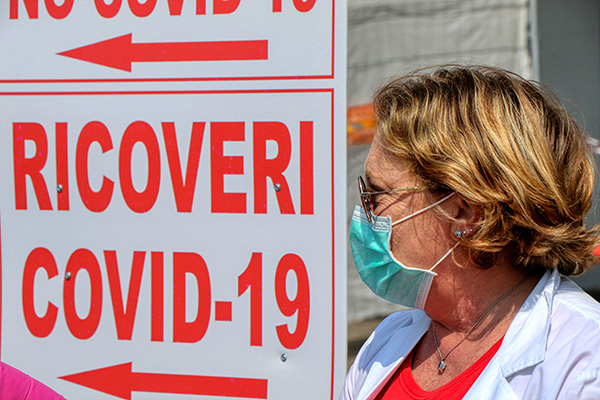 Temporarily Closed: The Museum on Italian Immigration at NIAF
The Museum is closed until further notice. The safety and enjoyment of our guests is our foremost concern. For general information about the museum, visit http://bit.ly/2wQC644.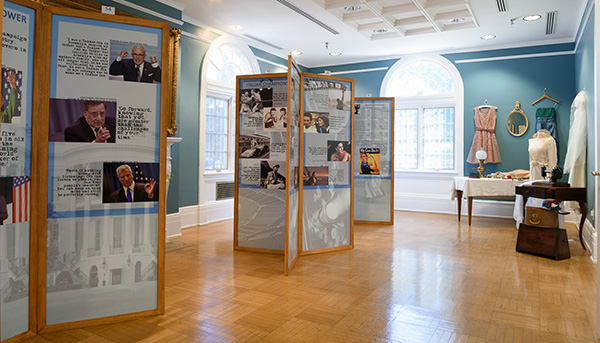 USA News & Events
Get Fresh Italian Food Delivered & Give Back to NIAF!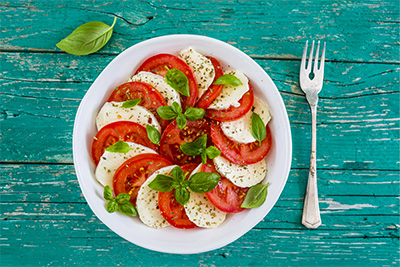 Dreaming of homemade Italian meals to eat al fresco this summer? Order your burrata, pancetta, buffalo mozzarella, guanciale and more from Terra Foods! From now until July 12, Terra Foods will donate 15% of its profits to support NIAF and its mission. Here's how you can help NIAF and mangiare bene: when you're done shopping on Terra Foods' website and are ready to check out, on the order page, there is a space for "other comments" – please indicate that you are ordering from Terra Foods to support NIAF! Order today and have the taste of Italy delivered to your door in no time: www.terrafoodsllc.us.
Support Your Italian Restaurants!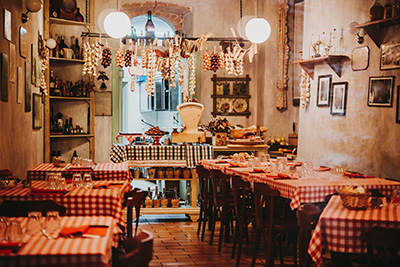 NIAF has an ever-growing list of Italian restaurants, delis and eateries that are providing curbside, pick-up and delivery services to help your community during these difficult times. Got a restaurant you want to tell us about? If you know of any Italian restaurants anywhere in the United States assisting the community, send it in. So far, we have more than 460 Italian restaurants located in 29 states and Washington, D.C. See NIAF's list and details on how to submit your favorite Italian restaurant at: www.niaf.org/restaurants.
IAMLA's Object Collection is Now Online!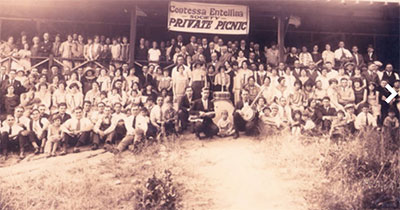 Last August, the Italian American Museum in Los Angeles (IAMLA) made its photographic collection accessible online. Since then, scores of people from around the world have used the museum's online platform to search the photographic collection. It has proven to be a valuable tool for researchers and the general public. Several people have contacted the IAMLA to report that they discovered never-before-seen images of family members! As the museum continues to catalog and digitize its collection, the online databases will expand, eventually providing access to the museum's vast archival collection and additions from the object collection as well. View the online collection at: http://bit.ly/2OtzoHS.
Una Storia Segreta Exhibit Now Online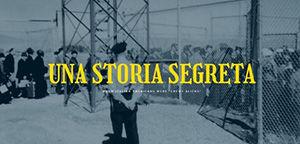 The exhibit Una Storia Segreta: When Italian Americans Were "Enemy Aliens" opened at the Museo Italo Americano in San Francisco in 1994 and is now available online, providing access to facts about Italian American restriction, internment and evacuation during World War II. Visit: https://unastoriasegreta.com/.
Auguri
Capri S. Cafaro's United We Eat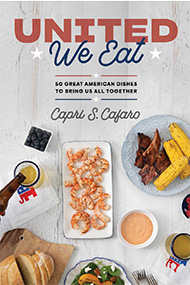 Congratulations to NIAF Board Member Capri S. Cafaro for her book United We Eat. The book features distinct recipes and stories representing all 50 states that were adapted by Cafaro or submitted by Democrats and Republicans who have served the United States in some way. United We Eat is more than a cookbook because it demonstrates that food is a nonpartisan way to bring Americans together and find common ground. Each entry aims to illuminate the tastes, culture and history of each state—and in the process, help tell at least part of the American story through food. The hardcover edition of United We Eat will be available nationwide on July 4, 2020, via Amazon. Pre-sales for the United We Eat Kindle e-book are currently underway here.
John C. Alessio's With Tears and Laughter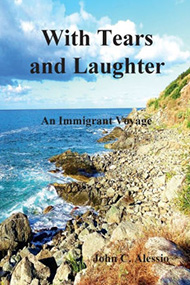 Congratulations to NIAF Member John C. Alessio on the publication of his new book With Tears and Laughter, an historical fiction novel telling the story of millions of Southern Italians forced to leave Italy during the late 19th century and first part of the 20th century. This mass immigration is seen through the lives of two protagonists whose circumstances and identities shift from peasant subsistence roots in Calabria, Italy, to hardship and confusion in America. Moving back and forth between Southern Italy and the United States, arranged marriages are intertwined with love, Italian wedding feasts, and sometimes humorous intergenerational and cultural differences. More information about the author and his book at https://www.john-c-alessio.com/.
Dr. Raymond L. Falcione's The "3 Things" That Make All the Difference: Communicating More Effectively at Work and Home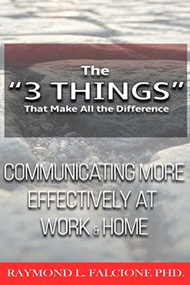 Congratulations to NIAF Member Dr. Raymond L. Falcione on the publication of his new book The "3 Things"! Writing in an engaging, anecdotal style, Dr. Falcione shows you how to polish and apply a variety of key communication and management skills. Down-to-earth advice, based on sound communication principles, and specific, usable tools will help you manage work and life challenges.  Examples, exercises, case studies and self-tests are included to help assess yourself and reinforce your skills. Available on Amazon.
Support our Sponsors
Your Italian Passport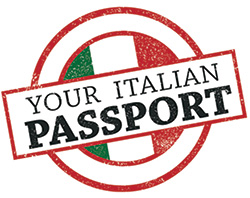 Looking for professional help with building your application for Italian citizenship? Your Italian Passport is here to help!
Your Italian Passport is a U.S.-based company offering comprehensive services for Italian Americans seeking to obtain Italian dual citizenship. Like so many things Italian, Your Italian Passport is a business of organic roots grown over time with care and committed to giving personalized attention to each and every client.
Visit our website www.youritalianpassport.com and be on your way to living la dolce vita! As always, NIAF members receive a discount on all services offered. A new world awaits with Your Italian Passport! Contact us today!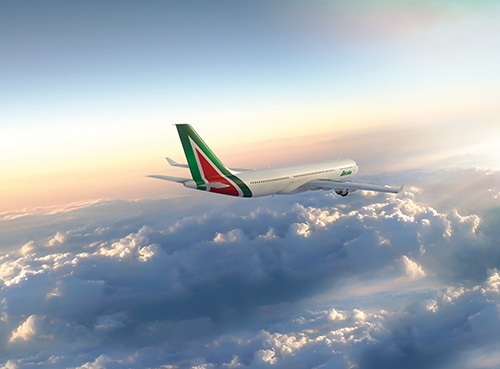 In July, Alitalia will resume more than 1,000 weekly flights, increasing the number of flights and destinations served. The Alitalia flight schedule will mainly include the reopening of international air services from Milan and the increase of international flights from Rome, as well as the increase of services from Northern Italy to Southern Italy and the Italian islands.
Alitalia will resume flights from Rome Fiumicino airport to 36 domestic and international destinations including Alghero, Bologna, Bari, Brindisi, Cagliari, Catania, Florence, Genoa, Lamezia Terme, Lampedusa, Milan, Naples, Olbia, Palermo, Pantelleria, Reggio Calabria, Turin, and Venice; and, abroad, Amsterdam, Athens, Barcelona, Brussels, Frankfurt, Geneve, London, Madrid, Malta, Munich, Nice, Paris, Tel Aviv, Tirana, Tunis and Zurich.
Starting July 16, nonstop service between Rome Fiumicino and Boston will resume, in addition to the current flights to New York.
Preserving the safety and health of our customers has always been our priority, so we require all passengers to wear a protective mask. We ensure clean air on-board thanks to our HEPA filters and vertical circulation of 99.7 pure air, and our planes are sanitized daily.
Visit www.alitalia.com.
Get Involved with NIAF and the Italian American Community!
Grazie for Wearing Your Apron & Sharing!
Thank you to everyone who supported NIAF in our Buon Appetito! Apron fundraising campaign to support the Foundation and its mission in April. We also want to send a big thank you to those who sent us photos of themselves sporting their aprons as seen here! Seeing Italian Americans continue to cook and uphold time-honored traditions is what keeps our community united, alive and as strong as ever. Grazie a tutti e buon appetito! #NIAFCooksTogether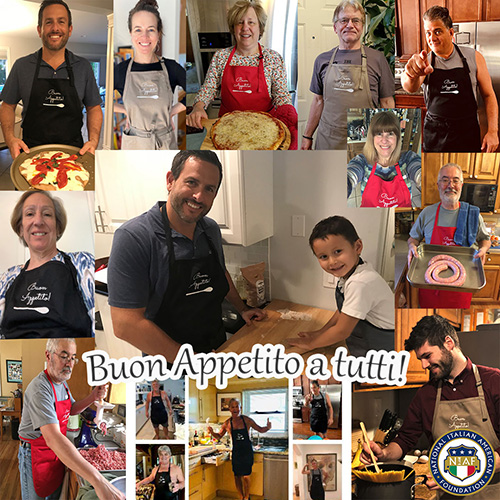 Italian American World War II Heroes – Send Yours to NIAF!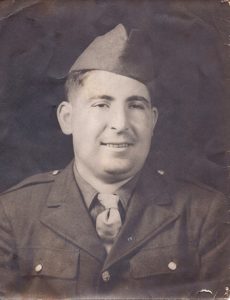 To celebrate the 75th anniversary of the end of World War II, NIAF is recognizing Italian Americans who sacrificed, served and defended peace, freedom and democracy during the war. If a family member served during World War II and you would like to share that with us, email media@niaf.org with the following: a photo, a brief description of your relative's service, where he/her was from and where his/her Italian origins can be traced to. NIAF will be sharing special submissions on NIAF's social media with the hashtag: #IAWW2Heroes.
NIAF Membership Giveaway with My Dad's Sauce!
Thank you to everyone who participated in the NIAF Membership Giveaway with My Dad's Sauce! Last month, NIAF offered its members a chance to win a jar of My Dad's Sauce, a NIAF Buon Appetito! apron, a NIAF "Make Sunday Italian Again" wooden spoon, and Celebrity Chef Mary Ann Esposito's latest cookbook Ciao Italia: My Lifelong Food Adventures in Italy! NIAF Member Frank Polito, from San Jose, Calif., won the giveaway and is using them to spend quality time cooking with his two daughters. Join NIAF to be eligible for future giveaways at www.niaf.org/join.
Support NIAF through AmazonSmile with No Extra Cost!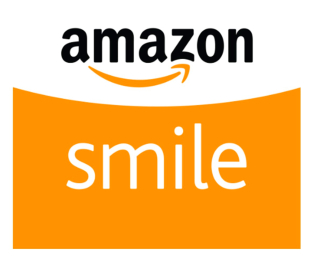 Ordering from Amazon during the COVID-19 outbreak? Consider supporting NIAF for future purchases by going to http://smile.amazon.com/ and selecting the National Italian American Foundation as your charity of choice. This is a wonderful opportunity to support NIAF programs and its mission during these difficult times. The AmazonSmile Foundation will donate 0.5 percent of the purchase price from your eligible AmazonSmile purchases to NIAF. AmazonSmile offers the same selection and low prices as Amazon, and customers can still use their Amazon account. The only difference is that, at no extra cost, you are donating to a great cause!
Calling All Voyage of Discovery Alumni
We're creating an alumni database of past participants in NIAF's Voyage of Discovery and NIAF's Gift of Discovery programs and we need your help! Did you or someone you know participate? If so, let us know. Please fill out the form on our website: https://bit.ly/2UzEaXF.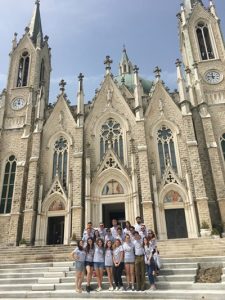 Italian Community Services (ICS) welcomes all NIAF members to visit its website www.italiancs.com and learn how ICS helps the broader Italian American Community. Under Covid-19 our mission and scope of services have expanded exponentially. Today, we support over 250 Italian families throughout San Francisco. Click here to view the latest release. Our impact has made news globally as both the Wall Street Journal and Rai TV have showcased our story. We depend on donors like you to support our mission. If you like the work we are doing please consider supporting us. Lastly, if you know of any projects that we can initiate or people we can assist in the Italian San Francisco community, please contact us. Grazie!
The Italian American Podcast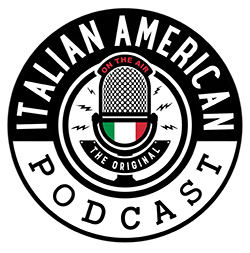 Has staying home got you down? Spend your time in quarantine with The Italian American Podcast! The Italian American Podcast is the first and most engaging podcast dedicated to helping Italian Americans learn and celebrate their brilliant heritage. Hosts John, Dolores, Pat, Rossella, and Anthony have been dedicating their time to creating content to keep Italian Americans in tune with their heritage during lockdown—including movie watch-along parties, virtual chats and more! New episodes launch every Monday and there is a plentiful archive of more than 130 past episodes on their website to keep you entertained during these trying times. Tune in to be entertained, educated, and brought back to where you belong—among famiglia! Start listening here: https://italianamericanpodcast.com/episodes/.
Turn on Italics TV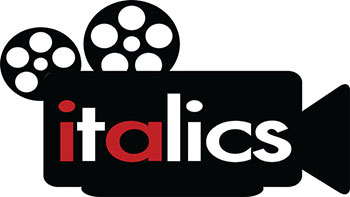 For monthly cable-TV programming for the Italian American community, tune in to Italics, the Italian American TV magazine, produced by The John D. Calandra Italian American Institute at Queens College in New York and hosted by Anthony J. Tamburri, dean of The Calandra Institute. Check your local New York and New York State cable-TV listings for Italics, or find it on CUNY-TV website, and on-demand on the YouTube channel and Facebook.
Everybody Loves Italian! On the Radio!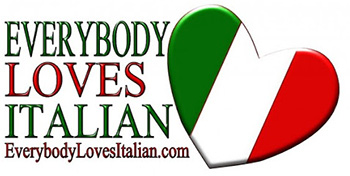 Join hosts Frank Granieri and Dominic Mevoli to celebrate the everyday Italian American family and experience, plus interviews with personalities, stories, recipes and more! Sundays 6 a.m. and 5 p.m., on WWDB 860 AM Philadelphia; and streaming worldwide! Find them on Facebook. For more information, visit: www.everybodylovesitalian.us.
---
Reach more than 170,000 NIAF members and Italophile readers by
advertising in an upcoming edition of NIAF's monthly e-Newsletter!
Contact: nwulderk@niaf.org.
NIAF e-Newsletter edited by Natalie Wulderk