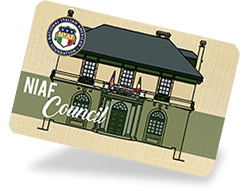 NIAF Council Members unite to form an impressive group of Italian Americans and Italophiles who both sustain the Foundation and enjoy event benefits throughout the year.
Among many other benefits listed below, individuals in NIAF's Council Membership tier receive our magazine, Ambassador, delivered to their address.
Each NIAF Council Member's name is prominently mentioned in NIAF's Annual Report.
Most importantly, your annual gift to NIAF is your opportunity to honor the sacrifices and memories of your parents and grandparents…while empowering the next generation of Italian Americans.  You'll be in good company—in the last five years alone, 10,000 proud Italian Americans have become NIAF members at various membership levels.
$500 Annual Membership
Benefits:
Welcome Letter
Lapel Pin
Hard copy of Ambassador magazine
Italian Dinner Spoon, Wooden
NIAF Coffee Mug
NIAF Hat
Monthly Member Newsletter
Invitation to select NIAF Special Events
Mention in NIAF Donor List
10% discount on Dual-Citizenship Services (when you choose Your Italian Passport's Signature Package)