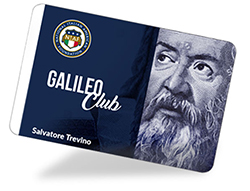 Galileo Club Members are valued for supporting pivotal programs for Italian American college students and those who are eager to celebrate and learn more about their Italian heritage.
Individuals in NIAF's Galileo Club receive our magazine, Ambassador, delivered to their address.
Each NIAF member's name to be prominently mentioned in NIAF's Annual Report.
As a Galileo Club member, a portion of your donation will go to directly sustain programs like the Ambassador Peter F. Secchia Voyage of Discovery, NIAF on Campus and College Scholarships.
$125 Annual Membership
Benefits:
Welcome Letter
Lapel Pin
Hard copy of Ambassador magazine
Italian Dinner Spoon, Wooden
Monthly Member Newsletter
Invitation to select NIAF Special Events
5% discount on Dual-Citizenship Services (when you choose Your Italian Passport's Signature Package)