NIAF NEWS
Felice Anno Nuovo! Happy New Year! 
NIAF is wishing that this new year (and new decade!) brings health and happiness to you and your loved ones!
Save the Date for NIAF's New York Gala
This year, NIAF's New York Gala will be held once again at the legendary Cipriani 42nd Street on April 21 at 6:30 p.m. The Gala will benefit NIAF's education and youth programs. Purchase your ticket before they run out at www.niaf.org/nyc.
APPLY NOW – The Ambassador Peter F. Secchia Voyage of Discovery
Now in its 20th year, this all-expenses paid cultural and educational initiative sends Italian American college students to Italy annually to strengthen their understanding of their heritage and the contributions Italy has made to the world. Participants must be between ages 18 and 23 at the time of travel (May 2020). Deadline to apply is Sunday, February 2 (11:59 p.m. PT). For details and to apply, CLICK HERE.
Applications for NIAF 2020 Scholarships Now Available!
Applications for NIAF scholarships are now open! Scholarships range from $2,500 – $12,000 and are awarded to undergraduate, graduate, post-graduate, medical, and legal students. If you are Italian American or if you are studying Italian in college, apply today! Deadline is March 1, 2020. For more information, contact Julia Streisfeld, Director of Scholarships, Grants and Youth Engagement, at jstreisfeld@niaf.org or 202-939-3114, or visit: http://bit.ly/2QPMFwo.
Visit our NIAF Museum on Italian Immigration! 

The Museum recounts the hardships that Italian immigrants faced from enduring the journey across the Atlantic by ship and living in the United States, to their successes in the fields of music, entertainment, government, business, and the extraordinary achievements of Italian American women. The Museum is open Monday – Thursday, 11 a.m. – 4 p.m., except holidays; self-guided tours; admission is free. For more information, visit https://bit.ly/2UgcUhE.
USA News & Events
Watch the film Ricordi?
Cinema Little Italy will host a screening of Ricordi? at the Firehouse Museum Theater in San Diego, Calif.! The film is a love story told through the memories of two nameless lovers in different stages of their lives, recollections altered by moods, their different perspectives, and time itself. The film takes you on a journey through the years of these two individuals, united, divided, happy, unhappy, deeply in love, or in love with others, in a single stream of emotions and shades of feeling. January 4, at 7 p.m. Visit: http://bit.ly/35IOTCm.
Epiphany Celebration Honoring Three Wise Women in Washington, D.C.

The National Organization of Italian American Women (NOIAW) will host an Epiphany Celebration Honoring Three Wise Women on January 9. The three women honored are Practice Lead and Partner of Morgan, Lewis & Bockius LLP Giovanna M. Cinelli, JD; Director of Office of Textiles and Apparel International Trade Administration at the U.S. Department of Commerce Maria D'Andrea-Yothers; and Political Journalist Tara Palmeri. At Maggiano's Little Italy from 6:30 – 8:30 p.m. For tickets, visit: https://conta.cc/2D3DtfO.
Festa della Befana
The Italian Cultural & Community Center in Houston, Texas, welcomes everyone to celebrate the Italiana tradition of Befana at its headquarters! Children from the Center's Italian language classes will be participating in a recital and will receive sweets from Befana when she comes to visit. Come learn about this Italian holiday tradition with your family! January 12, 3:30 – 5:30 p.m. To register, visit: http://bit.ly/2Q7zeps.
Humble Tuscan Meals: The Tradition of La Cucina Povera

Eataly's NYC Flatiron location will offer a cooking class on how to make a Tuscan meal on January 21, from 6:30 – 8 p.m. La Scuola Chefs will prepare a step-by-step demonstration of three dishes that attendees will enjoy with paired wine selections. For more information, visit: http://bit.ly/35JNJ9t.
Andrea Bocelli's Concert Tour

Italian opera singer, songwriter, and record producer Andrea Bocelli may be performing in a city near you this February and you won't want to miss it! Between February 7- 14, he will have concerts in Charlotte, N.C., New York City, Miami, Atlanta., and Tampa. For details, visit: http://bit.ly/36W1wu0.
See The Traitor in Theaters January 31!

The Traitor, also known as Il Traditore, tells the true story of Tommaso Buscetta, the man who brought down the Cosa Nostra. In the early 1980's, an all-out war rages between Sicilian mafia bosses over the heroin trade. Buscetta flees to hide out in Brazil. Back home, scores are being settled and Buscetta watches from afar as his sons and brother are killed in Palermo, knowing he may be next. Arrested and extradited to Italy by the Brazilian police, Buscetta makes a decision that will change everything for the Mafia: he decides to meet with Judge Giovanni Falcone and betray the eternal vow he made to the Cosa Nostra. Watch the trailer here: http://bit.ly/38YHoJv. And for an interview of director Marco Bellocchio about the film, see page 54 of the Winter 2019 issue of Ambassador magazine at www.niaf.org/ambassador/.
Food in Federico Fellini's Drawings Exhibit

The Italian Cultural Institute (IIC) in Los Angeles in collaboration with the Culture Department of the Emilia Romagna Region and Casa Artusi will feature works of art by the legendary director Federico Fellini, drawn at the table and included in Il libro dei sogni (The Book of Dreams), a journal Fellini kept for about 30 years. The exhibit is open now until February 15. Free and open to the public at the IIC in Los Angeles. For details, visit http://bit.ly/2pKL8vS.
At Casa Belvedere—Staten Island 
The Italian Cultural Foundation at Casa Belvedere's Culinary Classes offer recreational and educational culinary experiences on a year-round basis. Daytime and evening classes are held in Casa Belvedere's state-of-the-art Cucina Colavita Kitchen and are available for adults and children: https://bit.ly/2UVKiYi.

Weekend language immersion courses for 2020 are offered for the following weekends: February 21-23, March 27-29, and May 1-3. Visit: https://bit.ly/2LKLg5I. For more information on these and other Casa Belvedere programs, visit www.casa-belvedere.org or call 718-273-7660.
At IAMLA: Italian Americans in Animation
The Italian American Museum of Los Angeles (IAMLA) has a exhibit titled Fantasy World: Italian Americans in Animation, featuring artifacts, storyboards, rare comics, original scripts and more that detail how Italian Americans pushed the entire industry forward and were involved in The Flintstones, Woody Woodpecker and other favorites. Running now until January 26. Open to the public Tuesday – Sunday, 10 a.m. – 3 p.m. Visit: www.iamla.org.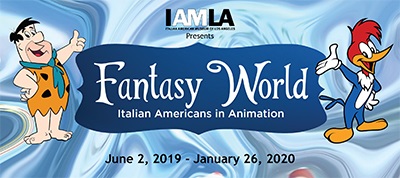 Support our Sponsors
Your Italian Passport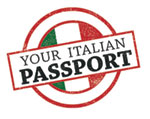 Looking for professional help with building your application for Italian citizenship? Your Italian Passport is here to help!
Your Italian Passport is a U.S.-based company offering comprehensive services for Italian Americans seeking to obtain Italian dual citizenship. Like so many things Italian, Your Italian Passport is a business of organic roots grown over time with care and committed to giving personalized attention to each and every client.
Visit our website www.youritalianpassport.com and be on your way to living la dolce vita! As always, NIAF members receive a discount on all services offered. A new world awaits with Your Italian Passport! Contact us today!
Alitalia


Your Italian Restaurant in the Sky
A sky-high table, but with flavors and scents of the earth. We are on board with the Italian countryside, rich with flavors, tradition, and recipes that originate from the vegetable garden, barnyard, and from the fields where those products made in Italy where born and become a style of life loved throughout.
Traditional and healthy menu options, all freely combinable with each other: choose from a selection of more decisive recipes that reflect the origin of Italian cuisine, or dishes with a lighter and more natural balance using ingredients of a more intimate and profound approach.
The Italian countryside is a place where dishes tied to family tradition are born, where they obtain their form and project the diversity from regional and territorial, where the most authentic flavors of Italian cuisine are perceived which render them amongst the most glamorous on earth.
Alitalia's All Day Dining includes aperitivo with classic and create-your-own beverages, a full four-course dinner, light snacks and an Italian breakfast!
Visit www.alitalia.com/.
Get Involved with NIAF and the
Italian American Community!
Become a NIAF Member Today! 
Start 2020 off right with becoming a NIAF Member. Purchasing a NIAF Membership goes beyond exclusive discounts, membership benefits, and cultural events. Being a NIAF Member means contributing to the continuation of Italian American culture and heritage – work we could not do without your support. Join today by visiting our website: https://bit.ly/2PrHa45.


Italian Community Services (ICS) welcomes all NIAF members to visit its website www.italiancs.com and learn how ICS helps the broader Italian American Community. Italian Community Services is the oldest Italian non-profit in North America. Founded by a group of Italian pioneers in San Francisco who had great success (Bank of America, Del Monte Foods, Ghirardelli Chocolates, to name a few) the non-profit's mission is to assist the Italian and Italian American community of California. Italian Community Services defends the Italian language and culture, supports senior citizens with socializing activities, community outreach, financial assistance, and is a point of reference for all things Italian and Italian American. The nonprofit collaborates with the Italian Consulate, Italian Cultural Institute, and all leading West Coast Italian agencies. Since its inception 104 years ago, ICS has helped more than 40,000. Venite a visitarci!
Calling All Voyage of Discovery Alumni 
We're creating an alumni database of past participants in NIAF's Voyage of Discovery and NIAF's Gift of Discovery programs and we need your help! Did you or someone you know participate? If so, let us know. Please email your name, Voyage of Discovery year, and any other information you'd like to share about your experience to voyageofdiscovery@niaf.org.
NIAF Corporate Sponsor Discounts        
Heads up, NIAF members! Check out all money-saving discounts, exclusive deals and membership benefits that NIAF Corporate Sponsors offer through your NIAF Membership Portal. Sign in with your NIAF password at: https://bit.ly/2YufT5j.
Shop at AmazonSmile and Support NIAF!


Here's your opportunity to donate to NIAF without costing you a cent! Support the work of NIAF when making purchases on Amazon.com by going to http://smile.amazon.com/ and selecting the National Italian American Foundation as your charity of choice. The AmazonSmile Foundation will donate 0.5 percent of the purchase price from your eligible AmazonSmile purchases to NIAF. AmazonSmile offers the same selection and low prices as Amazon, and customers can still use their Amazon account. The only difference is that, at no extra cost, you are donating to a great cause!
The Italian American Podcast

The Italian American Podcast is the first and most engaging podcast dedicated to helping Italian Americans learn about and celebrate their brilliant heritage. Hosts John, Dolores, Pat, Rossella, and Anthony are obsessed with our heritage, and each Monday they discuss all things Italian American, including history and family traditions, genealogy, recipes, language, and more, with smarts, heart, and a lot of laughs! The Italian American Podcast's mission is to return you to your roots, or bring your roots to you, bringing the heart of the Italian American experience to the 25 million Americans lucky enough to have been born Italian! The hosts are joined by celebrity guests, experts, authors, and everyday Italian Americans for honest and thoughtful conversations digging deep into the "hows and whys" of who we are. And, like all the best Italian American conversations, it takes place around the kitchen table, meaning every time you tune in you'll be entertained, educated, and brought right back to where you belong… among family! Listen to the Podcast's latest episodes here: http://ow.ly/qZRI301LHRm.
Turn on Italics TV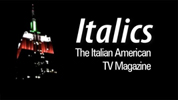 For monthly cable-TV programming for the Italian American community, tune in to Italics, the Italian American TV magazine, produced by The John D. Calandra Italian American Institute at Queens College in New York and hosted by Anthony J. Tamburri, dean of The Calandra Institute. Check your local New York and New York State cable-TV listings for Italics, or find it on CUNY-TV website, and on-demand on the YouTube channel and Facebook.
Everybody Loves Italian! On the Radio!  


Join hosts Frank Granieri and Dominic Mevoli to celebrate the everyday Italian American family and experience, plus interviews with personalities, stories, recipes and more! Sundays 6 a.m. and 5 p.m., on WWDB 860 AM Philadelphia; and streaming worldwide! Find them on Facebook. For more information, visit: www.everybodylovesitalian.us.
---
Reach more than 170,000 NIAF members and Italophile readers by
advertising in an upcoming edition of NIAF's monthly e-Newsletter!
Contact: nwulderk@niaf.org.
NIAF e-Newsletter edited by Natalie Wulderk