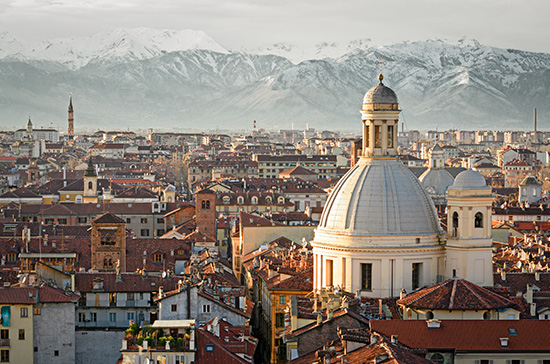 Nestled in Italy's northwest corner, sharing borders with France and Switzerland, lies NIAF's 2016 Region of Honor, Piemonte. True to the definition of its name, "piedi del monte," meaning "foot of the mountains," Piemonte (or, Piedmont) is surrounded on three sides by Alps. Its capital city was once the capital of Italy and home to the 2006 Winter Olympics. The perfect balance between urban elegance and bucolic countryside, Piemonte is by far one of Italy's most celebrated regions.
Piemonte is a hotspot of international business, industry, architecture, and cuisine. It is, in fact, the birthplace of the Slow Food Movement and gianduja (or, as it is now known, Nutella). Some of Italy's largest corporations are housed here (does Lavazza Coffee, Rai, Kappa, Martini&Rossi, or Ferrero ring a bell?) and the capital city of Torino was at the center of Italy's post-war industrial revolution. The city is also home to the largest collection of Egyptian artifacts outside of Cairo, as well as the famous Shroud of Turin.
As you get to know Piemonte, you'll also discover a treasure trove of picturesque villages and agricultural landscapes. Its hills are studded with globally-recognized vineyards, with some of the best wine in the nation, and the elusive white truffle is found in its surrounding forests. From the rugged peaks and the gentle countryside, to the varied cuisine and rich history, there's something for everyone in this northern Italian region. The National Italian American Foundation is happy to share Piemonte's rich culture and beauty over the course of this year as our 2016 Region of Honor.
NIAF's 2016 Region of Honor, Piemonte