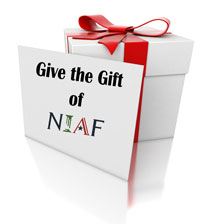 This year, give the gift of heritage — a charitable donation in the name of a loved one. Each gift donation goes to fulfilling NIAF's mission of providing educational and youth programs including scholarships, grants, heritage travel and mentoring. Your donation will go directly to supporting these programs.
A gift donation card announcing your generous gift to NIAF will be sent in the name of your chosen recipient(s). You will also receive the same card with our thanks and confirmation of the number of people you honored.
The National Italian American Foundation is a 501(c)(3) nonprofit organization. Your support is tax deductible. Please consult your tax advisor for advice.
CLICK HERE to make your charitable contribution today!