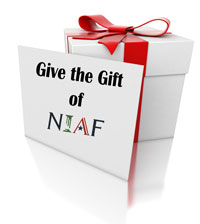 Please celebrate your heritage with the National Italian American Foundation (NIAF) this year.   It is a time to pay tribute to those who came before us and to those who continue to carry on our Italian American heritage today. The National Italian American Foundation (NIAF) exists to celebrate, promote and keep alive our beautiful heritage. We cannot do this without you.
NIAF is excited to offer our supporters the opportunity to share the mission of the foundation in several ways that include making a charitable donation in honor or memory of a loved one, purchasing a gift membership for a friend or family member, or giving a lasting legacy by purchasing a brick on our Walk of Honor.
Each gift donation will go directly to help support NIAF's mission of providing educational and youth programs including scholarships, grants, heritage travel and mentoring.
To make a Charitable Donation gift please CLICK HERE.
To give a Gift Membership please CLICK HERE.