The National Italian American Foundation (NIAF) is frequently called upon to address and support the engagement of future generations of Italian Americans in the leadership of our community. There is no better place for that engagement to begin in a sophisticated way than on the myriad college campuses around the country. Though there are numerous Italian American social, fraternal, linguistic and academic organizations on campuses throughout America, there has never been a unified strategy to their organization and management.
In order to address this absence, NIAF has created NIAF on Campus Fellowship Program. It is our hope that this initiative will answer several important questions:
How can NIAF be a resource to existing groups on campus?
How can the Foundation create efficiencies, unify their efforts, and bring them together for increased exposure?
What can we do with the investment the community has entrusted in us to perpetuate our culture on America's campuses?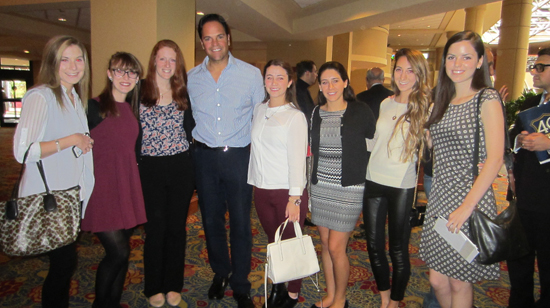 With this newest program, NIAF will attempt to design and implement a more effective strategy by bringing together 15 of the most active students throughout the nation so that they may have an equal voice in the process. What better way to understand the needs and trends of America's college campuses than to recruit the on-campus creative talent that will benefit from the program? The approach will be user-generated, grass roots, and ground up.
The NIAF on Campus Program is created to bring student together at the most important Italian American weekend of the year. They will lead the discussion and design of a new "NIAF on Campus" strategy and become long-term fellows of the Foundation to support the implementation of that strategy for many years to come. The ideal candidate for a Fellow will not only lead the discussion and design but will work to identify the next Fellow on their campus to succeed them in the next year and beyond.
The Program is intended for future leaders who self-identify as active in the Italian American community through their choice of study, their participation in the Italian Club, and their grass root efforts. The ideal candidate is active in Italian or Italian American issues or studies at their college or university.
To be considered for the NIAF on Campus Fellows program, a student must:
Be an Italian American college student who is active in Italian issues through their leadership in a club or a language society.
Be members of the National Italian American Foundation. Not a member? CLICK HERE!
Be able to attend the Gala Weekend and participate in events.
Specifications
Duration of fellowship: Fall 2020-Spring 2021
In addition to completing the online application, students must have a moderator of their Italian Club, professor of Italian language or Italian/Italian American Studies, or department head submit a letter of recommendation on their behalf to niafoncampus@niaf.org.
Important Dates
Application Not Yet Available
Deadline to apply: 

Sunday, September 6, 2020 (11:59 PM EST)

Deadline to submit letters of recommendation to niafoncampus@niaf.org: 

Sunday, September 6, 2020 (11:59 PM EST)

Students notified via e-mail:

Friday, September 11, 2020 (5:00 PM EST)
*Please note that all applicants' letters of recommendation must be sent directly by letter provider*
Program Includes:
Roundtrip travel expenses (i.e. airfare or train fare) for student to Washington, D.C.
Two-night hotel accommodation at the Omni Shoreham Hotel in Washington, D.C.
Free access to all NIAF Gala Weekend Events including the Saturday night 45th Anniversary Gala Dinner.
Program Does Not Include:
Any transportation to or from airport/train station to or from hotel
Any extras charged to the hotel room (i.e. internet, room service, dry cleaning, mini bar consumptions, etc.)
Any transportation taken during leisure time (i.e. taxis or metro, etc.)
Questions, please contact niafoncampus@niaf.org