FOR IMMEDIATE RELEASE
Contact:   Elissa Ruffino (NIAF) 202/939-3106 or elissa@niaf.org
---
*'50s and '60s Music Icon Frankie Avalon to Present Award*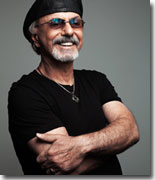 (WASHINGTON, D.C. – October 20, 2011) Dion DiMucci, rock and roll hall of famer, will be honored at the National Italian American Foundation's (NIAF) 36th Anniversary Awards Gala in Washington, D.C. DiMucci will receive the NIAF Special Achievement Award in Entertainment on October 29, 2011, at the Washington Hilton. Frankie Avalon, 50s and 60s music icon, will present the award to Dion. The black-tie event begins with a 6 p.m. reception followed by dinner and an awards ceremony.
Celebrities attending include Anna Maria Alberghetti, Dana Brunetti, Deana Martin, Joe Pantoliano and Mike Piazza. Maria Bartiromo, Emmy Award-winning journalist and a member of the NIAF Board of Directors, will serve as the gala's mistress of ceremonies.
Honorees joining DiMucci include Claudio Bozzo, president of the Mediterranean Shipping Company (USA) Inc.; Hon. Capri Cafaro, minority leader of the Ohio Senate; Hon. Frank J. Guarini, former U.S. congressman and NIAF chairman emeritus; Frank G. Mancuso Sr., former chairman and CEO of the Paramount Pictures and Metro-Goldwyn-Mayer Studio; Emma Marcegaglia, president of Confindustria; Paolo Scudieri, CEO of Adler Plastic S.p.A.; and Hon. Santo Versace, president of Gianni Versace S.p.A. and chairman of the Board of Fondazione Operation Smile Italia Onlus.
Bronx native Dion DiMucci formed his group Dion and the Belmonts in 1957. Named after Belmont Avenue in the Bronx, they had three top 40 hits. "I Wonder Why" was their first hit and over the next two years, the group earned a reputation not only for topping the charts, but for creating some of the most vital and exciting doo-wop music on the American scene. The group was a co-headliner on the 1959 Winter Dance Party, the tour in which Buddy Holly, Richie Valens and the Big Bopper died in a plane crash.
Going solo in 1960, Dion made a list of number one hits, including "Runaround Sue," "Lovers Who Wander" and "The Wanderer." As the first rock and roll artist ever signed to Columba Records, he continued with hits such as "Ruby Baby," "Donna the Prima Donna" and "Drip Drop."
Inducted into the Rock and Roll Hall of Fame in 1989, Dion sold 23 million albums worldwide and received 12 Gold Records. He has shared the stage with artists including Bruce Springsteen, Paul Simon, Bob Dylan and Lou Reed.
The NIAF gala is one of the premier annual events in the nation's capital, attracting more than 3,000 guests from the United States and Italy. Tickets to Saturday's gala begin at $400 per person. Proceeds benefit NIAF's educational programs.
For tickets or sponsor information, contact Jerry Jones at 202/939-3102 or jerry@niaf.org, or register online at www.niaf.org/gala.
The National Italian American Foundation (NIAF) is a non-profit organization dedicated to preserving and promoting the heritage and culture of Americans of Italian descent.