FOR IMMEDIATE RELEASE
Contact:   Elissa Ruffino (NIAF) 202/939-3106 or elissa@niaf.org
---
NIAF AND UM OFFER SCHOLARSHIPS TO STUDENTS
** Displaced Students from L'Aquila, Italy to Study in U.S.**
(Washington, DC – September 14, 2009) The National Italian American Foundation (NIAF) and the University of Miami (UM) in Coral Gables, Fla. have teamed up to offer scholarships for students displaced by the earthquake that struck the city of L'Aquila on April 6, 2009.
Italian students Valeria Ranalli and Eleonora Rasicci arrived from the University of L'Aquila to the UM Campus at the end of August. They will attend UM while their Italian university, which was destroyed by the earthquake, is rebuilt. The disastrous earthquake killed more than 300 people, ravaging the town of L'Aquila and the outlying region of Abruzzo. These two students, along with 26 others studying at other institutions nationwide, are recipients of the NIAF/Abruzzo Adopt-A-Student Program.
"Thanks to the opportunity offered by UM and NIAF, our dreams have now turned into a reality. The earthquake has been a bad experience for all, but out of this– we have been given another chance," Ranalli and Rasicci said.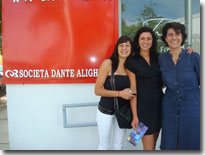 Valeria Ranalli, Eleonora Rasicci and Dr. Maria Stampino
"It's gratifying to know that we stood by our Italian exchange partner institution in their hour of need. Our collaboration with NIAF has even inspired other organizations to offer additional support to the students. It's really an example of goodwill having a domino effect, and how that goodwill has turned a tragedy into an incredible, life-changing experience for these young people," Dr. Maria Stampino, professor and director of the Italian program at the University of Miami said.
The NIAF/Abruzzo Adopt-A-Student Program offers students from the University of L'Aquila full scholarships to continue their academic studies in the United States. The campaign also provides the cost of textbooks, supplies, travel to and from Italy, meal plans and housing in residence halls for the undergraduates.
"NIAF continues to succeed in its goal of raising the funds necessary to answer the needs of these deserving students. Twenty-eight students are now studying at American universities. We expect more students to follow during the spring 2010 semester," Arthur J. Furia, Esq., NIAF general counsel and regional vice president for the Southeast and a shareholder at the Gunster Yoakley Law Firm said.
More than 100 displaced students from the earthquake-torn University of L'Aquila applied for the scholarships during the 2009-2010 academic school year. Twenty-four students are studying at Sierra Nevada College, located on Lake Tahoe in Nevada. The University of New Mexico and Villanova University are also accepting students and have agreed to offer scholarships.
On April 29, 2009, NIAF President Joseph V. Del Raso, Esq. and the Foundation's secretary John F. Calvelli traveled to Rome and L'Aquila in Italy to meet with prominent officials of the Italian government and the United States Embassy to discuss allocation of funds collected for the Abruzzo relief efforts. Among the priorities identified by the region was the need to find alternative academic accommodations for the University of L'Aquila students who will not be able to continue their studies next year because the university buildings have been destroyed.
Individuals, corporations and foundations who wish to donate to the NIAF/Abruzzo Adopt-A-Student Program can make their donations online at www.niaf.org/adopt. Send checks to NIAF/Abruzzo Adopt-A-Student, 1860 19th St. NW, Washington, DC 20009. All donations are tax deductible.
For more information about NIAF/Abruzzo Adopt-A-Student Program, contact Serena Cantoni, director of education and culture, at 202/939-3111 or serena@niaf.org.
NIAF is a non-profit organization dedicated to preserving and promoting the heritage and culture of Americans of Italian descent. www.niaf.org
The University of Miami's mission is to educate and nurture students, to create knowledge, and to provide service to our community and beyond. Committed to excellence and proud of the diversity of our University family, we strive to develop future leaders of our nation and the world. www.miami.edu