FOR IMMEDIATE RELEASE
Contact:   Elissa Ruffino (NIAF) 202/939-3106 or elissa@niaf.org
---
*NIAF hosts NJIIAHC Eighth Annual Congress and G2L Program in Law*
(WASHINGTON, D.C. – October 17, 2011) To increase awareness of the achievements Italian Americans since 1861 and to celebrate the 150th Anniversary of Italy's Unification, the National Italian American Foundation (NIAF) was the major sponsor of the New Jersey Italian and Italian American Heritage Commission's (NJIIAHC) Eighth Annual Congress at Rutgers University on October 15, 2011. NIAF was joined by the Consolato Generale d'Italia a New York and Filadelfia and the Consulate of Italy in Newark.
Hon. Samuel A. Alito Jr., Associate Justice of the U.S. Supreme Court, gave the keynote address at the NJIIAHC Eighth Annual Congress. He spoke about many achievements of Italian Americans in the military, the arts, music, film, medicine and sports, as well as Italian American women who served as pioneers in government. He also singled out the unsung pioneers, the four million Italian immigrants who travelled to America between 1870 and 1920. Justice Alito gave a moving account of his grandparents and parents journey as they worked hard, made sacrifices to keep the family together and prosper in a new land. His story is part of the Italian immigrant experience. "The story of Italian immigrants is the story of America," concluded Justice Alito.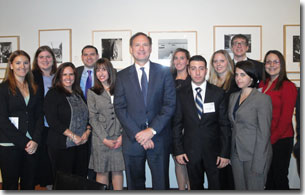 Justice Alito was welcomed by the chair of the New Jersey Italian and Italian American Heritage Commission, Dr. Gilda Rorro Baldassari. Guests were serenaded by Giada Valenti, international singer and songwriter. Valenti will be performing the Italian National Anthem during NIAF's 36th Anniversary Awards Gala in Washington, D.C. on October 29, 2011. www.niaf.org/gala
After Justice Alito's speech, NIAF's Executive Vice President Marie L. Garibaldi, a former New Jersey State Supreme Court Justice, presented a NIAF grant to the Jane Voorhees Zimmerli Art Museum for the Canaletto and Tiepolo exhibits. James J. Bergin, vice chair of the Zimmerli Museum accepted the grant. They were joined by Francis Donnarumma, Thomas A. Gentile, Patrick O'Boyle, and Peter Rosa who serve as NIAF Area Coordinators in the Greater New York region.
Following a grant presentation, NIAF hosted its Graduate to Leaders in Law (G2L) program at the museum. More than 20 law students and professionals from throughout the state participated in the workshops. NIAF Area Coordinator for the Greater New York Area Thomas Gentile, a partner at Lampf, Lipkind, Prupis & Petigrow was the moderator. He was joined by panelists Angelo Genova, a partner at Genova, Burns & Giantomasi, Gianni Minutoli and Salvatore Tamburo, partners at Dickstein Shapiro LLP. NIAF's G2L program focused on professional leadership skills and alternate avenues for employment in the field of law. Topics included the changing economic environment lawyers face today in their professional market, interview and resume techniques as well as various ways to use your law degree. For more information, visit www.niaf.org/g2l

The National Italian American Foundation (NIAF) is a non-profit organization dedicated to preserving and promoting the heritage and culture of Americans of Italian descent. Visit www.niaf.org.