FOR IMMEDIATE RELEASE 
Contact:   Elissa Ruffino (NIAF) 202/939-3106 or elissa@niaf.org
---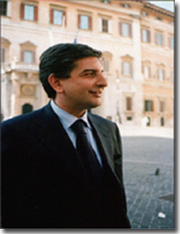 (WASHINGTON, DC – September 30, 2005) The Honorable MinisterMario Landolfi, minister of communications for the Republic of Italy, will address more than 3,000 prominent Italian and Italian Americans in politics, business, and entertainment at the National Italian American Foundation's (NIAF) 30th Anniversary Gala on October 15, 2005. The NIAF gala will be held at the Hilton Washington & Towers at 6 p.m. followed by dinner. Academy Award-winning actress Sophia Loren is the honorary gala chair.
In recent years the following Italian dignitaries have attended and addressed the guest during the NIAF gala: Hon. Pierferdinando Casini; Hon. Franco Fattini; Hon. Gianfranco Fini and Hon. Marcello Pera.
Hon. Landolfi has had an extensive career in Italian politics. Serving as Italy's Minister of Communications since November 2003, he has also served as a Member of the Chamber of Deputies during the 12th and 13th legislatures. Since the start of his affiliation with the parliamentary group Alleanza Nazionale (June 2001), Hon. Landolfi has been a member of some of Italy's most important parliamentary commissions including: Foreign Affairs and the EU (2003);Transport, Post and Telecommunications (2001-2003); Public and Private Works (2003), Special Commission for the Conversion of Decrees into Laws (2001), and the Parliamentary Watchdog Commission for Broadcasting Services and Guidelines (2001). He was born in Mondragone, Italy, in the province of Caserta.
During the gala Paul S. Otellini, president and CEO of Intel, will receive the NIAF Special Achievement Award in Business. General Peter Pace, chairman of the Joint Chiefs of Staff, will receive the NIAF Special Achievement Award for Military Service. Michelle Peluso, president and CEO of Travelocity, will also receive a NIAF Special Achievement Award in Business. Ambassador Peter F. Secchia, chairman of the board at Universal Forest Products Inc., and former U.S. Ambassador to Italy, will receive the NIAF Special Achievement Award for International Affairs.
Joining the NIAF gala honorees are actors Danny Aiello, Maria Bello, Dennis Farina and Antonio Sabato, Jr., and singers Jay Black and Natalie Merchant. Popular entertainer Tony Danza will be the evening's master of ceremonies.
The Region of Piedmont, this year's sponsoring region from Italy, will host a wine tasting event and provide products that are typical of the region. During the NIAF convention weekend (October 14-15), the Foundation will host conferences including: Italian Cities of Art and Agricultural Tourism with a book presentation of How Italy Helped the Cold War: The Untold Story – "Mission Italy" by Ambassador Richard N. Gardner on Friday, October 14. The following day, NIAF will host a screening of Sophia Loren's film Francesca e Nunziata
Proceeds from the gala to benefit the NIAF Scholarship and Education Programs. For tickets or sponsor information, contact: Bonni Cellini at 202/939-3114 or bonni@niaf.org or register on-line at www.niaf.org.
The National Italian American Foundation (NIAF) is a non-profit organization based in Washington, DC and dedicated to preserving the heritage of Italian Americans. Visitwww.niaf.org