FOR IMMEDIATE RELEASE
Contact:   Elissa Ruffino (NIAF) 202/939-3106 or elissa@niaf.org
---
*Santo Versace and One of Italy's Most Powerful Women Emma Marcegaglia at Gala*
* President of Italy Hon. Giorgio Napolitano Invited to Attend*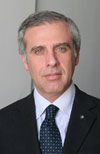 Paolo Scudieri, CEO of Adler Plastic S.p.A., will be honored at the National Italian American Foundation's (NIAF) 36th Anniversary Awards Gala in Washington, D.C. Scudieri will receive the NIAF Special Achievement Award in International Business on October 29, 2011, at the Washington Hilton. The black-tie event begins with a 6 p.m. reception followed by dinner and an awards ceremony.
Honorees from Italy joining Scudieri include honor Claudio Bozzo, president of the Mediterranean Shipping Company (USA) Inc., president of Confindustria Emma Marcegaglia, who is at the top of the Italian industrialists' power structure and heads Italy's employers' association and Hon. Santo Versace, president of Gianni Versace S.p.A. and chairman of the Board of Fondazione Operation Smile Italia Onlus.
NIAF will also Hon. Capri Cafaro, minority leader of the Ohio Senate; Dion DiMucci, rock and roll hall of famer; Hon. Frank J. Guarini, former U.S. congressman and NIAF chairman emeritus; and Frank G. Mancuso Sr., former chairman and CEO of the Paramount Pictures and Metro-Goldwyn-Mayer Studio.
The Adler Group is a family business that was founded by Scudieri's father, Achille, in 1953 and located in Ottaviano, Italy. Paolo Scudieri took over the company in 1982, becoming its CEO. Adler Plastic recently opened a manufacturing plant in the Detroit area, which helped to stimulate economic growth in the United States by employing more than 3,000 workers. The company manufactures car interiors, which includes car seat covers, synthetic fabric wheel well liner and carpets. Scudieri began working for his father's company upon graduating from the University of Basel and received a degree in industrial engineering.
Scudieri also serves as president of the association of Studi e Ricerche per il Mezzogiorno. He is a member of the National Board of Confindustria and the Select Committee for Internationalization and has served as the vice president of the Industrial Union of Naples. He is a recipient of numerous awards, including the Qualitas International Prize, Gazzelle Poland, General Motors Award and the Medici Prize for Innovation and Development. Scudieri was also appointed a Knight of Labour by the President of the Republic of Italy, Hon. Giorgio Napolitano, who has been invited to attend the NIAF gala.
Celebrities attending the gala include Frankie Avalon, Anna Maria Alberghetti, Dana Brunetti, Giuliana DePandi-Rancic, Deana Martin, Joe Pantoliano and Mike Piazza. Maria Bartiromo, Emmy Award-winning journalist and a member of the NIAF Board of Directors, will serve as the gala's mistress of ceremonies.
The NIAF gala is one of the premier annual events in the nation's capital, attracting more than 3,000 guests from the United States and Italy. Tickets to Saturday's gala begin at $400 per person. Proceeds benefit NIAF's educational programs.
For tickets or sponsor information, contact Jerry Jones at 202/939-3102 or jerry@niaf.org, or register online at www.niaf.org/gala. The National Italian American Foundation (NIAF) is a non-profit organization dedicated to preserving and promoting the heritage and culture of Americans of Italian descent.