FOR IMMEDIATE RELEASE 
Contact:   Elissa Ruffino (NIAF) 202/939-3106 or elissa@niaf.org
---
(WASHINGTON, DC –– July 19, 2005) Joseph J. Vecchio, president of Global Medical Services LLC in Alexandria, Va., and National Italian American Foundation (NIAF) Council 2000 supporter, recently established a grant through NIAF to sponsor an Italian student from his father's hometown of Grammichele, Sicily to travel to the U.S. The grant is in memory of his parents, Joseph and Connie Vecchio. The city of Grammichele matched Mr. Vecchio's NIAF grant and sent another student from the town to study in the U.S.
To increase proficiency in English and learn about American culture, the students are attending English language classes at In Lingua in Rosslyn, Va., and meeting American students during their one-month stay in Washington, D.C.
"Providing this grant was the least I could do for all the sacrifices that my parents made for me and my family," Vecchio said.
The two students, Teresa Pitrella, a freshman at the University of Catania studying economics, andAlessandra Manusia, a sophomore at the University of Perugia studying linguistics, will also attend the NIAF's Students to Leaders (S2L) Program, educational workshops that expose Italian American high school students to the inner workings of government and public policy in Washington, D.C.
Students chosen for the grant must be residents of Grammichele, Sicily. They are also selected depending upon their academic merit, community involvement, and willingness to learn English.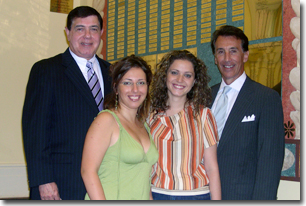 Joseph J. Vecchio, NIAF Council member; Teresa Pitrella,
student at University of Catania Alessandra Manusia, student at University of Perugia; and Dr. A. Kenneth Ciongoli, NIAF Chairman and CEO at the NIAF headquarters.The NIAF is a non profit organization based in Washington, DC dedicated to preserving the heritage of an estimated 25 million Americans of Italian descent. Visit our website at:www.niaf.org