Introducing the NIAF 2019 Region of Honor
By Gabriella Mileti
NIAF Director of Special Programs
Nestled in the Apennine mountain range in central Italy and stretching along 22 miles of breathtaking Adriatic coast is the lesser known region of Molise, known for its rugged terrain, agriculture and isolated villages.
Italy's youngest region, Molise was originally part of the Abruzzo-Molise region but separated in 1963. Although it boasts a history that dates back to the Paleolithic Era, Molise is rather unknown not only to tourists but to Italians as well. In fact, the region is so often overlooked, the Molisani themselves have begun to call it "the region that doesn't exist." But, it's this unknown quality that gives Molise a mysterious allure that many of us have yet to discover—and, when we do, we will be left wanting more.
Molise's charm begins with its natural beauty. With the Apennine mountain range covering 55 percent of the region, Molise is perfect for those who love the outdoors, whether it be skiing, hiking, or camping, or for those who just want to get away and enjoy the quiet serenity of untouched majestic mountains. In fact, the
Riserva Regionale Guardiaregia Campochiaro
, under the protection of the World Wide Fund (WWF), encompasses caves, canyons and waterfalls. Take a walk and be led by the beautiful pathways while weaving up, down and along the hillsides where undoubtedly spot local wildlife.
Speaking of wildlife, Molise is the site of a centuries-old custom that takes place between the regions of Puglia and Molise, the transumanza. This is a traditional trek of more than 200 miles that's traveled by shepherds and their animals (cows and sheep) to reach two different geographic and climatic regions twice a year: in autumn towards the warmer plains of Puglia, and in the spring towards the cooler mountains of Molise that offer green and abundant pastures, specifically the area around Frosolone in the province of Isernia. The transumanza is an essential part of farming life in the region.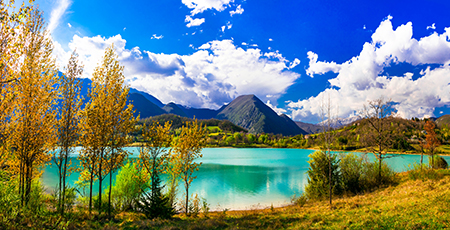 Lake Lago di Castel San Vincenzo, Molise
(leoks/shutterstock)
Thanks to the abundance of sheep in the region, Molise is home to some of the world's finest cheeses. Best known are the caciocavallo and stracciata cheeses, both produced in the area around Agnone. But, in Molise, you can also find the usual suspects of fior di latte, mozzarella di bufala, pecorino and scamorza, all locally produced and delicious. 
Aside from the dairy aspect of Molise's agriculture, the region is a proud producer of durum wheat—perfect for pasta-making. The 107-year-old, family-owned, pasta company, La Molisana, calls Campobasso home, exports products to 50 countries worldwide, offers private-label production services, and is Italy's fifth-largest pasta brand. Not bad for country's second-smallest region!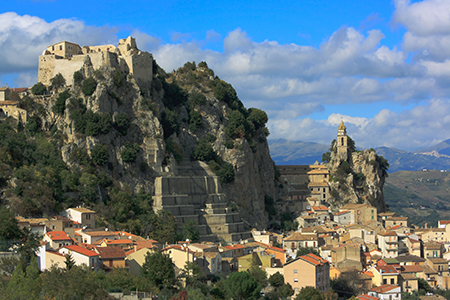 The spectacular Molise village of Bagnoli del Trigno
(GybasDigiPhoto/shutterstock)
And when you order that dish of pasta in Molise, make sure it's lamb ragù with fusilli or cavatelli, the two pasta shapes originally from Molise. At the base of the ragù will be the region's famed olive oil. Molise has quite its own production of the liquid gold.  You probably have some from Molise in your kitchen and didn't even know it—Colavita!  The family-owned and -operated international business is headquartered in Sant' Elia a Pianisi, located in the province of Campobasso.
Naturally, with a dish of pasta, you'll need a glass of wine. With its sun-drenched hills, Molise's climate makes it ideal for winemaking. Although wines from Molise date as far back as 500 B.C., with influences coming from the Samnites, Etruscans and Romans, Molise wine is often overshadowed by its neighbors Abruzzo to the north and Puglia to the south. It wasn't until the 1980s that Molise finally gained three of its own vino DOCs—Biferno, and Pentro di Isernia and Tintilia. Although the DOC varieties represent a small portion of the region's wine production, some oenophiles expect Molise to develop into a recognized wine region. Until then, its wines are a bargain!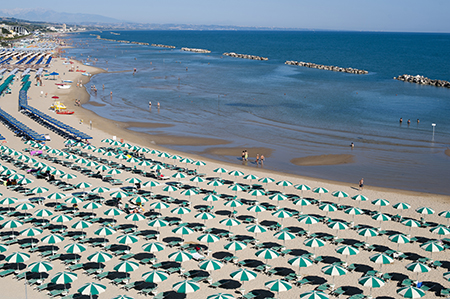 Termoli beaches
(Claudio Giovanni Colombo/shutterstock)
Besides the culinary aspects of the region, Molise has a proud history of skilled craftsmanship. In the ancient town of Agnone, perched atop a rocky hill that was once a stronghold of the early Samnite tribes, there's a bronze-casting legacy of more than 1,000 years that endures today. The people of Agnone are known for the art of casting fine Italian bronze bells. The Fonderia Marinelli is Italy's oldest foundry. One of the oldest family businesses in the world, the Marinelli family is still hand-making bells from start to finish, using the same tools, methods and process employed since 1339. The bells are so magnificent and prestigious that the foundry has been making church bells for the Vatican for centuries.
While still largely untouched by mass tourism, NIAF's 2019 Region of Honor, Molise, should be on your radar for an upcoming visit to la bella Italia! NIAF looks forward to visiting Molise this summer with the 2019 Ambassador Peter F. Secchia Voyage of Discovery Program and the NIAF Board of Directors' Mission to Italy. And NIAF will continue to celebrate Molise throughout the year, and especially honor it at our 44th Anniversary Gala Weekend in Washington, D.C., November 1-3.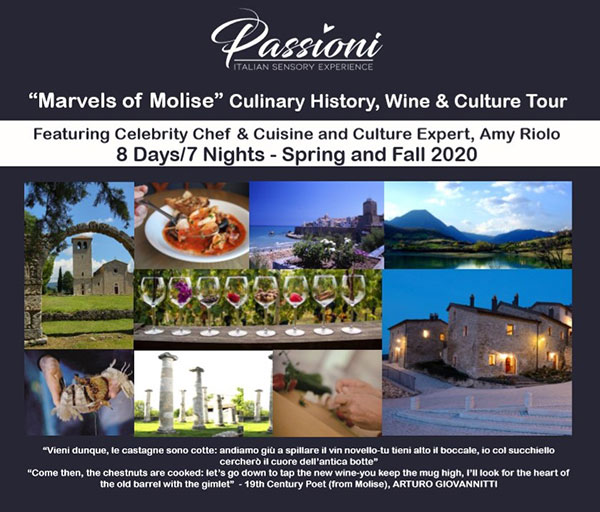 Travel to Molise – NIAF Members Get a 10% Discount!
Tour NIAF's 2019 Region of Honor, Molise, with Celebrity Chef Amy Riolo and Italian Sensory Experience! The Marvels of Molise tour is scheduled for the Spring and Fall of 2020 when you will be expertly guided through Molise's best, giving you experiences to intimately know Molise's rich history, culture, culinary traditions and wine. NIAF Members receive a 10% discount if they sign up for the tour by December 31. For more information, visit: https://italiansensoryexperience.com/.