In 1975, NIAF's founders envisioned a council of 1,000…
The 1,000 most passionate and engaged Italian Americans, who would take upon themselves the responsibility to support, protect, and perpetuate the mission and vision of the National Italian American Foundation. The purpose of the Council was two-fold: financial and advisory.
Today that vision has evolved into the Italian American Leadership Council (IALC).
Why Join the IALC?
By joining the IALC, you are committing to being a leader and stakeholder in NIAF, the Italian American community, and our future.
The benefits of that commitment are second to none. As self-identified community leaders, each member is invited to participate in all activities open to the NIAF Board of Directors, like our Annual Leadership Retreat and our summer Mission to Italy. In the IALC, you will share impactful and exclusive NIAF events and distinct professional networking opportunities in the United States and Italy. 

Listen to NIAF's President and COO, John M. Viola, discuss the IALC in a recent interview with our friends at ITALICS.
Leading By Example
Every member of NIAF's Board of Directors and every Regional Vice-President and Area Coordinator are already part of the IALC
These are committed Italian American men and women in business, the professions, government, education, and the arts…an international network supporting and guiding an organization with a four decade track record of effectively serving the Italian American community.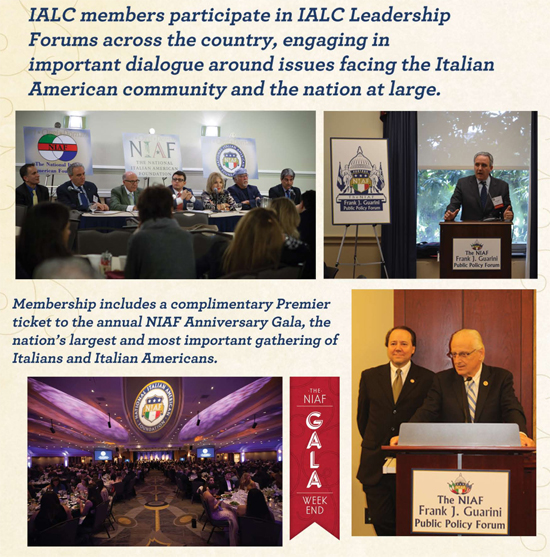 Specific Benefits include:
One complimentary ticket to the Annual NIAF Anniversary Gala in Washington, D.C.
One complimentary ticket to the NIAF Anniversary Gala VIP reception
An invitation to a private IALC meeting and events during the NIAF Anniversary Gala Weekend
An invitation to the IALC Leadership Summit meeting at the New York Spring Gala
A yearlong subscription to NIAF's Ambassador Magazine
A complimentary copy of the NIAF Book of the Year
Concierge Services for travel and networking in Italy and Washington, D.C. – Guaranteed NIAF assistance in liaison with the White House, Congress, federal agencies, and throughout Italy
Invitations to the NIAF – Frank J. Guarini Public Policy Forums and Media Events
Attend special IALC events throughout the year
Access to IALeaders.org, an online networking resource exclusively for IALC members (coming 2016)
And, all of the traditional benefits of NIAF membership including:
NIAF Member discounts for travel, genealogy, retail, and more
Mention in our NIAF Annual Report Publication and Exclusive NIAF Member gifts!
For questions or inquiries pertaining to the IALC, please contact Andrea Bartlett at 202-939-3118 or send an email to IALC@niaf.org.