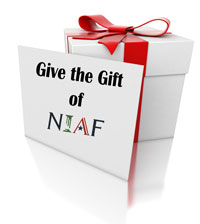 Give the gift of a NIAF membership to a friend or family member who shares your interest in embracing and promoting Italian heritage and culture. A NIAF gift membership will give the recipient the same benefits you have as a member, which include receiving the Ambassador Magazine, special invitations to events, networking opportunities and discounts on great Italian and Italian American products and travel programs.
A special card announcing your NIAF gift membership will be sent to your chosen recipient(s), and you will also receive a letter with our thanks confirming the gift memberships you purchased.
For more information, please send an email to membership@niaf.org or call 202-387-0600.
CLICK HERE to register today!