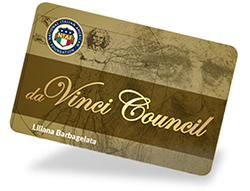 $2500 Annual Membership
(Previously known as NIAF Italian American Leadership Council)

Joining the da Vinci Council puts you in a select group, as one of the Foundation's most generous benefactors.  Your yearly gift to NIAF is your opportunity to honor your ancestors and empower the next generation of Italian Americans.
Please note that your contribution to our scholarship, cultural and heritage travel programs is what matters most.
Members receive exclusive invitations to special NIAF programs; Exceptional Food and Wine Events; Business Networking forums; and Unique Italian Travel Experiences.
Members' names to be prominently mentioned in NIAF's Annual Report and all four releases of NIAF's Ambassador magazine.
Individuals in NIAF's da Vinci Council receive our quarterly magazine, Ambassador, delivered to their address.
Benefits:
Welcome Letter
Lapel Pin
Hard copy of Ambassador magazine (quarterly)
Italian Dinner Spoon, Wooden
NIAF Coffee Mug
NIAF Hat
NIAF Book of the Year
Italy in the White House – Book
Monthly Member Newsletter
Invitation to all NIAF Special Events
Invitation to all NIAF Public Policy Luncheons
Mention in NIAF Donor List