#WeAreNIAF
Be a part of something bigger – give back to the Italian American community and donate to NIAF in our #WeAreNIAF campaign. Your gift allows us to provide scholarships and grants for Italian American students, as well as continue our work in cultural programs throughout the United States. Every donation counts! To learn more about what we do and how you can help, go to  www.WeAreNIAF.com.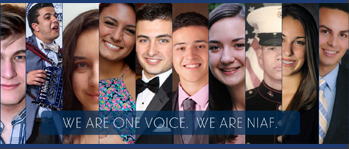 Demand Justice for Italian Americans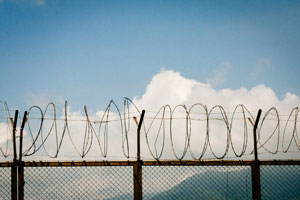 During World War II, the United States government interned and relocated thousands of Italian Americans, often confiscating their property. These actions, which affected many in our community, have been largely overlooked by history. Currently, there are two bills before Congress that would require the federal government to acknowledge these civil liberty violations, apologize for them, and fund educational programs studying the mistreatment of Italian Americans during that time. The National Italian American Foundation supports both bills and asks for your help. Please sign our petition and join us in demanding an apology from Congress on behalf of the Italian Americans that came before us. For more information, CLICK HERE.
Apply to the NIAF i-Italy Internship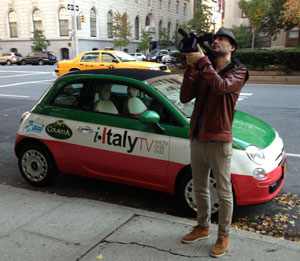 Apply to our new NIAF i-Italy Internship for the opportunity to work with i-Italy, the largest editorial network dedicated to Italian and Italian American affairs in the United States. This part-time internship gives interns professional experience in media, as well as Italian language proficiency. Internship is based in New York City and includes $1,000-a-month stipend. Deadline to apply: June 30. For more information, go to http://ow.ly/4nfkmq.
The Italian American Podcast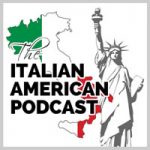 The National Italian American Foundation is proud to be the official sponsor of The Italian American Podcast, the first podcast dedicated to helping Italian Americans learn about and celebrate their brilliant heritage. The popular podcast features interviews with famous Italian Americans and everyday Italian Americans, and it shares in our traditions. Listen here.
Join NIAF Today!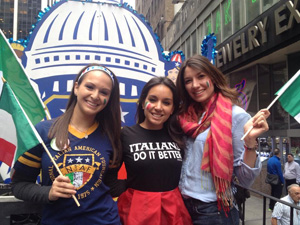 Do you want to leave an Italian American legacy? Now's the time to join the National Italian American Foundation! Membership with NIAF celebrates your family heritage and supports the Italian American community. Our core mission is to preserve Italian American heritage, strengthen the ties that bind the United States and Italy, and support through scholarships, grants and other programs the education of new generations of Italian Americans. By joining, you not only will help us fulfill that mission but you'll also enjoy many new member benefits, including:
Opportunities to network with prominent political and business leaders
Cultural and educational events
Access to NIAF's member-only website pages
Annual subscription to NIAF's Ambassador Magazine
Discounts for NIAF events and merchandise
Great money-saving deals through NIAF's partners, and much more!
For more information about NIAF and its exciting new benefits, visit www.niaf.org/join.
NIAF Announces Its Corporate Sponsors
NIAF is proud to announce its new Corporate Sponsors! Take a look at the money-saving discounts and exclusive deals they offer to NIAF Members through the NIAF Membership Portal. Our newest Corporate Sponsor:
Be a part of NIAF's Facebook community! 
Check out and "like" (or "love," "wow" or "haha") NIAF's full-of-Italian-American-pride Facebook page to be a part of our online community! And those of you who already follow us, grazie for your support!
NIAF on Facebook is a rapidly growing online community with everything but your Sunday dinner table — news, views, recipes and trivia. Anything Italian, Italian American or NIAF, it's there! Plus, contests and free tickets to shows, concerts and events across the country, such as Pasquale Esposito, the famed Italian tenor on PBS, coming soon to Washington, D.C. Join us at www.facebook.com/niaf.org.
Voyage of Discovery Alum? 
Did you or someone you know participate in NIAF's Voyage of Discovery or NIAF's Gift of Discovery program in past years? If so, we'd love to hear from you! We're creating an alumni database and we need your help! Please send your current contact information to Gabriella Mileti, Director of Programs, at gmileti@niaf.org.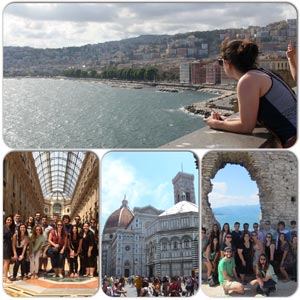 Photography for Wine Lovers Workshop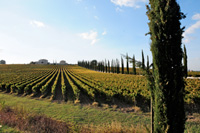 Internationally acclaimed husband-and-wife photographers and authors Frank Van Riper and Judith Goodman will host a two-part photography workshop on May 10 from 6:30-8:30 p.m. in Washington, D.C., and May 14 from 11:45 a.m.-
3 p.m. in Delaplane, Va. The package includes photography lectures and a visit to a local Virginia winery. The photography power couple's feature on taking better photographs in Italy was in our Spring 2016 Ambassador Magazine. For more information on the workshop and how to register, go to http://ow.ly/100N4P.
Cooking with Nonna: Rosella Culinary Tour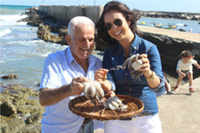 Rossella Rago of Cooking with Nonna will lead her annual Culinary Tour to the southern Italian region of Puglia this year, September 10-17. The trip will allow guests to explore Rossella's native region, learning, cooking, and eating all Puglia has to offer. For more information, go to http://ow.ly/100Kix.
The Calandra Italian American Institute 


The Calandra Italian American Institute will host a presentation of Umberto Mucci's latest book "We The Italians: Two flags, One heart" on May 3, 6-8 p.m. The book features interviews conducted in Italy and the United States, concentrating on the Italian community in America. To RSVP, call 212-642-2094; for more information, go to http://ow.ly/4nfwpu.
National Organization of Italian American Women (NOIAW) 
Join NOIAW's Young Professionals network in New York City for a panel discussion at Cipriani Wall Street on May 17, at 6 p.m. The event will include cocktails and talks from female Italian American entrepreneurs. Tickets for members are $30; Non-members $40. For more information, go to: http://ow.ly/4nfxQf.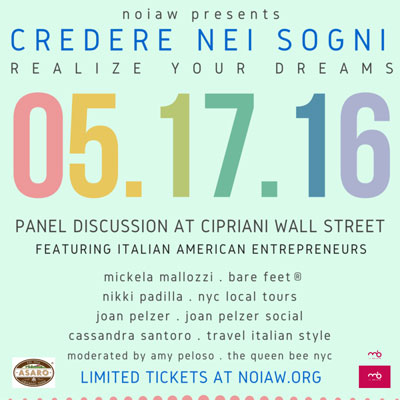 Casa Italiana Zerilli-Marimò 
Casa Italiana Zerilli-Marimò will host a film screening of the documentary, "Emergency Exit: Young Italians Abroad," on May 2, at 6:30 p.m. The award-winning film explores the challenges that today's young Italians face with their country's economy and shifting cultural traditions. For more information, go to: http://ow.ly/4nfAlM.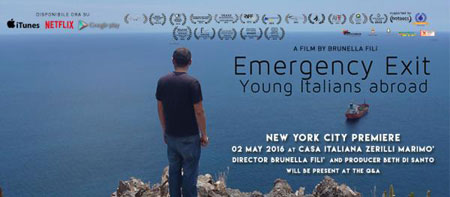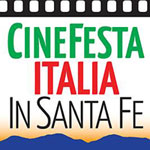 CineFesta Italia in Santa Fe 
CineFesta Italia is an annual event of films, artisanship, food and culture to benefit local charities, which will take place June 1-4 in Santa Fe, N.M. This four-day event will include film screenings and appearances from Italian artists, filmmakers, and dignitaries. For more information, go to www.cinefestaitalia.com.
Everybody Loves Italian! On the radio!


Join hosts Frank Granieri and Dominic Mevoli to celebrate the everyday Italian American family and experience, plus interviews with personalities, stories, recipes and more! Sundays 6 a.m. and 5 p.m. on WWDB 860 AM Philadelphia; and streaming worldwide! Find them on Facebook at www.facebook.com/EverybodyLovesItalian. For more information, visit: http://www.everybodylovesitalian.us/.
Turn on Italics TV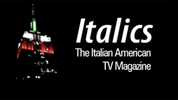 For monthly cable-TV programming for the Italian American community, tune in to Italics, the Italian American TV magazine, produced by The John D. Calandra Italian American Institute at Queens College in New York and hosted by Anthony J. Tamburri, dean of The Calandra Institute. Check your local New York and New York State cable-TV listings for Italics, or find it on CUNY-TV website, and on-demand on the YouTube channel and Facebook.
Shop at AmazonSmile and Support NIAF! 


Did you know that when you shop online at Amazon, a portion of your purchase price can support the work of NIAF? Simply, go to http://smile.amazon.com/ch/52-1071723 and select the National Italian American Foundation as your charity of choice and the AmazonSmile Foundation will donate 0.5 percent of the purchase price from your eligible AmazonSmile purchases to NIAF. AmazonSmile offers the same selection and low prices as Amazon and customers can still use their Amazon account, the only difference is customers are now also donating to a great cause!
| | |
| --- | --- |
| | Congratulations to NIAF Board Member Dr. Antonio Giordano, on being honored by the Association of Italian American Education (AIAE). Dr. Giordano was awarded the Outstanding Achievements in Medical Research Award for his work at the Sbarro Institute for Cancer Research and Molecular Medicine. |
| | Congratulations to longtime friend of NIAF Rita Monte of WHPC radio on being awarded the "Ambasciatore Award" from the Italian American Museum. The award honors exemplary men and women who have made a significant contribution to their Italian American community through a unique achievement or outstanding service. |
Support Our Sponsors
Whether you are hoping to determine if you are eligible for Italian citizenship, looking for assistance with collection of your family's vital records, or merely looking for translation of your documents in preparation for your appointment with the Italian consulate, Your Italian Passport is here to help!
Your Italian Passport is a U.S.-based company offering comprehensive services for Italian Americans seeking to obtain Italian dual citizenship. Like so many things Italian, Your Italian Passport is a business of organic roots grown over time with care and committed to giving personalized attention to each and every client.
Visit our website www.youritalianpassport.com and be on your way to living la dolce vita! As always, NIAF members receive a 10 percent discount on all services offered. A new world awaits with Your Italian Passport! Contact us today!
With connections to 27 Italian cities and over 1,000 destinations in cooperation with airline partners, upon arrival to Rome Fiumicino Airport; it is your time to experience Italian exclusivity and luxury!
With a greater emphasis on customer choice, Alitalia allows travelers to experience the best of Italy before landing.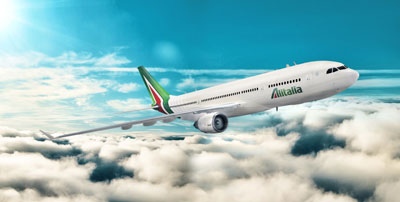 In Business Class, relax in seats covered in rich leather by Poltrana Frau that convert to a flatbed position, while enjoying regional Italian cuisine paired with hand-selected wines. In Premium Economy, experience a private and quiet journey in a separate cabin with seats that offer up to 40 percent more space than Economy and an enhanced meal service. In Economy, a new cabin design features warm and inviting colors and classic meal choices and wines are served in addition to a warm bakery, teas, coffee and cappuccino. With the introduction of Wi-Fi and international roaming* everyone on board is connected at 30,000 feet and can enjoy a wide selection of in-flight entertainment options.
For fares from New York to Milan starting from $712** (travel from May through August) don't wait! Visit www.alitalia.com and book today!
* Service available upon completion of cabin upgrades and renovations at an additional cost.
** Restrictions apply; all fares are subject to change without notice
SIGN UP TO RECEIVE ALITALIA'S NEWSLETTER
Be the first to receive Alitalia's latest news and offers. Visit Alitalia on the web and join today!
---
Reach more than 100,000 NIAF members and Italophile readers by
sponsoring an upcoming edition of NIAF's monthly e-Newsletter!

Contact: don@niaf.org.
NIAF e-Newsletter compiled and edited
by Danielle DeSimone