#WeAreNIAF
Be a part of something bigger – give back to the Italian American community and donate to NIAF in our #WeAreNIAF campaign. Your gift allows us to provide scholarships and grants for Italian American students, as well as continue our work in cultural programs throughout the United States. Every donation counts! To learn more about what we do and how you can help, go to www.WeAreNIAF.com.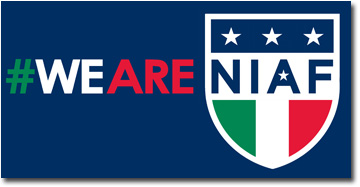 It'll Be Here … Next Month! The NIAF New York Gala
Don't miss out! Get your tickets now for our 2016 NIAF New York Gala! This event sells out every year! We will be returning to the legendary Cipriani 42nd Street in the heart of the Big Apple on Thursday, April 28, for an evening of entertainment, food, high-powered networking, and Italian American culture!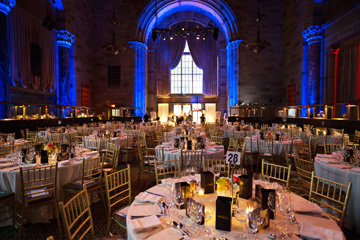 And check this out: One of this year's illustrious honorees, whom you can congratulate personally at the Gala, will be inducted this July into the Major League Baseball Hall of Fame in Cooperstown! But Mike Piazza is just one of seven remarkable Italian Americans you'll want to get to know.
For tickets, sponsorship information and more on the event, visit www.niaf.org/nyc or contact Andrea Bartlett at 202-939-3118 or abartlett@niaf.org.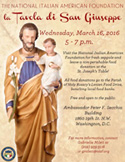 NIAF's "Tavola di San Giuseppe" Celebration
Come to NIAF headquarters for our "Tavola di San Giuseppe" on Wednesday, March 16, 5-7 p.m. The event, celebrating the traditional Feast of St. Joseph, will feature traditional Italian food – including fresh zeppole! We only ask that you bring a non-perishable food item to be donated to local, Washington, D.C., food banks. Location: 1860 19th St., NW, Washington, D.C.  For more information on the event, go to http://ow.ly/YOj7Y.
Join NIAF Today!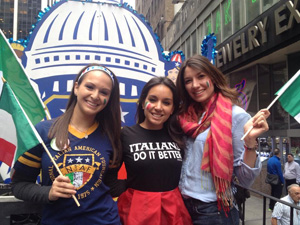 If you're serious about your Italian American legacy, now's the time to join the National Italian American Foundation! Membership with NIAF allows you to celebrate your family heritage and support the Italian American community. Our core mission is to preserve Italian American heritage, strengthen the ties that bind the United States and Italy, and support through scholarships, grants and other programs the education of new generations of Italian Americans. By joining, you not only will help us fulfill that mission but you'll also enjoy many new member benefits, including:
• Opportunities to network with prominent political and business leaders
• Cultural and educational events
• Access to NIAF's member-only website pages
• Annual subscription to NIAF's Ambassador Magazine
• Discounts for NIAF events and merchandise
• Great money-saving deals through NIAF's partners, and much more!
For more information about NIAF and its exciting new benefits, visit www.niaf.org/join.
NIAF Announces New Corporate Sponsors
NIAF is proud to announce its new Corporate Sponsors! Take a look at the money-saving discounts and exclusive deals they offer to NIAF Members through the NIAF Membership Portal. Our newest Corporate Sponsors include:
• ByItaly
• Granoro
• Moneta Cookware
• Santa Rosalia Favors
• Weddings in Tuscany
• Your Italian Passport
Career Paths Milan Internship—Deadline soon!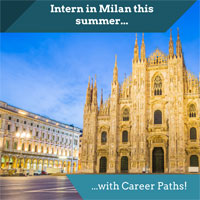 Located in Milan, Career Paths is the first Italian company operating in the field of education and offering services supporting its students in developing quality solutions for both academic and career path building. Career Paths organizes internship interviews with key partners in Milan, and it provides food, accommodations, activities, and career guidance to its participants. Deadline to apply is March 31. For more information, go to http://ow.ly/XNO7q.
Be a part of NIAF's Facebook community!
Check out and "like" (or "love" "wow" or "haha") NIAF's full-of-Italian-American-pride Facebook page to be a part of our online community! And those of you who already follow us, grazie for your support!
NIAF on Facebook is a rapidly growing online community with everything but your Sunday dinner table – news, views, recipes and trivia. Anything Italian, Italian American or NIAF, it's there! Plus, contests and free tickets to shows, concerts and events across the country, such as Pasquale Esposito, the famed Italian tenor on PBS, coming soon to Washington, D.C. Join us at www.facebook.com/niaf.org.
Voyage of Discovery Alum?
Did you or someone you know participate in NIAF's Voyage of Discovery or NIAF's Gift of Discovery program in past years? If so, we'd love to hear from you! We're creating an alumni database and we need your help! Please send your current contact information to Gabriella Mileti, Director of Programs, at gmileti@niaf.org.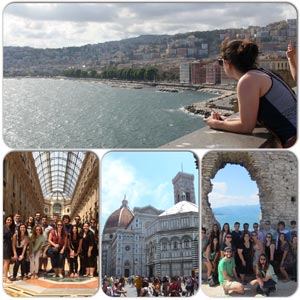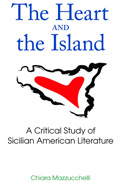 The Calandra Italian American Institute
The Calandra Italian American Institute will be a hosting a discussion on the bond between Sicilian American writers and the island of Sicily, as reflected in Sicilian American literature. To RSVP, call 212-642-2094; for more information, go to http://ow.ly/YO5Th.
Casa Italiana Zerilli-Marimò


Casa Italiana Zerilli-Marimò will host a discussion and presentation titled, "Death for Five Voices: The Making of a New Musical Drama about Carlo Gesualdo, Renaissance Musician and Murderer." The evening will feature performances from Bogliasco Foundation fellows and Prospect Theater Company actors. For more information or to reserve a seat, go to http://ow.ly/YO9hr.
NSU Art Museum Exhibit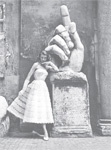 The NSU Art Museum in Fort Lauderdale, Fla., has now opened its exhibit, "Bellissima: Italy and High Fashion 1945-1968," which will run until June 5. The exhibit includes more than 230 vintage garments and accessories by Valentino, Gucci, Ferragamo, Pucci and others, as well as artwork and film from the creative postwar period in Italy. For more information, go to http://ow.ly/XNPHk.
Everybody Loves Italian! On the radio!


Join hosts Frank Granieri and Dominic Mevoli to celebrate the everyday Italian American family and experience, plus interviews with personalities, stories, recipes and more! Sundays 6 a.m. and 5 p.m. on WWDB 860 AM Philadelphia; and streaming worldwide! Find them on Facebook at www.facebook.com/EverybodyLovesItalian. For more information, visit: www.everybodylovesitalian.us/.
Turn on Italics TV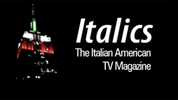 For monthly cable-TV programming for the Italian American community, tune in to Italics, the Italian American TV magazine, produced by The John D. Calandra Italian American Institute at Queens College in New York and hosted by Anthony J. Tamburri, dean of The Calandra Institute. Check your local New York and New York State cable-TV listings for Italics, or find it on CUNY-TV website (www.qc.edu/calandra), and on demand on the YouTube channel (www.youtube.com/italicstv), and Facebook (www.facebook.com/pages/Italics/101715547301).
Shop at AmazonSmile and Support NIAF!


Did you know that when you shop online at Amazon, a portion of your purchase price can support the work of NIAF! Simply, go to http://smile.amazon.com/ch/52-1071723 and select the National Italian American Foundation as your charity of choice and the AmazonSmile Foundation will donate 0.5 percent of the purchase price from your eligible AmazonSmile purchases to NIAF. AmazonSmile offers the same selection and low prices as Amazon and customers can still use their Amazon Account, the only difference is customers are now also donating to a great cause!
Read Diplomatic Courier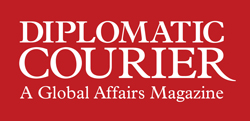 Interested in global affairs and foreign policy? The Diplomatic Courier is an independent magazine and website that covers all that and more. Look for the new issue on newsstands or read the latest articles, such as "American Politics 2016: The Unexpected" and "The Struggle to Eradicate Polio in Africa" at www.diplomaticourier.com.
| | |
| --- | --- |
|   | Congratulations to NIAF Board Member Dr. John P. Rosa, a renowned chiropractor and community organizer, on being appointed the Consular Correspondent of the Consulate General of Italy in Philadelphia for South-Eastern Maryland. In this role, Rosa will assist Italian residents in Maryland and Philadelphia in all visa, passport, and citizenship procedures in collaboration with the Consulate. Buon lavoro Dr. Rosa! |
|   | Congratulations to NIAF member Stephan Silva on the publication of his debut novel, "Heaven Cries." The book is based on the life of his uncle, a wounded Italian pilot in World War II, who returns home to Northern Italy to experience Nazi oppression and the suffering Italian civilians went through during WWII. His story is a testament to the human spirit, faith, and the will to survive even in the most adverse circumstances. The book is available on Amazon.com. |
|   | Congratulations to NIAF member Joseph Giordano on the publication of his book, "Birds of Passage, An Italian Immigrant Coming of Age Story." The novel is set in early 20th-century New York City, and follows the lives of two young Italian immigrants as they navigate the challenging waters of their new home. The book is available on Amazon.com. |
|   | Congratulations to NIAF member Umberto Mucci on the publication of his book "We the Italians: Two Flags One Heart." The book is a selection of the best 100 interviews conducted by the author, both in the United States and in Italy, for the online platform We the Italians. It explores the history and roles of each of interviewees that has had an effect on the relationship between Italy and the United States, including several of NIAF's leaders. The book is available on Amazon.com. |
|   | Congratulations to NIAF member Joseph J. Corso Jr. on the publication of his new book, "A Sicilian-American Comedy." The book is an episodic, fictional account of four generations of a Sicilian family. Some immigrate to America, others stay behind. It is a tale of la famiglia, filled with acts of sacrifice and sacrilege, love and malice, mystery and murder. The book is available on Amazon.com |
| | Congratulations to longtime NIAF supporter Rita Monte on celebrating 20 years at WHPC radio. She is the host of "Profumi d'Italia" on WHPC radio, 90.3 FM, in Garden City, NY, and has covered a number of NIAF events and interviews. |
Support Our Sponsors
Your Italian Passport


Whether you are hoping to determine if you are eligible for Italian citizenship, looking for assistance with collection of your family's vital records, or merely looking for translation of your documents in preparation for your appointment with the Italian consulate, Your Italian Passport is here to help!
Your Italian Passport is a U.S.-based company offering comprehensive services for Italian Americans seeking to obtain Italian dual citizenship. Like so many things Italian, Your Italian Passport is a business of organic roots grown over time with care and committed to giving personalized attention to each and every client.
Visit our website www.youritalianpassport.com and be on your way to living la dolce vita! As always, NIAF members receive a 10 percent discount on all services offered. A new world awaits with Your Italian Passport! Contact us today!
Alitalia



With 26 destinations in Italy and over 1,000 destinations in cooperation with airline partners, it is your time to experience the exclusivity and luxury of traveling in Alitalia's Long Haul Business Class.
Experience true Italian hospitality from the minute you step on board. Relax in fully lie-flat seats with massage function covered in rich leather by Poltrana Frau. In-flight comforts include amenity kits, specially designed by Salvatore Ferragamo, linens by luxury brand Frette, and tableware by Richard Ginori. WiFi connectivity, international roaming, and individual LCD screens that feature a wide array of movies, television shows, news and documentaries provide guests with all of the entertainment they will need during their trip.Finally, guests have the opportunity to experience an Italian restaurant at 30,000 feet. The new "Dine Anytime" service allows guests to dine at their leisure during their flight and enjoy Italian recipes with seasonal ingredients paired with a selection of regional wines.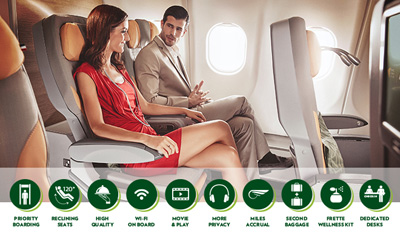 To learn more about Alitalia's Long Haul Business Class, click here: http://ow.ly/XOqmr.
SIGN UP TO RECEIVE ALITALIA'S NEWSLETTER
Be the first to receive Alitalia's latest news and offers. Visit www.alitalia.com and join today!
---
Reach more than 100,000 NIAF members and Italophile readers by
sponsoring an upcoming edition of NIAF's monthly e-Newsletter!
Contact: don@niaf.org.
NIAF e-Newsletter compiled and edited
by Danielle DeSimone