It'll Be Here in a New York Minute! NIAF New York Gala
Get your tickets now for our NIAF New York Gala! We will be returning to the legendary Cipriani 42nd Street in the heart of the Big Apple on Wednesday, April 8. Your host for the evening: Academy-Award nominated actor and writer Chazz Palminteri. Honorees include Westchester District Attorney Janet DiFiorie, a dual father-and-son award in Real Estate to Edward Riguardi and Peter Riguardi, WABC-7 Reporter Lisa Colagrossi and WABC-7 News Anchor Ken Rosato. For tickets, sponsorship information and more on the event, visit www.niaf.org/nyc or contact Jerry Jones at 202-939-3102 or jerry@niaf.org.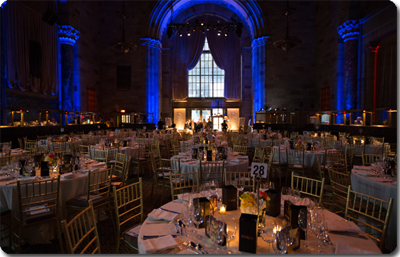 St. Joseph's Table Open House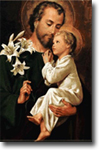 Join NIAF for our St. Joseph's Table Open House, Thursday, March 19, from 5 to 7 p.m., at NIAF Headquarters, at the Ambassador Peter F. Secchia Building, 1860 19th St. N.W., Washington, D.C. Bring a non-perishable food item that will benefit Little Sisters of the Poor and other area charities, and enjoy fresh zeppole! Free and open to the public.
To Apply for NIAF Scholarships
Applications for scholarships for the 2015-2016 academic year are now available online at www.niaf.org/scholarships. Students must be of Italian heritage, have a GPA of at least 3.5, and be entering or already enrolled in college in the fall of 2015 to be eligible to apply. Deadline is April 30. Contact Gabriella Mileti, director of programs, at gmileti@niaf.org or 202-939-3116 with questions.
Join NIAF Today!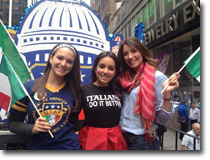 Embrace your family heritage and support the Italian American community by joining NIAF, whose core mission is to preserve Italian American heritage, to strengthen the ties that bind the United States and Italy, and support through scholarships, grants and other programs the education of new generations of Italian Americans. By joining, you not only will help us fulfill that mission but you'll also enjoy many new member benefits, including:
• Opportunities to network with prominent political and business leaders
• Cultural and educational events
• Access to NIAF's member-only website pages
• Annual subscription to NIAF's Ambassador magazine
• Discounts on NIAF merchandise
• Great money-saving deals through NIAF's partners, and much more!
CLICK HERE to learn more about NIAF and its exciting new benefits.
Voyage of Discovery Alum?
Did you or someone you know participate in NIAF's Voyage of Discovery or NIAF's Gift of Discovery program in past years? If so, we'd love to hear from you! We're creating an alumni database and we need your help! Please contact Gabriella Mileti, director of programs, at gmileti@niaf.org with your current contact information.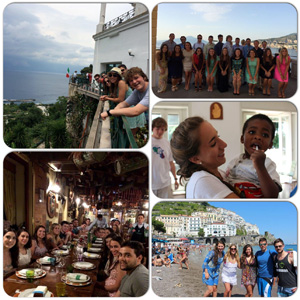 Summer Internship in Milan
Are you an Italian American college student interested in interning in Milan, Italy, during the summer of 2015? Build your resume and experience the Motherland with this once-in–a-lifetime opportunity! NIAF has teamed up with Career Paths in Milan and is offering an all-inclusive Italian job experience featuring an internship, accommodations, day trips to Italian cities, and more. Contact NIAF Director of Programs Gabriella Mileti at gmileti@niaf.org or 202-939-3116 for more information.
NIAF on Facebook! Help us get to 100,000 likes!
Please take a look and "like" NIAF's entertaining, engaging, informative and full-of-Italian-American-pride Facebook page. And those of you who regularly do, grazie for your support!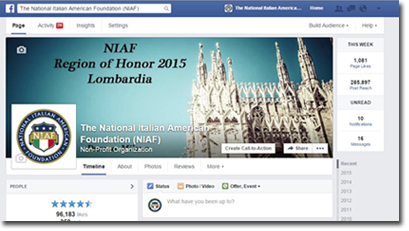 NIAF on Facebook is a rapidly growing online community with an insatiable appetite for news, views, recipes, and trivia—anything Italian and Italian American! Plus, contests and free tickets to shows, concerts and events across the country! Easy to find at www.facebook.com/niaf.org.
Events at the John D. Calandra Institute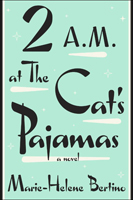 The John D. Calandra Italian American Institute at Queens College/CUNY in New York City will present "Celebrating St. Joseph's Day in Sicily: A Presentation by Lou Barrella," on Thursday, March 19, at 6:30 p.m. This DVD presentation will highlight both the sacred and secular ways that St. Joseph's Day is celebrated in Sicily.
On Wednesday, March 25, at 6 p.m., author Marie-Helene Bertino will read from her book, "2 A.M. at the Cat's Pajamas," as part of the Institute's Writers Read Series. The book tells the lively and engaging tale of how an unlikely cast of characters are thrown together over the course of one important night. All events are free and open to the public. For more information, visit www.qu.edu/calandra. The Italian Cultural Institute is located at 686 Park Avenue, New York, N.Y.
Casa Italiana Zerilli-Marimò at New York University
On Tuesday, March 3, at 6 p.m., the Casa Italiana Zerilli-Marimò, at New York University, will present "Haunting and the Postcolonial Ethics of the Gaze," a lecture by Rutgers University Professor Rhiannon Noel Welch. The talk explores postcolonial spectrality and the endurance of renowned Italian poet and filmmaker Pier Paolo Pasolini's metaphorical and analogical mode in Gianni Amelio's "Lamerica."
An exhibition of portraits by Italian American artists will be on display at the Center, through April 17, with an opening on Wednesday, March 4, at 6 p.m. The exhibit, "By Hand and by Lens," showcases the work of the Italian American Visual Artists Network, a group whose work encompasses a full range of expression from abstraction to representation.
On Thursday, March 5, at 6 p.m., University of Edinburgh's Federica Pedriali will present "Deconstructing Rome." The lecture will use Paolo Sorrentino's "La grande bellezza," and Rosi's "Sacro Gra," to frame a selective deconstruction of the Eternal City. All events are free and open to the public. For more information and a full calendar of events, visit www.casaitaliananyu.org/.
Picturing Mary: Woman, Mother, Idea 

Join the National Organization of Italian American Women (NOIAW) for a special private tour of "Picturing Mary: Woman, Mother, Idea," at the National Museum of Women in the Arts, in Washington, D.C., on Saturday, March 21, at 11 a.m. The exhibit explores the concept of womanhood represented by the Virgin Mary. Free for NOIAW members, non-members $10. Registration online at http://conta.cc/17Kfd05.
Center for Italian Studies at Stony Brook University
On Tuesday, March 24, at 4 p.m., University of Manchester (England) Professor Nigel Vincent will present "Why English is Not Enough," at Stony Brook University's Center for Italian Studies at the Frank Melville Memorial Library, Room E4340.
Piero di Cosimo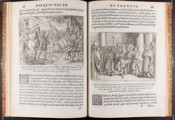 The first major retrospective exhibition ever of paintings by the imaginative Italian Renaissance master Piero di Cosimo is on display at the National Gallery of Art, in Washington, D.C., through May 3. The exhibit, "Piero di Cosimo: The Poetry of Paintings in Renaissance Florence," will showcase some 44 of the artist's most compelling works. For more information, visit http://1.usa.gov/1Llvfgu.
A celebration of the Life of Isabella Colbran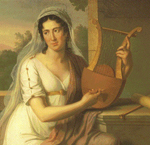 On April 10 and 11, at 8 p.m., Divaria Productions in collaboration with the Sheen Center will present "Señora/Signora Rossini: A celebration of the life of Isabella Colbran," at the Sheen Center in New York City. The multidisciplinary theatrical piece tells the story of opera diva Isabella Colbran, toast of the opera stages of Europe in the early 19th century, who became the wife of Italian opera composer Giaoacchino Rossini. For more information and tickets, visit http://sheencenter.org/event/277/.
Screenwriting Retreat
How much writing would you do away from your daily routine and pressures, inspired by one of the most beautiful places on earth and supported by industry experts? Find out by participating in PageCraft's Screenwriting Retreat in Orvieto, Italy, June 14-27, where you'll take part in writer's room-style classes, practical mini-lessons and one-to-one consultations. For more information and to register, visit http://bit.ly/18Ez5D1.
Everybody Loves Italian! On the radio! 


Join hosts Frank Granieri and Dominic Mevoli to celebrate the everyday Italian American family and experience, plus interviews with personalities, stories, recipes and more! Sundays 6 a.m. and 5 p.m. on WWDB 860 AM Philadelphia; and streaming worldwide! Find and "like" them on Facebook at www.facebook.com/EverybodyLovesItalian. For more information, visit: www.everybodylovesitalian.us/.
Turn on Italics TV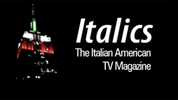 What's new in Italics? Italian Immigrants & Whiteness: Author Peter Vellon; Italian love words; and more!
For monthly cable-TV programming for the Italian American community, tune in to Italics, the Italian American TV magazine, produced by The John D. Calandra Italian American Institute at Queens College in New York and hosted by Anthony J. Tamburri, dean of The Calandra Institute. Check your local New York and New York State cable-TV listings for Italics, or find it on CUNY-TV website, and on demand on the YouTube channel, and Facebook.
Tune in!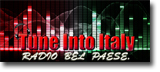 Listen to Bel Paese Internet Radio! A program for Italian American communities across the United States and Canada, it runs from 8 a.m. – 11 p.m. daily and features Italian music, sports and community news. Visit www.tuneintoitaly.com/ on your computer, mobile device, iPad or internet radio.
Shop at AmazonSmile and Support NIAF! 


Now, when you shop online at Amazon, a portion of your purchase price can support the work of NIAF! Simply, go to http://smile.amazon.com/ch/52-1071723 and select the National Italian American Foundation as your charity of choice and the AmazonSmile Foundation will donate 0.5 percent of the purchase price from your eligible AmazonSmile purchases to NIAF. AmazonSmile offers the same selection and low prices as Amazon and customers can still use their Amazon Account, the only difference is customers are now also donating to a great cause!
Recoup—Shopping for Your Cause!
Raise funds to support NIAF's mission while shopping for great deals on everything from dining specials to travel deals. Just register for free at Recoup, choose your city for location-specific deals, then shop by the type of deal you want. When you purchase something, a portion of the proceeds goes to your designated nonprofit group. Please designate NIAF! It's like Groupon and Living Social, except while helping yourself, you're also helping your charitable cause. Get started at www.recoup.com/shop/org/NIAF

Read Diplomatic Courier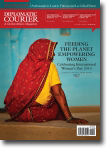 Interested in global affairs and foreign policy? The Diplomatic Courier is an independent magazine that covers all that and more. In the March/April 2015 issue: International Women's Day 2015; Feeding the Planet, Empowering Women; The New Sino-Iranian Security Axis; Tor and Bitcoin; Cyber Quantifiable Restrictions; Interviews with Ambassadors La Celia Prince and Laurie Fulton; The Future of Manufacturing; and More! Look for the new issue on newsstands or at www.diplomaticourier.com.
| | |
| --- | --- |
| | Congratulations to NIAF member Karen Haid on the publication of her book, "Calabria: The Other Italy," which captures the essence of contemporary Calabria and Southern Italy, weaving observation, personal anecdote, salient historical information and social commentary into a nonfiction narrative that combines travelogue with an exploration of everyday life and culture. Available in paperback and soon on e-book- from Amazon and Barnes and Noble.  For more information on the book and Haid, visit her blog at www.calabriatheotheritaly.com |
| | Congratulations to NIAF member Gilda Morina Syverson on the publication of her memoir, "My Father's Daughter, From Rome to Sicily," which tells the story of Syverson's travels with her parents and husband to Italy to unearth her heritage, in the process discovering even more. Available in paperback and e-book from Amazon, Barnes and Noble, BookWire.com and Indiebound.org. |
NIAF and PERILLO TOURS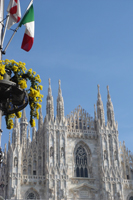 Celebrating 70 years of excellence in travel to Italy! Perillo Tours: An Italian American Institution! test
Perillo Tours was born in 1945 when Italian American immigrant Joseph Perillo opened a small storefront under the Third Avenue El in the Bronx. Perillo Tours was continued by Mario Perillo (better known as "Mr. Italy"), who perfected the art of affordable luxury travel programs to Italy and developed a strong awareness of the Italian American community.
Presently under the direction Steve Perillo, Perillo's third generation, the company remains committed to creating once in a lifetime journeys to Italy through Perillo Tours' fully escorted tours, Perillo Tours custom groups and ItalyVacations.com.
Join NIAF and Perillo Tours on a once in a lifetime Italian vacation experience. Enjoy the country's dramatic highlights including history, culture and cuisine. Packages are available for individual and group travel, destination weddings and honeymoons, and tailored escorted tours. We look forward to introducing you to authentic Italy!
For NIAF Members Only: Book any Perillo Tours or ItalyVacations.com program (a $2500 value per couple) and receive $100 per person. Promo Code: NIAF
For additional information and bookings:
www.PerilloTours.com
Info@PerilloTours.com
800-431-1515 800-431-1515
www.ItalyVacations.com
Support@ItalyVacations.com
800-ITALY-25 800-ITALY-25
Support Our Sponsors
Your Italian Passport 


Whether you are hoping to determine if you are eligible for Italian citizenship, looking for assistance with collection of your family's vital records, or merely looking for translation of your documents in preparation for your appointment with the Italian consulate, Your Italian Passport is here to help!
Your Italian Passport is a U.S.-based company offering comprehensive services for Italian Americans seeking to obtain Italian dual citizenship. Like so many things Italian, Your Italian Passport is a business of organic roots grown over time with care and committed to giving personalized attention to each and every client.
Visit our website www.youritalianpassport.com and be on your way to living la dolce vita! As always, NIAF members receive a 10 percent discount on all services offered. A new world awaits with Your Italian Passport! Contact us today!
Ville in Italia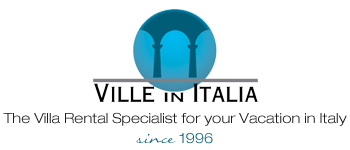 Ville in Italia is the villa rental specialist for vacations in Italy since 1996 offering more than 500 prestigious villas and apartments located all over Italy: Amalfi Coast, Italian Lake District, Venice, Tuscany, Umbria, Apulia, Basilicata, Sicily and more.

The accommodation offered by Ville in Italia is distinguished by highly diversified proposals that are able to satisfy every market segment according to the target typology and level of service required. Discover more on www.villeinitalia.com.
We are pleased to assign NIAF members a Preferential Code that represents a 10 percent discount on all Ville in Italia vacations: It is also valid for special offers.
To request the code, please contact Stephanie Gordon at 202-939-3107 or sgordon@niaf.org. For further information, please contact us at booking@villeinitalia.com.
Alitalia

ALITALIA INCREASES SERVICE FROM NEW YORK TO ROME AND RESUMES SERVICE FROM BOSTON, CHICAGO AND LOS ANGELES
Beginning March 29, Alitalia will add an additional flight from New York to Rome, that will operate daily through October 24, 2015.
Alitalia's summer schedule, which also begins March 29, will offer three daily non-stop flights from New York to Rome and daily service from New York to Milan's Malpensa Airport. All Alitalia flights from New York are operated exclusively with A330 and B777 aircrafts, configured in three classes: Magnifica-Business, Classica Plus-Premium Economy and Classica-Economy.
In addition, on March 1, service between Boston to Rome restarted and beginning July 1, the flight will operate daily with our newly three-class configured Airbus 330. On May 1, service between Los Angeles and Rome will also resume operation, with the B777 and on May 2, service between Chicago and Rome will resume and operate with the newly three-class configured Airbus 330.
Visit Alitalia.com to view our special offers to Italy and many destinations in Europe, the Middle East and Africa.
__________________________________________________
Reach over 100,000 NIAF members and Italophile readers by
sponsoring an upcoming edition of NIAF's monthly e-Newsletter!
Contact Don at don@niaf.org.
NIAF e-Newsletter compiled and edited
by Alex Benedetto
enews@niaf.org