NIAF News
Mark Your Calendars for NIAF's 44th Anniversary Gala!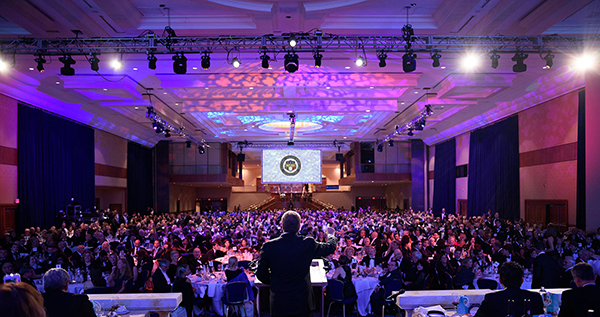 Exciting news for NIAF Members! Registration is now open for our upcoming NIAF 44th Anniversary Gala Weekend, November 1-3, celebrating NIAF's 2019 Region of Honor, Molise! Our signature events include a Friday night Molise region inspired dinner with Celebrity Chef Mary Ann Esposito (Italian American chef, cookbook author and television host of the longest running cooking show, Ciao Italia). On Saturday, join us for Expo Italiana, Washington D.C.'s largest Italian festival; free and open to the public, from 9 a.m. – 4 p.m., featuring quality Italian food, wine, and products as well as live entertainment! Saturday evening is the unforgettable NIAF Gala Awards Dinner, where Italian Americans and Italians come together to celebrate incredible honorees and our shared Italian heritage. This year, the entire weekend will be at the beautiful Omni Shoreham Hotel! Purchase tickets for Friday and Saturday nights now because you won't want to miss THE Italian American weekend of the year: www.niaf.org/gala.
NIAF's 2019 Region of Honor: Molise



NIAF is thrilled to present its 2019 Region of Honor: Molise! Situated between the Apennines and Adriatic Sea, Molise is a mountainous region in southern Italy known for its agriculture and industry. Originally part of the Abruzzo-Molise region, Molise separated to become its own region in 1963. Molise is a charming, beautiful region with deep historical significance and much to offer locals and tourists alike.
NIAF looks forward to visiting Molise this month with our 2019 Voyage of Discovery program and our Board of Directors' Mission to Italy. We will continue to celebrate Molise throughout the year and at our 44th Anniversary Gala Weekend, November 1-3.
Learn more about Molise by visiting www.niaf.org/molise.
NIAF's Summer Issue of Ambassador Coming Soon!
This year, NIAF's premier, acclaimed Ambassador magazine has gone quarterly! So, watch later this month for our first special Summer Travel issue, featuring travel stories from Molise's beautiful beach town of Termoli to Umbria's hilltop gem, Todi, to Basilicata's haunting Sassi in Matera, and more!
Visit our NIAF Museum on Italian Immigration this Summer!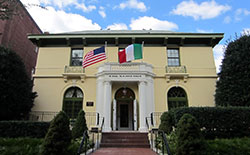 The Museum recounts the hardships that Italian immigrants faced from enduring the journey across the Atlantic by ship and living in the United States, to their successes in the fields of music, entertainment, government, business, and the extraordinary achievements of Italian American women. Open to the public Monday – Thursday, 11 a.m. – 4 p.m., except holidays; self-guided tours; admission is free. For more information, visit: https://bit.ly/2UgcUhE.
USA News & Events
Georgetown University's Online Italian Courses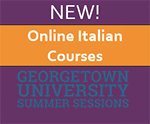 Today is your last day to sign up for intensive basic and intermediate online classes offered by Georgetown University! Partial tuition scholarships are available for visiting (non-GU) students. June 3-July 26. For details, contact Prof. Donatella Melucci at dm527@georgetown.edu. Enroll at https://bit.ly/2YPMXUB. Don't wait to sign up!
Ludovico Einuadi's U.S. Tour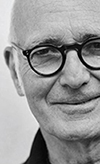 Famous Italian pianist and composer Ludovico Einaudi is touring the United States until June 18. On June 1, he will perform in Philadelphia and then proceed to New York City, Chicago, Denver, San Francisco, San Diego, Los Angeles and Seattle. Purchase tickets at https://bit.ly/2V1q7Io.
Artist Renato Leotta: A Solo Exhibition


Magazzino Italian Art Foundation and New York University's Casa Italiana co-present an exhibition by contemporary Italian artist Renato Leotta. This new installation presents sculptures and multimedia works. Until June 12 at New York University. Free Admission. Visit: https://bit.ly/2Lb0RPi.
Italian Book Club at New York University's Casa Italiana


This month, Casa Italiana's book club will host an informal discussion about Renata Viganò's L'Agnese Va a Morire. The club is open to all and its purpose is to offer the possibility to practice the Italian language. June 11 at 5 p.m. Free Admission. RSVP: https://bit.ly/2VZ72Lp.
NOIAW's Negroni Night


Celebrate summer with the National Organization of Italian American Women (NOIAW) on the Mare Rooftop in Providence, R.I. The evening will include networking, bar bites, and, of course, the classic Italian cocktail, Negroni. June 12 from 6 – 8 p.m. RSVP and purchase tickets at https://conta.cc/2YDQLIo.
Imperial Billboards: Rome's Triumphal Arches Lecture in Chicago

The Italian Cultural Institute of Chicago will host a lecture by Professor Judith Testa about Rome's three surviving triumphal arches dedicated to the emperors Titus, Septimius Severus and Constantine, located in or near the Roman Forum. Testa will reveal the meaning and significance of the arches and their showcase of power for the Roman Empire. June 6 from 6 – 8 p.m. To register, visit: https://bit.ly/2YPx7tp.
Italian Films Screening in San Diego
The San Diego Italian Film Festival is promoting two Italian films this month, Io Sono Tempesta and Amori che non Sanno Stare al Mondo.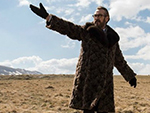 In Io Sono Tempesta, Numa Tempesta is a fascinating businessman who breaks the law and is sentenced to a year of community service in a homeless shelter. Not allowed to conduct business at the shelter, Numa must find a way to close the deal of the century or lose his fortune. June 13 at 7 p.m., at La Paloma Theatre. Buy tickets at  https://bit.ly/2Wk2a2D.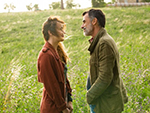 Amori che non Sanno Stare al Mondo is a sentimental comedy-love story, with a touch of irony and a new beginning. June 20 at 7:30 p.m., at the Museum of Photographic Arts in San Diego. Buy tickets at https://bit.ly/30zlE2x.
NIASHF's Tommy Lasorda Golf Open
The 12th Annual Tommy Lasorda Golf Open will be hosted by the National Italian American Sports Hall of Fame on Monday, June 17, at the Royal Fox Country Club in St. Charles, Ill. For more information, contact Shannon@niashf.org or call 312-226-5566.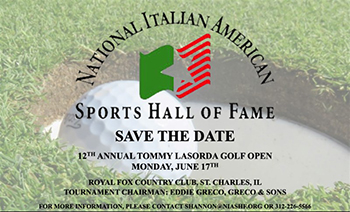 At Casa Belvedere—Staten Island
The Italian Cultural Foundation at Casa Belvedere's Culinary Classes offer recreational and educational culinary experiences on a year-round basis. Day-time and evening classes are held in Casa Belvedere's state-of-the-art Cucina Colavita Kitchen and are available for adults and children. The adult cooking classes for June includes how to make pesto lasagna on June 25. For more information on these and other Casa Belvedere programs, visit www.casa-belvedere.org or call 718-273-7660.

And join Casa Belvedere for BocceFest!
This all-day event will feature a bocce tournament, specialty foods and beverages, kids' activities, awards and prizes, live entertainment, and more. Proceeds benefit art and cultural programs and the continued restoration and renovation of the not-for-profit's landmark building. June 23. For more information: email info@casa-belvedere.org or call 718-273-7660.
Auguri
Joe Giordano's Drone Strike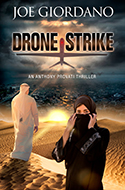 Auguri to NIAF Member and author Joe Giordano for the release of Drone Strike! In Drone Strike, Karim's family is killed by a U.S. drone strike in Iraq. The Islamic State in the Levant exploits Karim's rage, recruiting him for a terrorist attack on the U.S. and only Anthony Provati, can stop him. Drone Strike takes you on a fast-paced adventure across the Mediterranean, into Mexico, finally arriving in the States. The novel explores the psychological realities that incite an act of terror, a religion-bridging love story, and the plight of Middle Eastern and Central American refugees. Giordano is also the author of the novels Birds of Passage and Appointment with ISIL. Read the first chapter of Drone Strike here: http://joe-giordano.com/ or buy it on Amazon today: https://amzn.to/2VHj07e.
Support our Sponsors
Your Italian Passport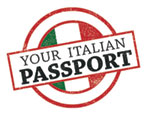 Looking for professional help with building your application for Italian citizenship? Your Italian Passport is here to help!
Your Italian Passport is a U.S.-based company offering comprehensive services for Italian Americans seeking to obtain Italian dual citizenship. Like so many things Italian, Your Italian Passport is a business of organic roots grown over time with care and committed to giving personalized attention to each and every client.
Visit our website www.youritalianpassport.com and be on your way to living la dolce vita! As always, NIAF members receive a discount on all services offered. A new world awaits with Your Italian Passport! Contact us today!
Alitalia



New nonstop flights from Washington to Rome began May 2!
Say buongiorno in the eternal city with a cappuccino. Fly nonstop to Rome from the beating heart of the United States with our new Washington-Rome flight. Arrive in Rome refreshed and enjoy Italy's favorite breakfast, a delicious cappuccino and hot croissant, before beginning your day visiting its famous sites. Or, just take in the city's mood where history and modern life mix by strolling down its cobblestone streets and its spacious piazzas. View our special offers!
Take a virtual tour onboard our A330 aircraft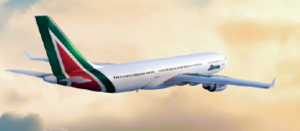 From the United States, Alitalia operates Boeing 777 and Airbus A330 aircraft configured with three travel classes: Magnfica, Premium Economy and Economy. Magnifica, our long-haul business cabin, offers award-winning business class seats in Poltrona Frau leather, fully lie-flat and equipped with massage function, award-winning dining, and complimentary Wi-Fi connectivity up to 50MB. In Premium Economy, you will enjoy 40 percent more space than in Economy in the comfort and privacy of a dedicated cabin, Italian inspired dining experience, and complimentary Wi-Fi connectivity up to 10MB. Take a 360 degree virtual cabin tour on our A330!
Get Involved with NIAF and 
the Italian American Community!
Join NIAF Today!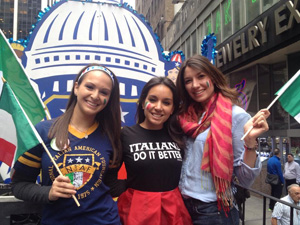 GREAT NEWS! NIAF has updated the benefits we offer to our members. On our website, you can view our new membership levels — Sustaining Member, Galileo Club, Michelangelo Society, and the da Vinci Council, as well as and the benefits each type of membership will receive. The biggest benefit is being able to help preserve, promote and protect your Italian heritage! Join today by visiting https://bit.ly/2PrHa45.
Italian Community Services on the West Coast
Italian Community Services welcomes all NIAF members to visit our website www.italiancs.com and learn how we can help the broader Italian American Community. Italian Community Services is the oldest Italian non-profit in North America. Founded by a group of Italian pioneers in San Francisco whom had great success (Bank of America, Del Monte Foods, Ghirardelli Chocolates – to name a few) founded the non-profit with a mission to assist the Italian and Italian American community of California. Italian Community Services defends the Italian language and culture, supports senior citizens with socializing activities, community outreach, financial assistance, and is a point of reference for all things Italian and Italian American. The nonprofit collaborates with the Italian Consulate, Italian Cultural Institute, and all leading West Coast Italian agencies.  Since its inception 104 years ago, the nonprofit has helped over 40,000. Venite a visitarci!"

Calling All Voyage of Discovery Alumni
We're creating an alumni database of past participants in NIAF's Voyage of Discovery and NIAF's Gift of Discovery programs and we need your help! Did you or someone you know participate? If so, let us know. Please email your name, Voyage of Discovery year, and any other information you'd like to share about your experience to voyageofdiscovery@niaf.org.
NIAF Corporate Sponsor Discounts
Heads up, NIAF members! Check out all money-saving discounts, exclusive deals and membership benefits that NIAF Corporate Sponsors offer through your NIAF Membership Portal. Sign in with your NIAF password at: https://bit.ly/2YufT5j.
Shop at AmazonSmile and Support NIAF!


Here's your opportunity to donate to NIAF without costing you a cent! Support the work of NIAF when making purchases on Amazon.com by going to http://smile.amazon.com/ch/52-1071723 and selecting the National Italian American Foundation as your charity of choice. The AmazonSmile Foundation will donate 0.5 percent of the purchase price from your eligible AmazonSmile purchases to NIAF. AmazonSmile offers the same selection and low prices as Amazon, and customers can still use their Amazon account. The only difference is that, at no extra cost, you are donating to a great cause!
The Italian American Podcast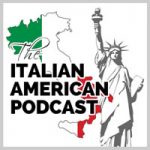 The National Italian American Foundation is proud to be the official sponsor of The Italian American Podcast, the first podcast dedicated to helping Italian Americans learn about and celebrate their heritage. Hosts Anthony Fasano and Dolores Alfieri interview celebrities and nonnas alike, bringing you an authentic Italian American experience. Listen to the Podcast's latest episodes here: http://ow.ly/qZRI301LHRm.
Turn on Italics TV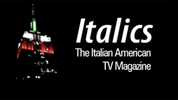 For monthly cable-TV programming for the Italian American community, tune in to Italics, the Italian American TV magazine, produced by The John D. Calandra Italian American Institute at Queens College in New York and hosted by Anthony J. Tamburri, dean of The Calandra Institute. Check your local New York and New York State cable-TV listings for Italics, or find it on CUNY-TV website, and on-demand on the YouTube channel and Facebook.
Everybody Loves Italian! On the Radio!


Join hosts Frank Granieri and Dominic Mevoli to celebrate the everyday Italian American family and experience, plus interviews with personalities, stories, recipes and more! Sundays 6 a.m. and 5 p.m., on WWDB 860 AM Philadelphia; and streaming worldwide! Find them on Facebook. For more information, visit: www.everybodylovesitalian.us.
---
Reach more than 170,000 NIAF members and Italophile readers by
advertising in an upcoming edition of NIAF's monthly e-Newsletter!
Contact: nwulderk@niaf.org.
NIAF e-Newsletter edited by Natalie Wulderk