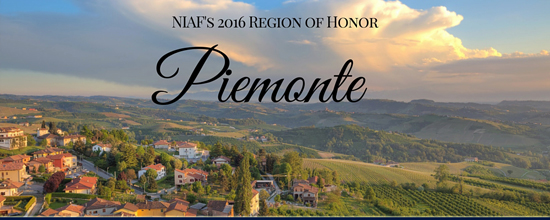 Last chance – MEMBER DISCOUNTS for NIAF's 41st Anniversary Gala! 
The deadline to purchase members-only discounted tickets to NIAF's 41st Anniversary Gala is NEXT FRIDAY, July 8! Join us for the nation's premier Italian American event on the weekend of Oct. 14, 2016. This year, the National Italian American Foundation will celebrate our 2016 Region of Honor: Piemonte, and all the best of Italian American culture. Tickets on sale now, REGISTER YOUR SEATS TODAY!
#WeAreNIAF 


Be a part of something bigger – give back to the Italian American community and donate to NIAF in our #WeAreNIAF campaign. Your gift allows us to provide scholarships and grants for Italian American students, as well as continue our work in cultural programs throughout the United States. Every donation counts! To learn more about what we do and how you can help, go to www.WeAreNIAF.com.
Deadline Approaching – Apply to NIAF's Italian American Museum Fellowship!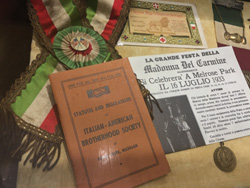 NIAF is offering three museum fellowships, giving student the rare opportunity to curate an Italian American exhibit with our Foundation's artifacts and materials. The exhibit will be on display for more than 2,000 people at NIAF's 41st Anniversary Gala Weekend, October 14-15, 2016. Fellows will receive curatorial credit and a stipend.  Deadline to apply: July 7, 2016. For more information, go to http://ow.ly/qVke301LGzd.
Apply to our "NIAF On Campus" Fellowship!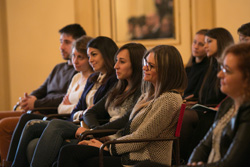 Do you want to be a leader of the Italian American community on campus? We are looking for passionate students who want to have a voice in Italian American affairs for our 2016-2017 NIAF On Campus Fellowship Program. Student Fellows will receive leadership training, networking opportunities and a ticket to NIAF's 41st Anniversary Gala. For more information, go to: http://ow.ly/QgC0301LOt9.
Demand Justice for Italian Americans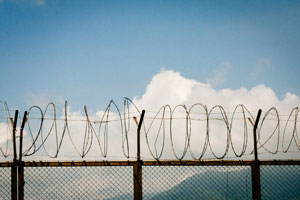 During World War II, the United States government interned and relocated thousands of Italian Americans, often confiscating their property. These actions, which affected many in our community, have been largely overlooked by history. Currently, there are two bills before Congress that would require the federal government to acknowledge these civil liberty violations, apologize for them, and fund educational programs studying the mistreatment of Italian Americans during that time. The National Italian American Foundation supports both bills and asks for your help. Please sign our petition and join us in demanding an apology from Congress on behalf of the Italian Americans that came before us. For more information, click here: http://ow.ly/10nMIN
The Italian American Podcast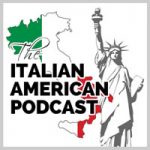 The National Italian American Foundation is proud to be the official sponsor of The Italian American Podcast, the first podcast dedicated to helping Italian Americans learn about and celebrate their brilliant heritage. The hosts, Anthony Fasano and Dolores Alfieri, interview celebrities and nonna's alike, bringing you an authentic Italian American experience. Listen to the Podcast's latest episodes here: http://ow.ly/qZRI301LHRm
Join NIAF Today!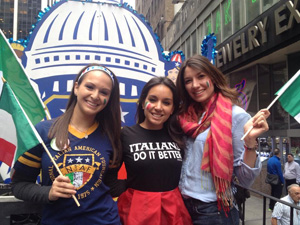 Do you want to leave an Italian American legacy? Now's the time to join the National Italian American Foundation! Membership with NIAF celebrates your family heritage and supports the Italian American community. Our core mission is to preserve Italian American heritage, strengthen the ties that bind the United States and Italy, and support through scholarships, grants and other programs the education of new generations of Italian Americans. By joining, you not only will help us fulfill that mission but you'll also enjoy many new member benefits, including:
• Opportunities to network with prominent political and business leaders
• Cultural and educational events
• Access to NIAF's member-only website pages
• Annual subscription to NIAF's Ambassador Magazine
• Discounts for NIAF events and merchandise
• Great money-saving deals through NIAF's partners, and much more!
For more information about NIAF and its exciting new benefits, visit www.niaf.org/join.
NIAF's Corporate Sponsors
NIAF is proud to announce its new Corporate Sponsors! Take a look at the money-saving discounts and exclusive deals they offer to NIAF Members through the NIAF Membership Portal at http://ow.ly/r0bY301NFI0.
Be a part of NIAF's Facebook community! 
Check out and "like" (or "love," "wow") NIAF's Italian American pride-studded Facebook page to be a part of our online community! And those of you who already follow us, grazie for your support!
NIAF on Facebook is a rapidly growing online community with everything but your Sunday dinner table — news, views, recipes and trivia. Anything Italian, Italian American or NIAF, it's there! Plus, contests, giveaways, and free tickets to shows, concerts and events across the country! Join us at www.facebook.com/niaf.org.
Voyage of Discovery Alum? 
Did you or someone you know participate in NIAF's Voyage of Discovery or NIAF's Gift of Discovery program in past years? If so, we'd love to hear from you! We're creating an alumni database and we need your help! Please send your current contact information to Julia Streisfeld, assistant director of Programs, at jstreisfeld@niaf.org.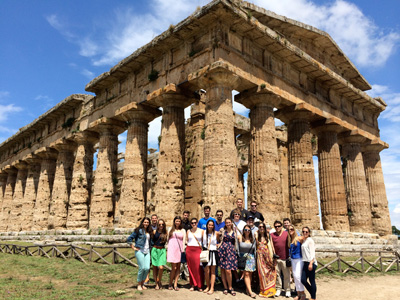 Cooking with Nonna: Rosella Culinary Tour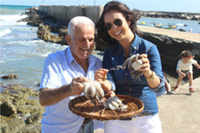 Hurry! There are only a few spots left on Rossella Rago's (of Cooking with Nonna) annual Culinary Tour to the southern Italian region of Puglia, September 10-17. The trip will allow guests to explore Rossella's native region, learning, cooking and eating all Puglia has to offer. For more information, go to http://ow.ly/100Kix.
National Organization of Italian American Women (NOIAW) 
Join NOIAW in Washington, D.C., for a discussion with guest speaker author Anna Maria Ingoglia Larson, on July 14, 6-8 p.m. This event, "Ask the Career and Leadership Coach," will offer career advice for young professionals and senior-level professionals alike! Advanced registration required: http://ow.ly/azL6301LNeH.
Join NOIAW for an exciting night at the theatre in New York City on July 14, at 7 p.m.! The play, "Out of the Mouths of Babes," is a new comedy at the Cherry Lane Theatre, where NOIAW member Angelina Fiordellisi is artistic director. NOIAW members receive special ticket pricing; for more information, go to http://ow.ly/o6TV301LNAr.
Exhibit at Nashville's Frist Center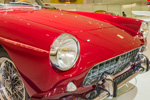 Nashville's Frist Center for the Visual Arts recently opened its exhibit, "Bellissima! The Italian Automotive Renaissance, 1945–1975," which will run until October 9. The exhibit contains a collection of rare and stunning Italian-designed automobiles and motorcycles in a museum setting, exploring the history and design of Italian vehicles. For more information, go to http://ow.ly/Sfsm300Ahf0.
Sergio Franchi 22nd Annual Memorial Concert
Don't miss the highly anticipated annual concert hosted by Eva Franchi, widow of the great romantic tenor Sergio Franchi, at the Franchi Estate in Stonington, Conn., on August 27. This concert marks 26 years since the passing of Sergio Franchi, and pays tribute to his lifelong achievements in music. The evening will include vocalists accompanied by a 32-piece symphonic orchestra conducted by Maestro David Lamarche. For more information, call 860-535-9429 or go to www.sergiofranchi.com.
OLMC Giglio Feast Procession – Brooklyn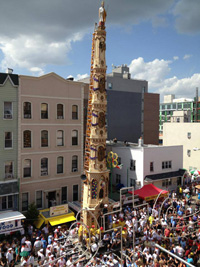 Since 1903, Italian immigrants from Nola, Italy, have continued to celebrate each July their devotion to Our Lady of Mount Carmel in the streets of Brooklyn. This year's feast and events will take place July 6-17, including the traditional carrying of the Giglio through the neighborhood. For a full calendar of events, go to www.olmcfeast.com.
San Marziale Procession 
The 2016 San Marziale Procession in Kulpmont, Pa., celebrates Saint Marziale, the patron saint of Isca sull' Ionio – a small town in southern Italy that was the birthplace of many Italian American immigrants. The procession will showcase the legendary "Our Boys Band," composed of students, original band members, and the local community, with a reception to follow. Proceeds go to charity; the event will take place on July 10 at 1 p.m. For more information, call 570-373-9433 or go to http://ow.ly/83iA301LSQf.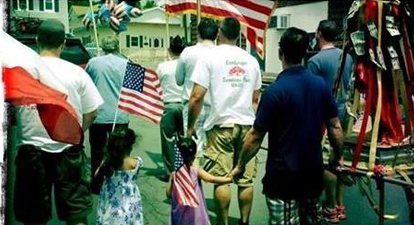 Everybody Loves Italian! On the radio! 


Join hosts Frank Granieri and Dominic Mevoli to celebrate the everyday Italian American family and experience, plus interviews with personalities, stories, recipes and more! Sundays 6 a.m. and 5 p.m. on WWDB 860 AM Philadelphia; and streaming worldwide! Find them on Facebook at www.facebook.com/EverybodyLovesItalian. For more information, visit: www.everybodylovesitalian.us/.
Turn on Italics TV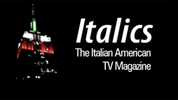 For monthly cable-TV programming for the Italian American community, tune in to Italics, the Italian American TV magazine, produced by The John D. Calandra Italian American Institute at Queens College in New York and hosted by Anthony J. Tamburri, dean of The Calandra Institute. Check your local New York and New York State cable-TV listings for Italics, or find it on CUNY-TV website, and on-demand on the YouTube channel and Facebook.
Shop at AmazonSmile and Support NIAF! 


How to shop online at Amazon and support the work of NIAF: Simply, go to http://smile.amazon.com/ch/52-1071723 and select the National Italian American Foundation as your charity of choice and the AmazonSmile Foundation will donate 0.5 percent of the purchase price from your eligible AmazonSmile purchases to NIAF. AmazonSmile offers the same selection and low prices as Amazon and customers can still use their Amazon account, the only difference is customers are now also donating to a great cause!
| | |
| --- | --- |
| | Congratulations to NIAF member Cav. Josephine A. Maietta on her new Italian radio program on WRHU at Hofstra University. The program, "Sabato Italiano," will air on Saturdays, noon-2 p.m., on 88.7 FM or streamed live at www.WRHU.org. |
|   | Congratulations to NIAF member Karen Christino on the publication of her new book, "The Precious Pachyderm." The novel is a funny, fast-paced, and intriguing murder mystery, set in 1920's Manhattan. The book is available for purchase on Amazon.com. |
Support Our Sponsors
Your Italian Passport 


Whether you are hoping to determine if you are eligible for Italian citizenship, looking for assistance with collection of your family's vital records, or merely looking for translation of your documents in preparation for your appointment with the Italian consulate, Your Italian Passport is here to help!
Your Italian Passport is a U.S.-based company offering comprehensive services for Italian Americans seeking to obtain Italian dual citizenship. Like so many things Italian, Your Italian Passport is a business of organic roots grown over time with care and committed to giving personalized attention to each and every client.
Visit our website www.youritalianpassport.com and be on your way to living la dolce vita! As always, NIAF members receive a 10 percent discount on all services offered. A new world awaits with Your Italian Passport! Contact us today!
Alitalia



New Uniforms, New Services, a Brand New Alitalia Experience
Thanks to the best of our country, today we are ready to present our completely renewed image to the world. Unmistakable style, elegance, love for art and discovery: this is what makes everything "Made in Italy" and Alitalia unique. Every single detail of the new Alitalia experience comes from the collaboration with great Italian brands who contributed with their skills, their care and their passion.
Made of Style
After almost 20 years, Alitalia has revolutionized its uniforms. Redesigned by Ettore Bilotta, they bring together timeless class and contemporary glamour.
Made of Design
Casa Alitalia, a completely new method of presenting the airport lounge experience, has been created to reflect the style and hospitality of Italian homes where guests can relax before their flight.
Made of Creativity
The story of the new Alitalia experience could not be told by any other than two great talents of Italian creativity: Federico Brugia and Pierpaolo Ferrari, who were able to uniquely capture the beauty of Italy.
Come and discover all that is behind our new campaign.
Visit Alitalia to learn more!
---
Reach more than 100,000 NIAF members and Italophile readers by
sponsoring an upcoming edition of NIAF's monthly e-Newsletter!
Contact: don@niaf.org.
NIAF e-Newsletter compiled and edited
by Danielle DeSimone