NIAF's New Website—How to Access the Members-only Section
Check out the all-new and improved, redesigned NIAF website! Connecting with NIAF has never been easier. Just go to www.niaf.org, make sure to bookmark the location, and then explore its many user-friendly features, including the Pensieri Italo-Americani Blog, the interactive calendar of events and festivals, and many new videos.
NIAF members now have access to the new password-protected myNIAF members-only section where they'll receive benefits, announcements, periodic specials, exciting promotions, random giveaways and invitations exclusive to NIAF members!
But to gain members-only access, you'll need to use the email address you registered with NIAF and your NIAF member password. Don't have it? No problem. Just go to www.niaf.org today and click the link to "First Time Logon or Forgot Password." And if you never provided NIAF with your email address, please contact Inita Fowlkes at 202-939-3109 or inita@niaf.org.
NIAF Anniversary Gala – Early Bird Discounts!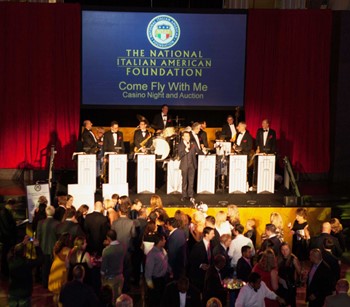 Advance registration for NIAF's 39th Anniversary Gala in Washington, D.C., October 24-25, is now available online! Don't miss the return of the Casino Night bash the Friday of Gala Weekend! Make your Gala plans now and take advantage of the early-bird discounts that have been extended through July 11.
CLICK HERE to reserve your seats today!
CLICK HERE for sponsorship information.
Careers at NIAF
Ever imagine working professionally to promote your Italian American heritage? Have a passion for Italy and the Italian culture? NIAF currently has two full-time job openings and we've posted them on our new website: Social Media Manager/Assistant Editor and Major Gifts and Membership Officer.
If you're interested, please go to www.niaf.org and, on the drop-down menu under ABOUT, click the CAREERS AT NIAF link for the job descriptions and how to apply. And if you know someone who might be qualified and interested, please tell them. Apply now!
Teeing Up for Education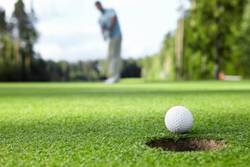 Sign up now for NIAF's 10th Annual New York Golf Tournament on Monday, August 11, at the Old Westbury Golf & Country Club in Old Westbury, N.Y. The tournament benefits the Foundation's scholarship and educational programs for the New York area. Registration and breakfast at 10:30 a.m. Foursome packages include shotgun start at noon; cocktails, awards and raffle, and dinner. Sponsorships available.  For more information, contact Nicholas R. Caiazzo at Nicholas.Caiazzo@wilsonelser.com or call 212-915-5121.
NIAF Italian American Tasting at Charles Krug Winery – Napa Valley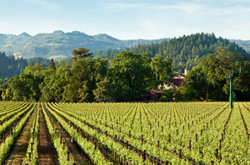 Join us for the "Italian American Tasting at Charles Krug Winery," a NIAF reception in Napa Valley, with NIAF Area Coordinator Angelina Mondavi, who is at the forefront of a new generation of winemakers in Napa Valley. August 23; 4 – 6 p.m. For more information, contact Andrea Bartlett at abartlett@niaf.org or 202-939-3118.
NIAF on Facebook! More than 60,000 Fans!
NIAF's entertaining, engaging and informative Facebook page has surpassed 60,000 likes! Thanks for your support! And if you aren't a regular visitor on NIAF's Facebook page, isn't it time you joined the conversation? NIAF on Facebook is a rapidly growing online community with an insatiable appetite for news, views, recipes, and trivia—anything Italian and Italian American! Plus, contests and free tickets to shows, concerts and events across the country! Easy to find at www.facebook.com/niaf.org.
Voyage of Discovery News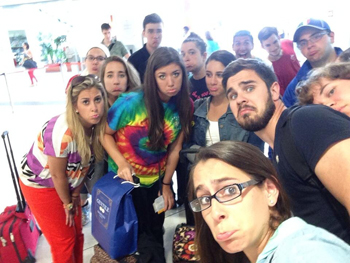 They're back! And some of our Voyage of Discovery students were none too pleased to leave Italy last week as this photo indicates! But they had a great time and you can share in the photos and highlights of their 10-day, all-expenses-paid trip to Campania by visiting www.niaf.tumblr.com.
Designed to strengthen the students' Italian American identity by bonding them to the country, culture and heritage of Italy, the Voyage of Discovery program helps students gain an understanding of their heritage and pride in preserving that heritage for the next generation. Stay tuned for the application deadline for the 2015 Voyage of Discovery program later this fall and check for updates at www.niaf.org.
Voyage of Discovery Alumni Lost and Found!
Did you participate in NIAF's Voyage of Discovery or NIAF's Gift of Discovery program in past years? If so, we'd love to hear from you! We're creating an alumni database! We don't want our educational program alums to miss out on everything that's happening at NIAF! Please contact Gabriella Mileti, director of programs, at gmileti@niaf.org with your current contact information.
127th Giglio Feast at Our Lady of Mount Carmel — Brooklyn
For an authentic Italian American experience, head over to the 127th Festa del Giglio, July 9-20, in the Williamsburg neighborhood of Brooklyn, N.Y.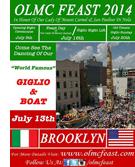 Celebrating the feast of Our Lady of Mt. Carmel and St. Paulinus of Nola, the centerpiece of the 11 days of events takes place on Giglio Sunday, July 13, beginning with a traditional Mass at the church, followed by a parade and blessing of the celebrants. The day's popular main event starts at 1 p.m. with "The Dancing of the Giglio," when 125 men hoist a 3-ton, 5-story steeple supporting a boat replica, a Neapolitan Saint and a brass band, onto their backs as they proceed to dance under its weight down Havemeyer Street retelling the story of St. Paulinus. Our Lady of Mount Carmel Church is located at 275 North 8th Street in Brooklyn, N.Y. Visit www.olmcfeast.com for more information.
Patrizio Concert In DC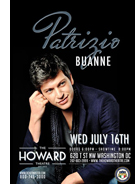 Italian pop star and international recording artist Patrizio Buanne will perform his up-tempo tunes and ballads at The Howard Theatre on July 16. Known for hosting music legends from Duke Ellington to Ella Fitzgerald, the recently renovated Howard Theater is welcoming an array of new musical styles and musicians, such as Patrizio, whose upcoming tour dates take him from the nation's capital to New Jersey to California. General admission, dinner seating and VIP tickets available. For more information: http://thehowardtheatre.com/show/2014/07/16/patrizio-buanne/.
Kids Learn Italian Language and Culture at Camp Italia!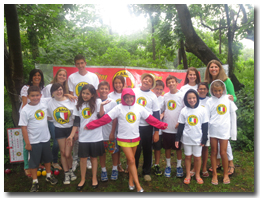 At Camp Italia, children (ages 4-12) learn Italian history, language and culture in a fun and interactive way! Located in Garden City, N.Y., Camp Italia's four-day session goes from July 21-24. For children ages 4-7, the camp day starts at 9 a.m. and ends at 11 a.m. For ages 8 to 12, the program begins at 3 p.m. and ends at 6 p.m.
"We custom design our programs to teach children everything about Italy," says Maria Arianas, president of Camp Italia USA Inc. "Venite…Vi Aspettiamo." For more information, call 855-226-7481 855-CAMP-IT-1) or visit www.CampItaliaUSA.org. The fall program will begin in October.
Casa Belvedere Classes – Staten Island
The Italian Cultural Foundation at Casa Belvedere encourages an appreciation of the Italian language, arts, literature, history, fashion, cuisine and commerce through educational programs, exhibits and events at its Staten Island location. For July, it's offering a full program of Italian language immersion classes, adult cooking classes and kids' cooking classes. For more information, call 718-273-7660, visit www.casa-belvedere.org or write to info@casa-belvedere.org.
The 20th annual "Let the Music Play!" Concert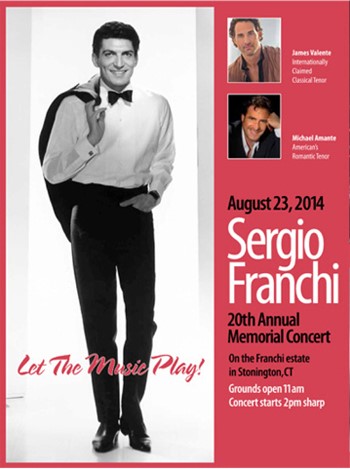 The highly anticipated concert and one of New England's most beloved annual musical events is back! On Saturday, August 23, join hostess Eva Franchi, wife of the late great romantic tenor Sergio Franchi, as featured guests and world-class singers pay tribute to Sergio's life with song. The concert annually takes place at the 240-acre Franchi Estate in Stonington, Conn., and sells out each year with more than 4,000 people expected. So don't wait to order your tickets!
Doors open at 11 a.m., concert begins at 2 p.m. For more information and to purchase tickets, call 860-535-9429 or visit www.sergiofranchi.com.
Titian's Danaë at the National Gallery of Art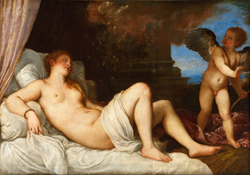 Danaë (courtesy of Capodimonte Museum,
Naples, via National Gallery of Art)
Italy has lent its prized Titian painting, Danaë (1544–1545), to the National Gallery of Art in Washington, D.C. One of the most sensual paintings of the Italian Renaissance, it will be on exhibit in the National Gallery's West Building through November 2 in celebration of the beginning of Italy's presidency of the Council of the European Union. For more information, visit: www.nga.gov.
Ralph Fasanella Exhibit at Smithsonian
Celebrating the 100th anniversary of the Ralph Fasanella's birth, the exhibit "Ralph Fasanella: Lest We Forget" will be on display at the Smithsonian American Art Museum, in Washington, D.C., from through August 3. Fasanella, the son of Italian immigrants and a self-taught folk-primitive artist, is considered one of the most important folk painters in American art. For more information: http://bit.ly/1hlnTHC.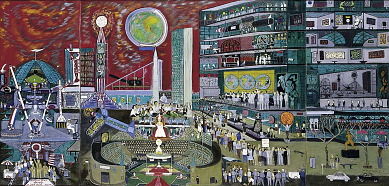 Italian Futurism Art at the Guggenheim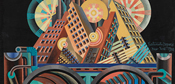 On exhibit through September 1 at New York City's Guggenheim Museum: "Italian Futurism, 1909–1944: Reconstructing the Universe." The first comprehensive overview of Italian Futurism presented in the United States, the exhibition includes more than 300 works encompassing not only painting and sculpture, but also architecture, design, ceramics, fashion, film, photography, advertising, free-form poetry, publications, music, theater, and performance. For more information, visit: http://bit.ly/1lC5Bdw.
Cooking with Nonna — Sorrento Tour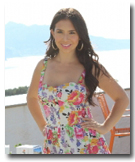 Treat yourself to a week in foodie paradise! Join Rossella Rago's "Sorrento with Rossella" Culinary Tour in Sorrento, Italy, from Aug. 30 to Sept 6. You will indulge in the traditional masterpiece dishes of Campania, made with the highest quality local and seasonal ingredients. Accommodations will be provided by Divine Amalfi Villas. Don't wait to book your tour! Only a few spots remain! Visit www.cookingwithnonna.com.
Everybody Loves Italian! On the radio!


Join hosts Frank Granieri and Dominic Mevoli on the radio as they  celebrate the everyday Italian American family and experience, plus interviews with personalities, stories, recipes, and more!
Sundays 6 a.m. and 5 p.m. on WWDB 860 AM in Philadelphia or streamed worldwide on Iheart Radio through WWDB. Join them on Facebook at Everybody Loves Italian or visit EverybodyLovesItalian.com to listen to on demand.
Tune in!
Listen to Bel Paese Internet Radio! A program for Italian American communities across the United States and Canada, it runs from 8 a.m. to 11 p.m. daily and features Italian music, sports and community news. Visit www.tuneintoitaly.com on your computer, mobile device, iPad or internet radio. If your internet radio receiver doesn't carry this station, contact the manufacturer to ask that Bel Paese Radio be added to its stations.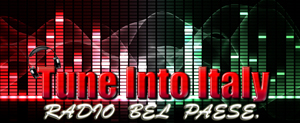 Turn on Italics TV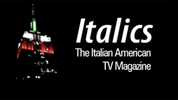 What's new on Italics? Mike Piazza lighting the Empire State Building for NIAF; Vivien Green of the Guggenheim on the Italian Futurists Exhibit; Actress Iaia Forte at the InScena Italian Theater Festival; The New York Conference of Italian American State Legislators honoring Tony Danza and Liberty DeVitto with Gov. Andrew Cuomo; and more!
For monthly cable-TV programming for the Italian American community, tune in to Italics, the Italian American TV magazine, produced by The John D. Calandra Italian American Institute at Queens College in New York and hosted by Anthony J. Tamburri, dean of The Calandra Institute. Check your local New York and New York State cable-TV listings for Italics, or find it on CUNY-TV website (www.qc.edu/calandra), and on demand on the YouTube channel (www.youtube.com/italicstv), and Facebook (www.facebook.com/pages/Italics/101715547301).
Recoup—Shopping for Your Cause!
Raise funds to support NIAF's mission while shopping for great deals on everything from dining specials to travel deals. Just register for free at Recoup, choose your city for location-specific deals, then shop by the type of deal you want. When you purchase something, a portion of the proceeds goes to your designated nonprofit group. Please designate NIAF! It's like Groupon and Living Social, except while helping yourself, you're also helping your charitable cause. Get started at www.recoup.com/shop/org/NIAF.

Read Diplomatic Courier
Interested in global affairs and foreign policy? The Diplomatic Courier is an independent magazine that covers all that and more. Look for the new issue on newsstands or at www.diplomaticourier.com.

| | |
| --- | --- |
| | Congratulations to Mario V. Mirabelli, Esq., who was recently awarded the Order of Merit of the Republic of Italy, the highest ranking honor of the Italian Republic. Since 2002, Mr. Mirabelli has been president of The John R. Mott Scholarship Foundation. He also served as a NIAF board member for 20 years and NIAF treasurer. Italian Ambassador to the United States Claudio Bisogniero presented the honor to Mr. Mirabelli at the Italian Embassy in Washington, D.C. |
|   | Congratulations to NIAF member Dina Parise who is racing to debut her Cadillac CTSV this summer and she is taking the term high-performance luxury model to new heights! President of Dina Parise Racing (DPR) and former professional skater for the Ice Capades, Parise currently pilots a 3,000HP Race Car as part of her two-car Pro Modified Drag Racing team with her husband Andrew Parise. For more information, visit http://dinapariseracing.com/. |
|   | Congratulations to longtime NIAF friend and Fox Business News correspondent and anchor Jamie Colby who has been named by FBN to host the channel's upcoming alternative primetime program "Strange Inheritance." The show, which will look at real-life stories of unconventional inheritances, is scheduled to debut this summer. |
|   | Congratulations to NIAF member Austin Bartlett who recently launched an online clothing brand called Riviva Clothing. The brand targets customers of Italian heritage and Bartlett donates half of the profits to Fondazione con il Sud, a not-for-profit based in Italy that helps foster social infrastructure in Southern Italy. Visit Riviva Clothing at http://rivivaclothing.com/. |
Join NIAF Today!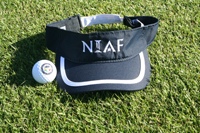 Time to embrace your family heritage and support the Italian American community. NIAF's core mission to preserve Italian American heritage, to strengthen the ties that bind the United States and Italy, and support through scholarships, grants and other programs the education of new generations of Italian Americans. By joining, you not only will help us fulfill that mission but you'll also enjoy many new member benefits, including:
• Opportunities to network with prominent political and business leaders
• Cultural and educational events
• Access to NIAF's member-only website pages
• Annual subscription to NIAF's Ambassador magazine
• Discounts on NIAF merchandise
• Great money-saving deals through NIAF's partners, and much more!
To learn more about NIAF and its exciting new benefits, visit www.niaf.org/membership.
NIAF and PERILLO TOURS
Welcome to the September 2014 Region of Excellence Tour—A Journey to Campania. Sept 3-14, 2014 — Limited Availability — 10 Days/8 Nights.
Give your family the gift of heritage this holiday season! Rome, Naples, Pompeii, Capri, Paestum and Sorrento! Includes an optional day of genealogy research.
Join NIAF and Perillo Tours on a once in a lifetime trip to the 2014 Region of Honor—Campania. Enjoy the region's dramatic highlights, including history, culture and cuisine. Exclusive insiders access for NIAF members. Optional excursion from Sorrento to trace your heritage and visit your family's hometown.
Land Price—$3,599 per person; Single supplement—$699. Air rates available from most gateways. For trip information and registration, visit: www.perillotours.com/groups/niaf/
Visit us at perillogroups.com; email at groups@perillotours.com; or call 855-PT-GROUP (1-855-784-7687) for additional information.
Can't join us on our journey? For NIAF Members Only, book any Perillo Tours or ItalyVacations.com program (a $2,500 value per couple) and receive $100 per person. Promo Code: NIAF.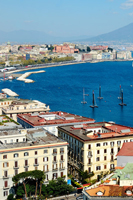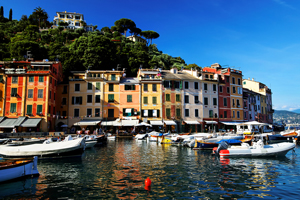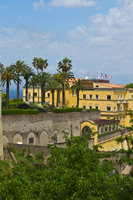 Support Our Sponsors 
Your Italian Passport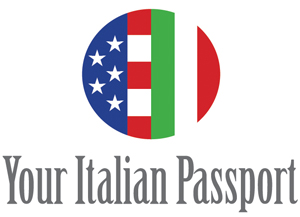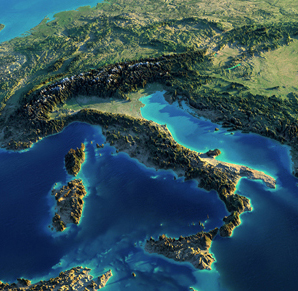 Whether you are hoping to determine if you are eligible for Italian citizenship, looking for assistance with collection of your family's vital records, or merely looking for translation of your documents in preparation for your appointment with the Italian consulate, Your Italian Passport is here to help!
Your Italian Passport is a U.S.-based company offering comprehensive services for Italian Americans seeking to obtain Italian dual citizenship. Like so many things Italian, Your Italian Passport is a business of organic roots grown over time with care and committed to giving personalized attention to each and every client.
Visit our website www.youritalianpassport.com and be on your way to living la dolce vita! As always, NIAF members receive a 10 percent discount on all services offered. A new world awaits with Your Italian Passport! Contact us today!
Ville in Italia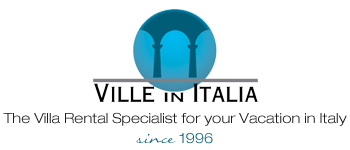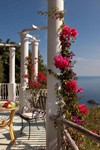 Ville in Italia is the villa rental specialist for vacations in Italy since 1996 offering more than 500 prestigious villas and apartments located all over Italy: Amalfi Coast, Italian Lake District, Venice, Tuscany, Umbria, Apulia, Basilicata, Sicily and more.
The accommodation offered by Ville in Italia is distinguished by highly diversified proposals that are able to satisfy every market segment according to the target typology and level of service required. Discover more on www.villeinitalia.com.
We are pleased to assign NIAF members a Preferential Code that represents a 10 percent discount on all Ville in Italia vacations: It is also valid for special offers.
To request the code, please contact Stephanie Gordon at 202-939-3107 or sgordon@niaf.org. For further information, please contact us at booking@villeinitalia.com.
Alitalia's Magnifica Summer Sale Fares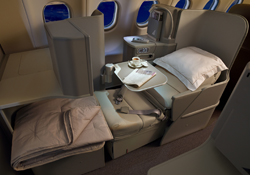 Travel in style this summer with Alitalia's business class fares starting at $3,004 round-trip! Magnifica—Alitalia's Business Class cabin on intercontinental routes—delivers maximum comfort and a sophisticated travel experience. Flying in Magnifica means traveling in elegance. Magnifica seats on the newly reconfigured B777 as well as the A330 aircraft convert to fully-flat beds, which recline to 180 degrees, and offer in-seat work and entertainment options. The cabin configuration offers travelers all-aisle seating.
Service in Magnifica on all aircraft includes award-winning menus featuring regional Italian cuisine, linens designed by Italian luxury brand Frette, tableware designed by Richard Ginori, and an amenity kit with personal care items created by Salvatore Ferragamo. To see the Magnifica offers, visit http://bit.ly/1pzZumg.
______________________________________
Reach 57,000 NIAF members and Italophile readers by
sponsoring an upcoming edition of NIAF's monthly e-Newsletter!
Contact Don at don@niaf.org.
NIAF e-Newsletter compiled and edited
by Don Oldenburg
enews@niaf.org