#WeAreNIAF
Be a part of something bigger – give back to the Italian American community and donate to NIAF in our #WeAreNIAF campaign. Your gift allows us to provide scholarships and grants for Italian American students, as well as continue our work in cultural programs throughout the United States. Every donation counts! To learn more about what we do and how you can help, go to www.WeAreNIAF.com.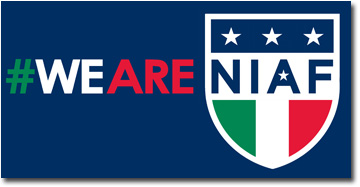 It'll Be Here in a New York Minute! NIAF New York Gala 
Get your tickets now for our NIAF New York Gala! We will be returning to the legendary Cipriani 42nd Street in the heart of the Big Apple on Thursday, April 28. NIAF members who register before February 7 will receive 10 percent off. For tickets, sponsorship information and more on the event, visit www.niaf.org/nyc or contact Andrea Bartlett at 202-939-3118 or abartlett@niaf.org.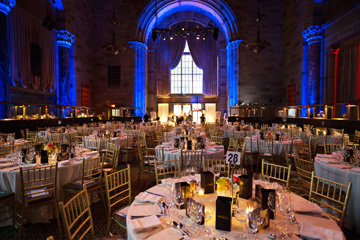 Join NIAF Today!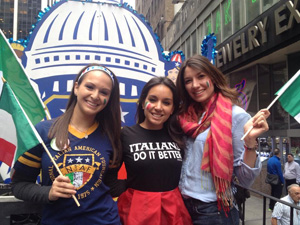 Start the New Year off right – join the National Italian American Foundation! Membership with NIAF allows you to celebrate your family heritage and support the Italian American community. Our core mission is to preserve Italian American heritage, strengthen the ties that bind the United States and Italy, and support through scholarships, grants and other programs the education of new generations of Italian Americans. By joining, you not only will help us fulfill that mission but you'll also enjoy many new member benefits, including:
• Opportunities to network with prominent political and business leaders
• Cultural and educational events
• Access to NIAF's member-only website pages
• Annual subscription to NIAF's Ambassador magazine
• Discounts for NIAF events and merchandise
• Great money-saving deals through NIAF's partners, and much more!
For more information about NIAF and its exciting new benefits, visit www.niaf.org/join.
NIAF Scholarships Deadline is March 1!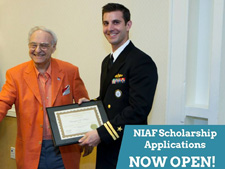 Applications for NIAF scholarships are now open – scholarships range from $2,000 – $12,000 and are awarded to undergraduate, graduate, post-graduate, medical, and legal students. If you are Italian American, or if you are studying Italian in college, apply today! Deadline is March 1, 2016. For more information, go to www.niaf.org/scholarships or contact Gabriella Mileti, Director of Programs, at gmileti@niaf.org or 202-939-3116.
Career Paths Milan Internship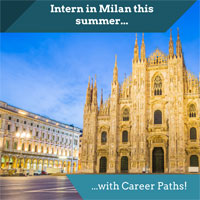 Located in Milan, Career Paths is the first Italian company operating in the field of education and offering services supporting its students in developing quality solutions for both academic and career path building. Career Paths organizes internship interviews with key partners in Milan, and it provides food, accommodations, activities, and career guidance to its participants. For more information, go to http://ow.ly/XNO7q.
Be a part of NIAF's Facebook community! 
Check out and "like" NIAF's full-of-Italian-American-pride Facebook page to be a part of our online community! And those of you who already follow us, grazie for your support!
NIAF on Facebook is a rapidly growing online community with everything but your Sunday dinner table – news, views, recipes and trivia. Anything Italian, Italian American or NIAF, it's there! Plus, contests and free tickets to shows, concerts and events across the country! Join us at www.facebook.com/niaf.org.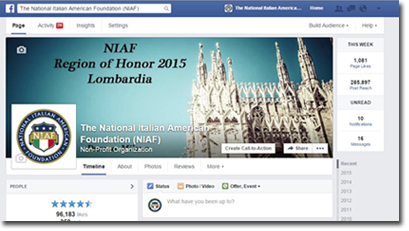 Voyage of Discovery Alum? 
Did you or someone you know participate in NIAF's Voyage of Discovery or NIAF's Gift of Discovery program in past years? If so, we'd love to hear from you! We're creating an alumni database and we need your help! Please send your current contact information to Gabriella Mileti, Director of Programs, at gmileti@niaf.org.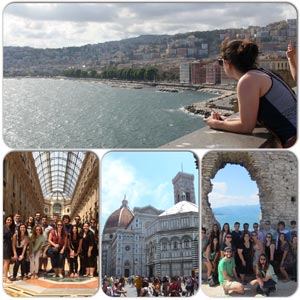 Italian Business & Investment Initiative — New York Business Summit 
The Italian Business & Investment Initiative, in collaboration with EY, will be hosting its annual New York Business Summit on February 23. The event will focus on issues central to growth and investment opportunities between Italy and the United States. For more information on the Business Summit and its sponsors, or how to register, go to: http://ow.ly/XOwuV


The Calandra Italian American Institute 

The Calandra Italian American Institute will be a hosting a film screening of Antonio Iorio's film "Il Ballo dei Giganti di Nola" on Friday, February 22, at 6 p.m. The film (in Italian with English subtitles) explores the history and tradition of the Feast of the Gigli, and how one northern Italian town's culture continues to echo today in Brooklyn's Italian American community. To RSVP, call 212-642-2094; for more information, go to http://ow.ly/XNFWy.
Columbia University: The Italian Academy 
Columbia University's Italian Academy will host a symposium on Thursday, February 4, at 5:30 p.m. titled "To Be a Child during the Holocaust." The event will include speakers from Columbia University, The Washington Post, and the United States Holocaust Memorial Museum, to discuss the experiences of Italian children during the Holocaust of World War II. To register, go to http://ow.ly/XNJXc.

Casa Italiana Zerilli-Marimò 


Casa Italiana Zerilli-Marimò will host a lecture on Thursday, February 4, at 6:30 p.m., on "Visualizing Love in the Renaissance," with Dr. Sonia Evers presenting on the subject. The lecture will explore how love was dealt with in the Renaissance through discussions on art, marriage and sex. Free and open to the public; for more information, go to http://ow.ly/XNL8Z.
NSU Art Museum Art Exhibit and Gala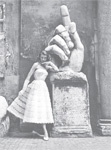 The NSU Art Museum in Fort Lauderdale, Fla., will be opening its exhibit titled, "Bellissima: Italy and High Fashion 1945-1968," on February 7, and it will run until June 5. The exhibit will include over 230 vintage garments and accessories by Valentino, Gucci, Ferragamo, Pucci, and others, as well as artwork and film from the incredibly creative postwar period in Italy. For more information, go to http://ow.ly/XNPHk. The "Bellissima Gala" celebrating the opening of the exhibit will take place on February 7; for information, go to http://ow.ly/XNPX4.
Everybody Loves Italian! On the radio! 


Join hosts Frank Granieri and Dominic Mevoli to celebrate the everyday Italian American family and experience, plus interviews with personalities, stories, recipes and more! Sundays 6 a.m. and 5 p.m. on WWDB 860 AM Philadelphia; and streaming worldwide! Find and "like" them on Facebook at www.facebook.com/EverybodyLovesItalian. For more information, visit: www.everybodylovesitalian.us/.
Turn on Italics TV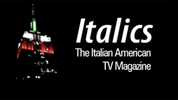 For monthly cable-TV programming for the Italian American community, tune in to Italics, the Italian American TV magazine, produced by The John D. Calandra Italian American Institute at Queens College in New York and hosted by Anthony J. Tamburri, dean of The Calandra Institute. Check your local New York and New York State cable-TV listings for Italics, or find it on CUNY-TV website (www.qc.edu/calandra), and on demand on the YouTube channel (www.youtube.com/italicstv), and Facebook (https://www.facebook.com/pages/Italics/101715547301).
Shop at AmazonSmile and Support NIAF!


Did you know that when you shop online at Amazon, a portion of your purchase price can support the work of NIAF! Simply, go to http://smile.amazon.com/ch/52-1071723 and select the National Italian American Foundation as your charity of choice and the AmazonSmile Foundation will donate 0.5 percent of the purchase price from your eligible AmazonSmile purchases to NIAF. AmazonSmile offers the same selection and low prices as Amazon and customers can still use their Amazon account, the only difference is customers are now also donating to a great cause!
Read Diplomatic Courier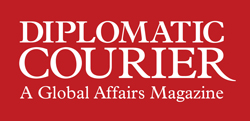 Interested in global affairs and foreign policy? The Diplomatic Courier is an independent magazine and website that covers all that and more. Look for the new issue on newsstands or read the latest articles, such as "Human Capital for Emerging Markets" and "Morocco's Dependable Friendship Warrants American Gratitude and Support" at www.diplomaticourier.com.
| | |
| --- | --- |
| | Congratulations to NIAF member Gabriele Delmonaco who founded a new program in Ethiopia to support 400 needy children in collaboration with Boys' & Girls' Towns of Italy (BGTI), an organization that provides services for refugee children in Italy. For more information on the program, go to www.bgti.org. |
|   | Congratulations to NIAF member and former BBC foreign correspondent Nicholas Walton on the publication of his new book "Genoa La Superba," a portrait of Venice's great medieval rival and the Liguria region through history. Walton's book is available on Amazon.com and other book stores. |
|   | Congratulations to NIAF member Emilio Iodice on the publication of his new book, "2016: Selecting the President." This book aims to help the reader in making smart, intelligent decisions about who will be the next president of the United States. As Professor Iodice states, "I believe this is one of the most important presidential elections in American History." The book is available on Amazon.com. |
|   | Congratulations to NIAF member Michael H Sedge on the publication of his new children's book, "Giada Learns Italian." This charming book reveals the story of an Italian American girl and her efforts to learn Italian, with the help of her Naples-based cousins. Perfect for preschool and elementary school children, Sedge's book is available on Amazon.com. |
|   | Congratulations to NIAF member Maria Teresa Bonfatti on the publication of her new children's book, "Vocali Italiane, Italian Vowels," an illustrated book with interactive activities to help children learn Italian vowels. The book is available on Amazon.com. |
|   | Congratulations to NIAF member Armando Minutoli on the publication of his new novel, "Schism, Something is Amiss in Heaven Again!" The author of "The Hester Street Kids," an immigrant story of life in New York's '50s Little Italy, has now written a thoughtful "spiritual fantasy" about two characters of different eras and cultures, journeying to heaven together. Both books are available at Amazon.com and barnesandnoble.com. |
|   | Congratulations to NIAF member Michael Angelo DiLauro on the release of his feature-length documentary, "La Mia Strada," which explores ethnicity and culture in relation to ancient and contemporary Italian culture, along with its Italian American counterpart. For more information and scheduled screenings, go to http://lamiastrada.org/. |
NIAF and PERILLO TOURS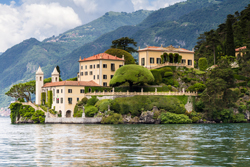 Celebrating 70 years of excellence in travel to Italy! Perillo Tours: An Italian American Institution!
Perillo Tours was born in 1945 when Italian American immigrant Joseph Perillo opened a small storefront under the Third Avenue El in the Bronx. Perillo Tours was continued by Mario Perillo (better known as "Mr. Italy"), who perfected the art of affordable luxury travel programs to Italy and developed a strong awareness of the Italian American community.
Presently under the direction Steve Perillo, Perillo's third generation, the company remains committed to creating once in a lifetime journeys to Italy through Perillo Tours' fully escorted tours, Perillo Tours custom groups and ItalyVacations.com.
Join NIAF and Perillo Tours on a once in a lifetime Italian vacation experience. Enjoy the country's dramatic highlights including history, culture and cuisine. Packages are available for individual and group travel, destination weddings and honeymoons, and tailored escorted tours. We look forward to introducing you to authentic Italy!
For NIAF Members Only: Book any Perillo Tours or ItalyVacations.com program (a $2500 value per couple) and receive $100 per person. Promo Code: NIAF
For additional information and bookings:
www.PerilloTours.com
Info@PerilloTours.com
800-431-1515
www.ItalyVacations.com
Support@ItalyVacations.com
800-ITALY-25
Perillo Custom Groups
855-PT-Group 855-784-7687
groups@perillotours.com
Support Our Sponsors
Your Italian Passport 


Whether you are hoping to determine if you are eligible for Italian citizenship, looking for assistance with collection of your family's vital records, or merely looking for translation of your documents in preparation for your appointment with the Italian consulate, Your Italian Passport is here to help!
Your Italian Passport is a U.S.-based company offering comprehensive services for Italian Americans seeking to obtain Italian dual citizenship. Like so many things Italian, Your Italian Passport is a business of organic roots grown over time with care and committed to giving personalized attention to each and every client.
Visit our website www.youritalianpassport.com and be on your way to living la dolce vita! As always, NIAF members receive a 10 percent discount on all services offered. A new world awaits with Your Italian Passport! Contact us today!
Alitalia



With 26 destinations in Italy and over 1,000 destinations in cooperation with airline partners, it is your time to experience the exclusivity and luxury of traveling in Alitalia's Long Haul Business Class.
Experience true Italian hospitality from the minute you step on board. Relax in fully lie-flat seats with massage function covered in rich leather by Poltrana Frau. In-flight comforts include amenity kits, specially designed by Salvatore Ferragamo, linens by luxury brand Frette, and tableware by Richard Ginori. WiFi connectivity, international roaming, and individual LCD screens that feature a wide array of movies, television shows, news and documentaries provide guests with all of the entertainment they will need during their trip.Finally, guests have the opportunity to experience an Italian restaurant at 30,000 feet. The new "Dine Anytime" service allows guests to dine at their leisure during their flight and enjoy Italian recipes with seasonal ingredients paired with a selection of regional wines.
To learn more about Alitalia's Long Haul Business Class, click here: http://ow.ly/XOqmr.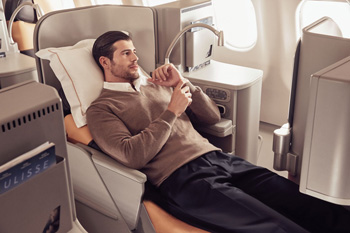 SIGN UP TO RECEIVE ALITALIA'S NEWSLETTER
Be the first to receive Alitalia's latest news and offers. Visit www.alitalia.com and join today!
---
Reach more than 100,000 NIAF members and Italophile readers by
sponsoring an upcoming edition of NIAF's monthly e-Newsletter!
Contact Don at don@niaf.org.
NIAF e-Newsletter compiled and edited
by Danielle DeSimone
enews@niaf.org