Buon Natale! Merry Christmas!
Wishing you a joyous holiday season and a bright New Year filled with peace and happiness. From all of us at the National Italian American Foundation: Merry Christmas!
#WeAreNIAF
Be a part of something bigger – give back to the Italian American community and donate to NIAF in our #WeAreNIAF campaign. Your gift allows us to provide scholarships and grants for Italian American students, as well as continue our work in cultural programs. Every donation counts! To learn more about what we do and how you can help, go to www.WeAreNIAF.com.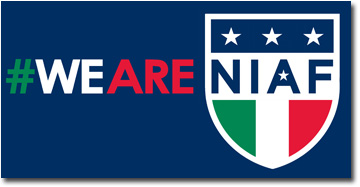 Don't miss out on our 40th Anniversary Gala Recap!
Still haven't looked at all of our 40th Anniversary Gala photos? This year, the National Italian American Foundation reinvented its 40th Anniversary Awards Gala Weekend into an extravaganza of song, homage to heritage, family ties and passion for food. Our Expo Italiana event saw an unprecedented number of visitors and vendors. And the 40th Anniversary Gala Awards Dinner was a sold-out, thrilling show from start to finish. To read more on the 40th Anniversary Gala and to view photos from the weekend, go to http://ow.ly/TUJit.
| | |
| --- | --- |
| | |
Join NIAF Today!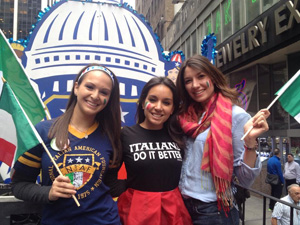 There's no better time to embrace your family heritage and support the Italian American community by joining NIAF. Our core mission is to preserve Italian American heritage, strengthen the ties that bind the United States and Italy, and support through scholarships, grants and other programs the education of new generations of Italian Americans. By joining, you not only will help us fulfill that mission but you'll also enjoy many new member benefits, including:
• Opportunities to network with prominent political and business leaders
• Cultural and educational events
• Access to NIAF's member-only website pages
• Annual subscription to NIAF's Ambassador magazine
• Discounts on NIAF merchandise
• Great money-saving deals through NIAF's partners, and much more!
To learn more about NIAF and its exciting new benefits, visit www.niaf.org/join.
Students – Apply for the Trip of a Lifetime! 

Travel to Italy and explore your family's homeland. Applications for the 2016 Ambassador Peter F. Secchia Voyage of Discovery are now available online at www.niaf.org/voyageofdiscovery. To be eligible, students must be of Italian heritage, be enrolled in college in the spring of 2016, and have never traveled to Italy before. For more information, please contact VoyageofDiscovery@niaf.org.
NIAF on Facebook! Help us get to 150,000 likes! 
Please take a look and "like" NIAF's entertaining, engaging, informative and full-of-Italian-American-pride Facebook page. And those of you who regularly do, grazie for your support!
NIAF on Facebook is a rapidly growing online community with an insatiable appetite for news, views, recipes and trivia—anything Italian, Italian American and NIAF! Plus, contests and free tickets to shows, concerts and events across the country! Easy to find at www.facebook.com/niaf.org.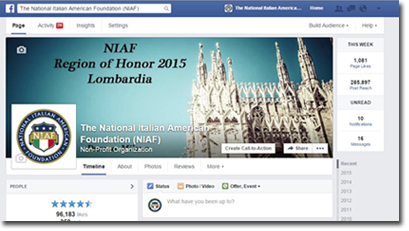 Voyage of Discovery Alum? 
Did you or someone you know participate in NIAF's Voyage of Discovery or NIAF's Gift of Discovery program in past years? If so, we'd love to hear from you! We're creating an alumni database and we need your help! Please send your current contact information to Gabriella Mileti, Director of Programs, at gmileti@niaf.org.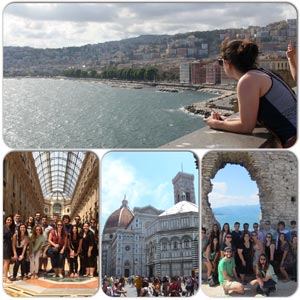 Dante Alighieri's 750th Birthday Anniversary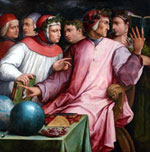 Celebrate Italy's most acclaimed writer, Dante Alighieri, on his 750th Birthday at the Library of Congress on December 3, from 4-6:30 p.m., in the Mumford Room of the James Madison Building, in Washington, D.C. The event will include a panel discussion by Italian and American academics, as well as the Dante Alighieri Collections Display. RSVP required. Contact Lucia Wolf at 202-707-2256 or lwolf@loc.gov.
Casa Italiana Zerilli-Marimò: Poetry Reading 


Casa Italiana Zerilli-Marimò in New York will be hosting a poetry reading of the acclaimed Italian writer Primo Levi on December 15 at 7 p.m. The reading will include talks from published authors and translators of Levi's works, as well as a brief discussion after. More details at http://ow.ly/V1G9l.
The Calandra Italian American Institute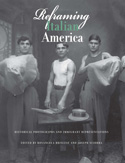 The Calandra Italian American Institute will be a hosting a screening of the film "Way Down in the Hole" (2010), with a post-screening discussion led by the film's director, Alex Johnston, on December 14, from 6-7:30 p.m. The film explores the story of Colorado's Ludlow Massacre in 1914, during which 26 miners and their families – many of them Italian immigrants – were attacked by the National Guardsman in response to their going on strike. More details at http://ow.ly/V26ve.
Stony Brook University's Center for Italian Studies


Stony Brook University's Center for Italian Studies will be sponsoring Italian classes for the community, with both adult and children's classes. Adult classes will run from October 5 to April 1; children's classes will be a Spring 2016 semester (January – April, dates TBD). Course placement is dependent on language proficiency – beginner, intermediate, or advanced. For more information, call 631- 632-7444; email donna.severino@stonybrook.edu; or visit www.Stonybrook.edu/italianstudies.
Everybody Loves Italian! On the radio!


Join hosts Frank Granieri and Dominic Mevoli to celebrate the everyday Italian American family and experience, plus interviews with personalities, stories, recipes and more! Sundays 6 a.m. and 5 p.m. on WWDB 860 AM Philadelphia; and streaming worldwide! Find and "like" them on Facebook at www.facebook.com/EverybodyLovesItalian. For more information, visit: www.everybodylovesitalian.us.
Turn on Italics TV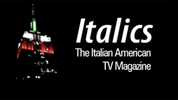 For monthly cable-TV programming for the Italian American community, tune in to Italics, the Italian American TV magazine, produced by The John D. Calandra Italian American Institute at Queens College in New York and hosted by Anthony J. Tamburri, dean of The Calandra Institute. Check your local New York and New York State cable-TV listings for Italics, or find it on CUNY-TV website (www.qc.edu/calandra), and on demand on the YouTube channel (www.youtube.com/italicstv), and Facebook (www.facebook.com/pages/Italics/101715547301).
Tune in!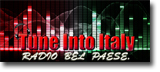 Listen to Bel Paese Internet Radio! A program for Italian American communities across the United States and Canada, it runs from 8 a.m. – 11 p.m. daily and features Italian music, sports and community news. Visit www.tuneintoitaly.com on your computer, mobile device, iPad or internet radio.
Shop at AmazonSmile and Support NIAF! 


Now, when you shop online at Amazon, a portion of your purchase price can support the work of NIAF! Simply, go to http://smile.amazon.com/ch/52-1071723 and select the National Italian American Foundation as your charity of choice and the AmazonSmile Foundation will donate 0.5 percent of the purchase price from your eligible AmazonSmile purchases to NIAF. AmazonSmile offers the same selection and low prices as Amazon and customers can still use their Amazon Account, the only difference is customers are now also donating to a great cause!
Read Diplomatic Courier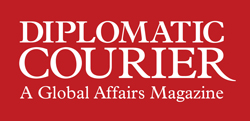 Interested in global affairs and foreign policy? The Diplomatic Courier is an independent magazine and website that covers all that and more. Look for the new issue on newsstands or read the latest articles, such as "Charlie Hebdo Goes to Yale" and "How the U.S. Can Address the Implications of Growing Asian Naval Power," at www.diplomaticourier.com.
| | |
| --- | --- |
| | Congratulations to NIAF member Robert Dugoni on the publication of his new novel, "Her Final Breath." A New York Times bestselling author, Dugoni has published 13 thriller novels. His latest is a chilling take on a Seattle serial killer, available on Amazon and at Barnes & Noble. |
|   | Congratulations to NIAF member Karen Haid on being awarded the Premio Internazionale Calabria by the Society of Culture and International Relations in Villa San Giovanni, Calabria, for her book "Calabria: The Other Italy." The award highlights literature that promotes the culture and raises awareness of Calabria and Southern Italy. The book is available on from Amazon, Barnes & Noble and the author's website/blog: www.calabriatheotheritaly.com. |
|   | Congratulations to NIAF member Mary Ann Esposito on her Lifetime Achievement Award from The Taste Awards for her cooking show, "Ciao Italia" on PBS, the longest-running cooking show in the United States. This award highlights Esposito's contributions to the Italian American community through her TV show, her travel programs, and her numerous cookbooks. Learn more about her accomplishments at www.ciaoitalia.com. |
NIAF and PERILLO TOURS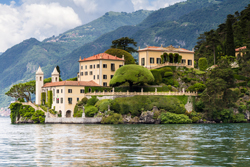 Celebrating 70 years of excellence in travel to Italy! Perillo Tours: An Italian American Institution!
Perillo Tours was born in 1945 when Italian American immigrant Joseph Perillo opened a small storefront under the Third Avenue El in the Bronx. Perillo Tours was continued by Mario Perillo (better known as "Mr. Italy"), who perfected the art of affordable luxury travel programs to Italy and developed a strong awareness of the Italian American community.
Presently under the direction Steve Perillo, Perillo's third generation, the company remains committed to creating once in a lifetime journeys to Italy through Perillo Tours' fully escorted tours, Perillo Tours custom groups and ItalyVacations.com.
Join NIAF and Perillo Tours on a once in a lifetime Italian vacation experience. Enjoy the country's dramatic highlights including history, culture and cuisine. Packages are available for individual and group travel, destination weddings and honeymoons, and tailored escorted tours. We look forward to introducing you to authentic Italy!
For NIAF Members Only: Book any Perillo Tours or ItalyVacations.com program (a $2500 value per couple) and receive $100 per person. Promo Code: NIAF
For additional information and bookings:
www.PerilloTours.com
Info@PerilloTours.com
800-431-1515
www.ItalyVacations.com
Support@ItalyVacations.com
800-ITALY-25
Perillo Custom Groups
855-PT-Group 855-784-7687
groups@perillotours.com
Support Our Sponsors
Your Italian Passport


Whether you are hoping to determine if you are eligible for Italian citizenship, looking for assistance with collection of your family's vital records, or merely looking for translation of your documents in preparation for your appointment with the Italian consulate, Your Italian Passport is here to help!
Your Italian Passport is a U.S.-based company offering comprehensive services for Italian Americans seeking to obtain Italian dual citizenship. Like so many things Italian, Your Italian Passport is a business of organic roots grown over time with care and committed to giving personalized attention to each and every client.
Visit our website www.youritalianpassport.com and be on your way to living la dolce vita! As always, NIAF members receive a 10 percent discount on all services offered. A new world awaits with Your Italian Passport! Contact us today!
Ville in Italia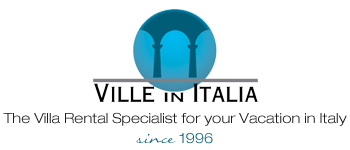 Ville in Italia is the villa rental specialist for vacations in Italy since 1996 offering more than 500 prestigious villas and apartments located all over Italy: Amalfi Coast, Italian Lake District, Venice, Tuscany, Umbria, Apulia, Basilicata, Sicily and more.
The accommodation offered by Ville in Italia is distinguished by highly diversified proposals that are able to satisfy every market segment according to the target typology and level of service required. Discover more on www.villeinitalia.com.
We are pleased to assign NIAF members a Preferential Code that represents a 10 percent discount on all Ville in Italia vacations: It is also valid for special offers.
To request the code, please contact Stephanie Gordon at 202-939-3107 or sgordon@niaf.org. For further information, please contact us at booking@villeinitalia.com.
Alitalia



Discover a new way of traveling with Alitalia's new Premium Economy on long haul flights from the United States to Italy, and beyond. Enjoy more space and comfort, both at the airport and on board. Priority service at the airport, dedicated and quiet cabins, spacious seats (40 percent more space than in Economy Class) and delicious Italian cuisine are waiting for you! CLICK HERE to start planning your trip today!
SIGN UP TO RECEIVE ALITALIA'S NEWSLETTER
Be the first to receive Alitalia's latest news and offers. Visit www.alitalia.com and join today!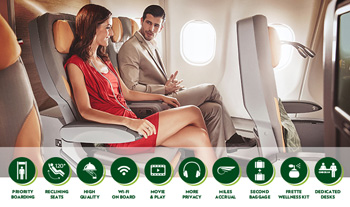 ---
Reach more than 100,000 NIAF members and Italophile readers by
sponsoring an upcoming edition of NIAF's monthly e-Newsletter!
Contact Don at don@niaf.org.
NIAF e-Newsletter compiled and edited
by Danielle DeSimone
enews@niaf.org