NIAF NEWS
The NIAF 44th Anniversary Gala is Quickly Approaching!
Buy your tickets for the upcoming NIAF 44th Anniversary Gala Weekend, November 1-3, in Washington, D.C.! The entire weekend, we will be celebrating NIAF's 2019 Region of Honor, Molise, and honoring Vincent A. Forlenza (CEO of Becton, Dickinson and Company) and Paul A. Tufano (Chairman and CEO of The AmeriHealth Caritas Family of Companies). Additional honorees will be announced soon—so stay tuned!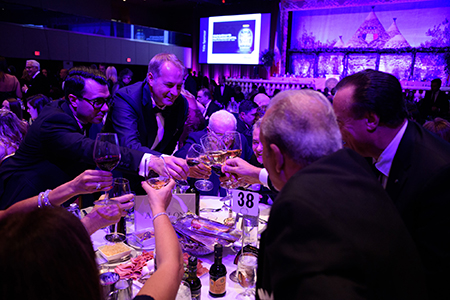 During Gala Weekend, the Friday events include NIAF Aperitivo! for young professional Italian Americans and an elegant Molise-inspired dinner with Celebrity Chef Mary Ann Esposito (Italian American chef, cookbook author and TV host of the longest running cooking show Ciao Italia). On Saturday, join us for Expo Italiana, Washington, D.C.'s largest Italian festival; free and open to the public, from 9 a.m. – 4 p.m., featuring quality Italian food, wine, and products as well as live entertainment! Saturday evening's receptions lead the way to the unforgettable NIAF Gala Awards Dinner where Italian Americans and Italians come together to celebrate distinguished honorees and our shared Italian heritage with Maria Bartiromo, the evening's host. This year's Gala Weekend will be held at the beautiful Omni Shoreham Hotel! Purchase tickets for Friday and Saturday nights now…because you won't want to miss THE Italian American weekend of the year: www.niaf.org/gala.
The 15th Annual NIAF Golf Tournament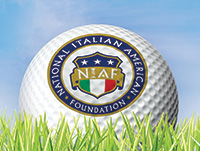 Even if you missed racecar legend Mario Andretti's appearance and support for this NIAF benefit at the Kick Off Reception last month in New York City, there's still time to sign up for a great day on the links! NIAF's 15th Annual Tournament, on Monday, August 19, at the Glen Oaks Club in Westbury, N.Y., benefits NIAF membership and educational programs. Registration and breakfast at 10:30 a.m. – foursome packages include shotgun start at noon; cocktails, awards and raffle, and dinner. Sponsorships available. To register or for more information, contact Nicholas R. Caiazzo at nicholas.caiazzo@wilsonelser.com or 212-915-5121.
Enter the NIAF 2019 Photo Contest!
Calling all photographers, amateur or professional! We are now accepting submissions to our Seventh Annual NIAF Photo Contest! This year's theme: Che Bello! Read the Contest Rules before submitting your photo! Deadline: Monday, October 7 at 12 noon EST. For more information, and to read the Contest Rules and Contest Tips, visit: www.niaf.org/photocontest.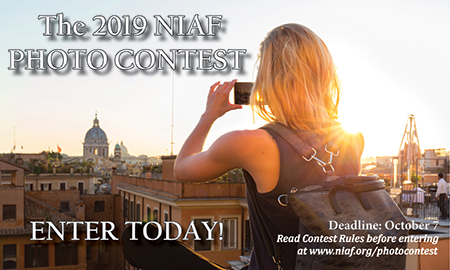 Travel to Molise – NIAF Members Get a 10% Discount!
Tour NIAF's 2019 Region of Honor, Molise, with Celebrity Chef Amy Riolo and Italian Sensory Experience! The Marvels of Molise tour is scheduled for the Spring and Fall of 2020 when you will be expertly guided through Molise's best, giving you experiences to intimately know Molise's rich history, culture, culinary traditions and wine. NIAF Members receive a 10% discount if they sign up for the tour by December 31. For more information, visit: https://italiansensoryexperience.com/.
Scholarship for Master's Degree in Performing Arts Management
NIAF is partnering with Accademia Teatro alla Scala and Politecnico di Milano Graduate School of Business (MIP) to fund a full-tuition scholarship of €17,500 (approximately $20,000) to be awarded to an Italian American graduate student who is seeking a Master's Degree in Performing Arts Management. The 20-month program in English begins November 2019 and concludes in June 2021 with 1,500 hours of education and training and a three-to-six-month internship at performing arts institutions throughout Italy and abroad. Deadline for online applications is September 4. Visit: https://bit.ly/2ZNPn6J.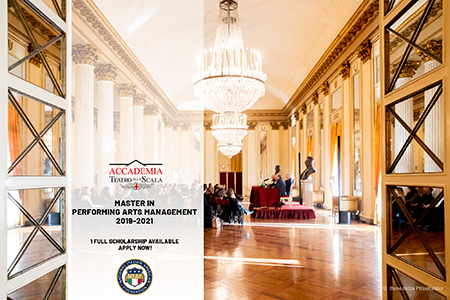 NIAF On Campus Fellowship – apply by September 13!
Do you want to be a leader of the Italian American community on campus? We are looking for college students passionate about their Italian heritage who want to have a voice in Italian American affairs for our 2019-2020 NIAF On Campus Fellowship Program. Student Fellows will receive leadership training, networking opportunities, and a ticket to NIAF's 44th Anniversary Gala. Deadline to apply: September 13. For more information, go to: https://bit.ly/2HBLEjU.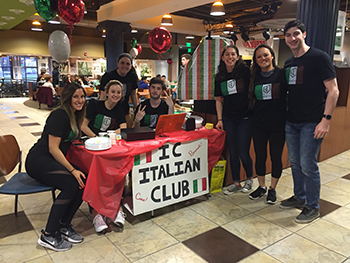 NIAF's 2019 Region of Honor: Molise
NIAF is thrilled to present its 2019 Region of Honor: Molise! Situated between the Apennines and Adriatic Sea, Molise is a mountainous region in southern Italy known for its agriculture and industry. Originally part of the Abruzzo-Molise region, Molise separated to become its own region in 1963. Molise is a charming, beautiful region with deep historical significance and much to offer locals and tourists alike.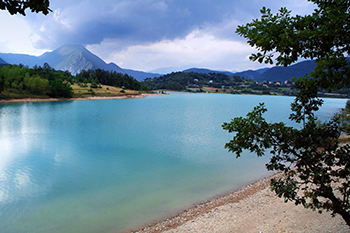 NIAF visited Molise in June with our 2019 Voyage of Discovery program and our Board of Directors' Mission to Italy. We will continue to celebrate Molise throughout the year, with stories in Ambassador magazine and at our 44th Anniversary Gala Weekend, November 1-3. Learn more about Molise by visiting www.niaf.org/molise.
Visit our NIAF Museum on Italian Immigration Before Summer Ends!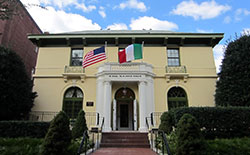 The Museum recounts the hardships that Italian immigrants faced from enduring the journey across the Atlantic by ship and living in the United States, to their successes in the fields of music, entertainment, government, business, and the extraordinary achievements of Italian American women. Open to the public Monday – Thursday, 11 a.m. – 4 p.m., except holidays; self-guided tours; admission is free. So, swing by NIAF Headquarters! We'd love to see you! For more information, visit: https://bit.ly/2UgcUhE.
USA News & Events
Italian Festivals Across America List!
See if there is an Italian festival near you in this comprehensive list of Italian Festivals from our friend and affiliate, the Order Sons and Daughters of Italy in America! Visit: https://bit.ly/2QQXyMp.
Tito e Gli Alieni Screening
The San Diego Italian Film Festival is screening Tito e Gli Alieni (Little Tito and the Aliens), which is about a widowed professor living in the Nevada desert, near Area 51, who becomes the guardian of his niece and nephew when his brother in Naples dies. Expecting the bright lights of Las Vegas, the niece and nephew are surprised by their strange isolated uncle and to be living in a new mysterious place where aliens are said to live. La Paloma Theatre, Encinitas, Calif. August 8 at 7 p.m. For details, visit: https://bit.ly/2y4p9B5.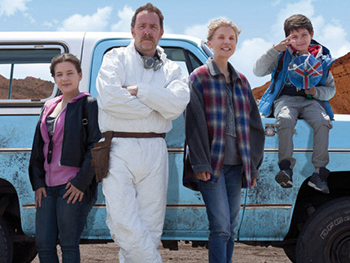 Come Wine with Us: Amazing Sangiovese in Houston!
The Italian Cultural & Community Center of Houston, Texas, will host a wine tasting as part of its series "Come Wine with Us." Philip Cusimano, who has been in the wine industry for 40 years, will guide the tasting that will highlight five Sangiovese-based wines paired with bites from Amalfi Ristorante Italiano & Bar. August 9 at 7 p.m. Purchase tickets here: https://bit.ly/2Yn2HSr.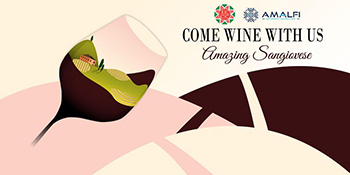 At Casa Belvedere—Staten Island 
The Italian Cultural Foundation at Casa Belvedere's Culinary Classes offer recreational and educational culinary experiences on a year-round basis. Daytime and evening classes are held in Casa Belvedere's state-of-the-art Cucina Colavita Kitchen and are available for adults and children. Children and adult cooking classes for August include making ravioli on August 12 and 13.

While you're on the website, Casa Belvedere offers Cinema Sotto Le Stelle, an outdoor Italian film festival that happens every Wednesday evening throughout the month of August. Screenings are free and begin at sunset so bring a lawn chair and order a snack at the snack bar.
Italian language courses will begin for the fall the week of September 30 so enroll today!
For more information on these and other Casa Belvedere programs, visit www.casa-belvedere.org or call 718-273-7660.
Attend NOIA's Annual Bocce Tournament


The Northern Ohio Italian American Foundation (NOIA) is hosting its annual Bocce Tournament once again at the Alta House in Cleveland's Little Italy! All are welcomed to sign up a team of four or to simply come and watch! Food and drinks provided by Maxi's Bistro. August 22. For details, visit: https://bit.ly/2LCl93y.
Fantasy World: Italian Americans in Animation
The Italian American Museum of Los Angeles (IAMLA) has a new exhibit titledFantasy World: Italian Americans in Animation, featuring artifacts, storyboards, rare comics, original scripts and more that detail how Italian Americans pushed the entire industry forward and were involved in The Flintstones, Woody Woodpecker and other favorites. Running now until January 26, 2020. Open to the public Tuesday – Sunday, 10 a.m. – 3 p.m. Visit: www.iamla.org.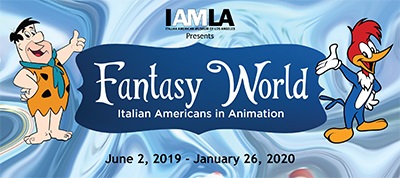 The 14th Annual Celebration of Italian Vehicle Excellence and Beauty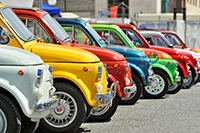 Stony Brook University's Center for Italian Studies will host the Robert D. Cess Concorso d'Eleganza 14th Annual Celebration of Italian Vehicle Excellence and Beauty. The event will be a display of "art forms on wheels" as a means of illustrating one form of Italian culture. Various Italian car and motorcycle groups will be represented and displayed on the University's campus lawn. September 15. 10 a.m. – 1 p.m. Participation and viewing are free and open to the public. Owners of Italian vehicles interested in participating in this display, email josephine.fusco@stonybrook.edu.
Auguri
NIAF Member Matthew Coccoluto won A FREE TRIP TO ITALY FOR TWO!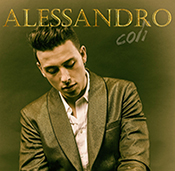 NIAF Member Matthew Coccoluto entered and won a free trip to Italy for two through the Italian singer-songwriter Alessandro Coli's contest to promote his new single (Give Me Your) Permission on Spotify! On Friday, July 26, Alessandro Coli selected the NIAF Member in front of the Colosseum, which was streamed live on Instagram. Thank you for everyone who participated in the contest! Listen now to Alessandro's new single on Spotify by visitng https://spoti.fi/32YEyRS.
Support our Sponsors
Your Italian Passport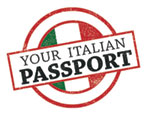 Looking for professional help with building your application for Italian citizenship? Your Italian Passport is here to help!
Your Italian Passport is a U.S.-based company offering comprehensive services for Italian Americans seeking to obtain Italian dual citizenship. Like so many things Italian, Your Italian Passport is a business of organic roots grown over time with care and committed to giving personalized attention to each and every client.
Visit our website www.youritalianpassport.com and be on your way to living la dolce vita! As always, NIAF members receive a discount on all services offered. A new world awaits with Your Italian Passport! Contact us today!
Alitalia


New nonstop flights from Washington to Rome began May 2!
Say buongiorno in the eternal city with a cappuccino. Fly nonstop to Rome from the beating heart of the United States with our new Washington-Rome flight. Arrive in Rome refreshed and enjoy Italy's favorite breakfast, a delicious cappuccino and hot croissant, before beginning your day visiting its famous sites. Or, just take in the city's mood where history and modern life mix by strolling down its cobblestone streets and its spacious piazzas. View our special offers!
Take a virtual tour onboard our A330 aircraft
From the United States, Alitalia operates Boeing 777 and Airbus A330 aircraft configured with three travel classes: Magnfica, Premium Economy and Economy. Magnifica, our long-haul business cabin, offers award-winning business class seats in Poltrona Frau leather, fully lie-flat and equipped with massage function, award-winning dining, and complimentary Wi-Fi connectivity up to 50MB. In Premium Economy, you will enjoy 40 percent more space than in Economy in the comfort and privacy of a dedicated cabin, Italian inspired dining experience, and complimentary Wi-Fi connectivity up to 10MB. Take a 360-degree virtual cabin tour on our A330!
Get Involved with NIAF and the Italian American Community!
Join NIAF Today!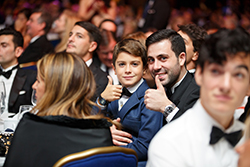 NIAF has added two membership levels – the NIAF Council and NIAF Business Council! View the correlating membership benefits and other levels on our website. Most importantly, the biggest benefit is being able to help preserve, promote and protect your Italian heritage! Join today by visiting https://bit.ly/2PrHa45.
Italian Community Services on the West Coast



Italian Community Services (ICS) welcomes all NIAF members to visit its website www.italiancs.com and learn how ICS helps the broader Italian American Community. Italian Community Services is the oldest Italian non-profit in North America. Founded by a group of Italian pioneers in San Francisco who had great success (Bank of America, Del Monte Foods, Ghirardelli Chocolates, to name a few) the non-profit's mission is to assist the Italian and Italian American community of California. Italian Community Services defends the Italian language and culture, supports senior citizens with socializing activities, community outreach, financial assistance, and is a point of reference for all things Italian and Italian American. The nonprofit collaborates with the Italian Consulate, Italian Cultural Institute, and all leading West Coast Italian agencies. Since its inception 104 years ago, ICS has helped more than 40,000. Venite a visitarci!
Calling All Voyage of Discovery Alumni 
We're creating an alumni database of past participants in NIAF's Voyage of Discovery and NIAF's Gift of Discovery programs and we need your help! Did you or someone you know participate? If so, let us know. Please email your name, Voyage of Discovery year, and any other information you'd like to share about your experience to voyageofdiscovery@niaf.org.
NIAF Corporate Sponsor Discounts
Heads up, NIAF members! Check out all money-saving discounts, exclusive deals and membership benefits that NIAF Corporate Sponsors offer through your NIAF Membership Portal. Sign in with your NIAF password at: https://bit.ly/2YufT5j.
Shop at AmazonSmile and Support NIAF! 


Here's your opportunity to donate to NIAF without costing you a cent! Support the work of NIAF when making purchases on Amazon.com by going to http://smile.amazon.com/ch/52-1071723 and selecting the National Italian American Foundation as your charity of choice. The AmazonSmile Foundation will donate 0.5 percent of the purchase price from your eligible AmazonSmile purchases to NIAF. AmazonSmile offers the same selection and low prices as Amazon, and customers can still use their Amazon account. The only difference is that, at no extra cost, you are donating to a great cause!
The Italian American Podcast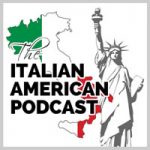 The National Italian American Foundation is proud to be the official sponsor of The Italian American Podcast, the first podcast dedicated to helping Italian Americans learn about and celebrate their heritage. Hosts Anthony Fasano and Dolores Alfieri interview celebrities and nonnas alike, bringing you an authentic Italian American experience. Listen to the Podcast's latest episodes here: http://ow.ly/qZRI301LHRm.
Turn on Italics TV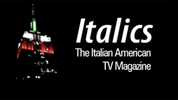 For monthly cable-TV programming for the Italian American community, tune in to Italics, the Italian American TV magazine, produced by The John D. Calandra Italian American Institute at Queens College in New York and hosted by Anthony J. Tamburri, dean of The Calandra Institute. Check your local New York and New York State cable-TV listings for Italics, or find it on CUNY-TV website, and on-demand on the YouTube channel and Facebook.

Everybody Loves Italian! On the Radio! 
Join hosts Frank Granieri and Dominic Mevoli to celebrate the everyday Italian American family and experience, plus interviews with personalities, stories, recipes and more! Sundays 6 a.m. and 5 p.m., on WWDB 860 AM Philadelphia; and streaming worldwide! Find them on Facebook. For more information, visit: www.everybodylovesitalian.us.
---
Reach more than 170,000 NIAF members and Italophile readers by
advertising in an upcoming edition of NIAF's monthly e-Newsletter!
Contact: nwulderk@niaf.org.
NIAF e-Newsletter edited by Natalie Wulderk