Technology titans Federico Faggin¸ chairman emeritus of Synaptics, Inc., Giacomo Marini, founder and managing director of Noventi Ventures, and Pierluigi Zappacosta, chairman of Digital Persona, Inc. and Faro Ventures (Italy), were honored at the National Italian American Foundation's (NIAF) West Coast Gala on May 27, 2009 in San Francisco. Held inThe Fairmont San Francisco's Venetian Room, the gala began with a cocktail reception at 6 p.m. followed by an awards program, live auction and dinner.
During the gala, NIAF honored philanthropists John and Romana Bracco with a NIAF Special Achievement Award in Humanitarian Service. Faggin, Marini and Zappacosta received NIAF Special Achievement Awards in Business and Technology.
Jeffrey M. Capaccio, Esq., NIAF vice president for the far west region, served as dinner chairman. This year's master of ceremonies , Tony Bruno, a guest commentator at ESPN-affiliate KNBR 680 and host of the national sports radio show "Into The Night With Tony Bruno," entertained the guests with his wit and unmistakable voice.
Logitech Chairman Guerrino De Luca presented the NIAF awards to Logitech co-founders, Marini and Zappacosta. Internet pioneer Paul Baran presented the NIAF award to Faggin, while Capaccio honored the Braccos.
The guests dined on Delverde pasta and filet mignon prepared by Fairmont's executive chef James Pedro, accompanied by award winning wines from Lorenzo Scarpone's Villa Italia, including Osvaldo Tranchero, Ruggeri, La Montecchia, La Boatina, D'Antiche Terre, Nicolis, and Arnaldo Caprai, and hand crafted desserts from master pastry chef, Gary Rulli of Emporio Rulli.
International recording artist Sergio Caputo performed jazz and Latin-infused popular music for more than 300 guests. During the gala, NIAF, through a generous donation from Faggin, established the Federico Faggin Scholarship for Computer Science in recognition of Faggin's ground-breaking work with microprocessors.
NIAF hosted a private dessert and wine reception in the Fairmont's penthouse, with Academy Award-winning actor and director Roberto Benigni to welcome him to San Francisco immediately following his U.S. stage debut of his critically acclaimed one-man show "TuttoDante" on May 26 at Davies Symphony Hall. The Foundation previously honored Benigni at its 28th Anniversary Awards Gala in Washington, D.C., where he received a Special Achievement Award in Entertainment.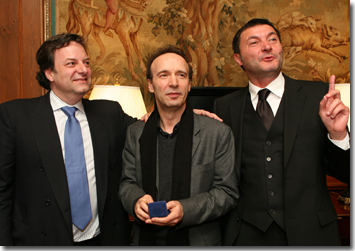 Jeff Capaccio, NIAF vice president for the Far West region, Roberto Benigni, Academy Award-winning actor and director, and Gianni Succi of Succi & Partners, a local promoter of "TuttoDante," during the NIAF's dessert and wine reception to welcome Benigni to San Francisco. Immediately following his U.S. stage debut of "TuttoDante," Capaccio presented a pair of the NIAF cufflinks to Benigni as a token of friendship in the Fairmont's Penthouse suite.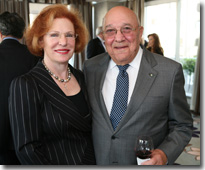 Gala honorees Romana and John Bracco during the gala reception and silent auction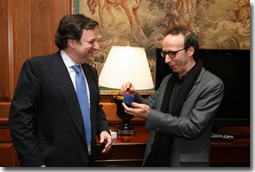 NIAF Regional Vice President for the Far West Jeffrey M. Capacico, Esq. gives Italian actor/director Roberto Benigni a special gift from NIAF at an exclusive VIP reception following Benigni's performance of his one-man 'TuttoDante' show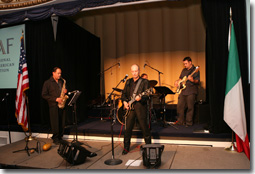 Italian jazz musician Sergio Caputo and his band perform for the West Coast Gala attendees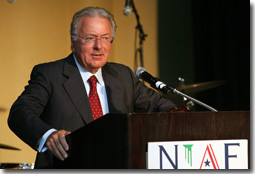 Gala Honoree Federico Faggin addresses NIAF supporters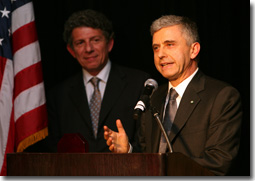 Gala honoree Pierluigi Zappacosta accepts his
Special Acheivement Award for Business and Technology