Industry leaders Andrew J. Dolce, chairman of Dolce Hotels and Resorts, James M. Orsini, M.D., director of medical oncology at Clara Maass Medical Center, Natale S. Ricciardi, president of Pfizer Global Manufacturing (PGM) and senior vice president of Pfizer Inc, and Paul A. Sorvino, actor, director, singer, sculptor and best-selling author, were honored at the National Italian American Foundation's (NIAF) Ambassador's East Coast Gala on May 19, 2009 in New York City. Held at the New York Marriott Marquis, the gala began with a cocktail reception at 6 p.m. followed by an awards program, live auction and dinner.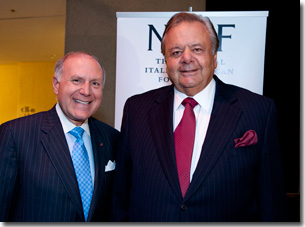 NIAF President Joseph V. Del Raso, Esq. with gala honoree Paul Sorvino
Popular Italian singer and songwriter Giada Valenti performed both the Italian and U.S. national anthems. Rocco B. Commisso, chairman and CEO of Mediacom Communications Corporation, served as the gala's chairman; Commisso received a NIAF Lifetime Achievement Award at the Foundation's gala in 2006 and is a member of the NIAF Board of Directors. The gala was hosted by Italy's Ambassador to the United States H.E. Giovanni Castellaneta and Mrs. Castellaneta.
In honor of his 25 years of service to the Foundation, NIAF Board Member Emeritus Salvatore J. Zizza, presented a scholarship in his name to Laura Dolce. Dolce, a resident of Jackson Heights, N.Y., will be a senior at St. John's University this fall. Her major is criminal justice.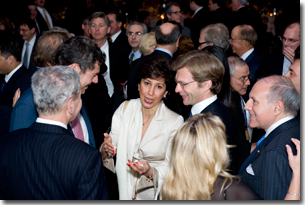 Mrs. Lila Castellaneta, wife of Italy's Ambassador to United States,
Hon. Giovanni Castellaneta, greeting the guests.
Highlights from the evening included a live auction featuring dinner at RAO's, an Italian excursion for two and a private dinner for 8 in your home with Chef Ivana Giuntoli. International recording artist Cristina Fontanelli performed for the crowd and Rosanna Capriati, Miss Italia North America, and Christina Marraccini, Miss Italia USA, greeted the guests throughout the evening.
Michael Gargiulo, co-anchor of NBC's "Today in New York," was this year's master of ceremonies. Michael Zampardi, NIAF regional vice president, also spoke during the event.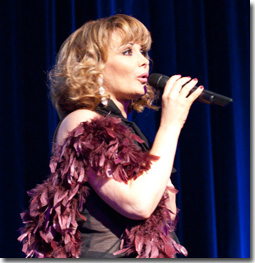 Italian singing sensation Giada Valenti performs
for the East Coast Gala crowd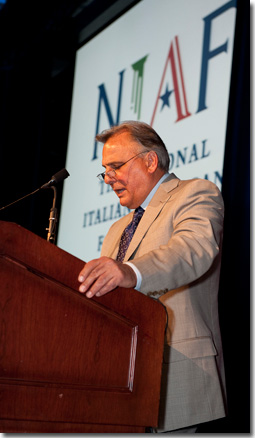 Gala honoree Dr. James M. Orsini accepts his award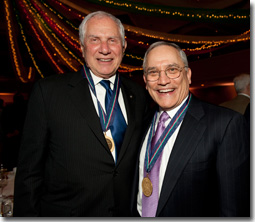 Gala honorees Andrew J. Dolce and Natale S. Ricciardi,
after receiving their awards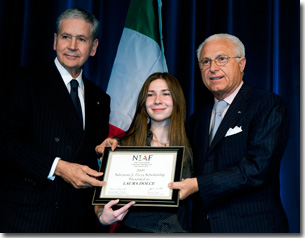 His Excellency Ambassador Giovanni Castellaneta, left, and NIAF
Board Emeritus Salvatore J. Zizza present the Salvatore J. Zizza
scholarship to Laura Dolce, center